Fresh faces, experienced veterans feature in UCLA quarterback competition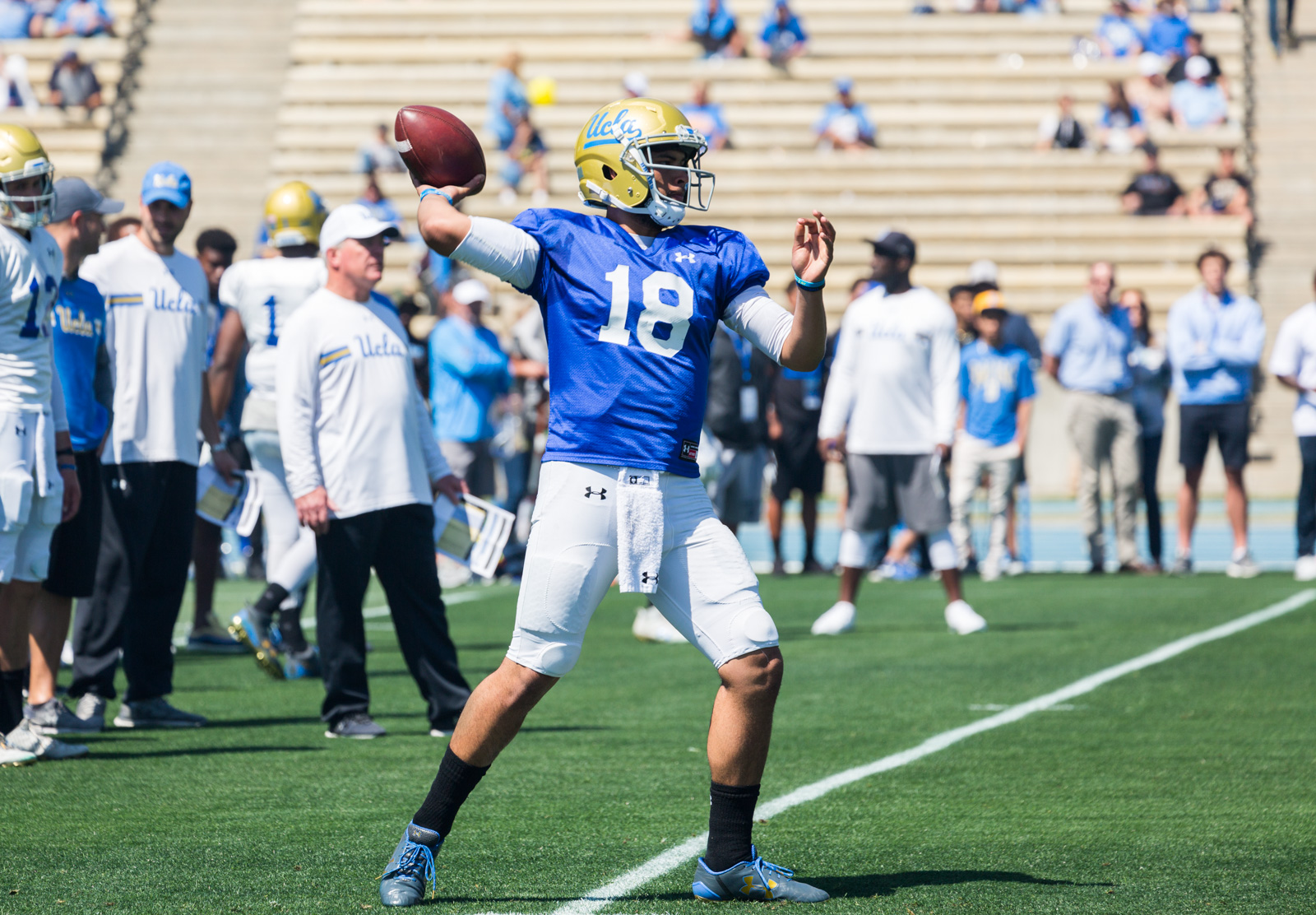 (Alice Naland/Daily Bruin)
In the more bustling areas of Tokyo, streets and subway stations are lined with gachapon machines and stands where patrons spend a certain amount of money for a chance of obtaining a certain trinket, toy or figurine that they want.
Essentially, the players know all the possible outcomes but can't predict the exact result, favorable or not.
In UCLA's case, the minute Josh Rosen declared for the NFL draft, the Bruins punched a ticket to their version of gacha – finding a starting quarterback to kick off the Chip Kelly era.
At the start of fall training camp, there were five options.
Joining the incumbent candidates – redshirt sophomores Devon Modster and Matt Lynch and redshirt freshman Austin Burton – are Michigan graduate transfer Wilton Speight and heralded freshman Dorian Thompson-Robinson.
Kelly predictably isn't tipping his hand as to which player is leading the pack, but Modster, Speight and Thompson-Robinson are generally thought to have risen a tier above the other competitors.
Speight brings experience, having played in 23 games and started 16 games for the Wolverines. Modster's advantage is his familiarity with Kelly's playbook since he was the only one of the three present for spring practice. Thompson-Robinson, meanwhile, is UCLA's highest-graded recruit in the class of 2018 and is renowned for receiving high-major scholarship offers before playing a snap as a varsity quarterback.
Even so, Kelly will have to mask noteworthy flaws in each of his quarterbacks starting in the season opener versus Cincinnati – there's a chance Modster, Speight and Thompson-Robinson each start at least one game this year. Here's a film breakdown of the three main candidates to start under center:
Devon Modster
Modster's redshirt freshman year got off to a shaky start – he looked robotic at times at Utah, sticking to his first read and ignoring open receivers in other parts of the field. Part of that can be chalked up to a quarterback making his first career start on the road after a shorter-than-usual week of preparation.
Take a look at this third-and-short play against the Utes. Modster locks in on his receiver running to his left and completely ignores a wide open then-redshirt freshman tight end Jordan Wilson in the right flat.
But after essentially two full games of experience under his belt, Modster's most impressive showing came with Kelly in attendance at last year's Cactus Bowl. In the first half versus Kansas State, he completed 10 of 14 passes for 215 yards and two touchdowns, and on target on a multitude of short routes.
Here are some examples from the bowl game and the regular season finale versus Cal.
Once Modster got in a rhythm from completing several quick throws in a row, he was able to show off his strongest asset – his touch and ball placement on deep passes.
Here's an absolute bomb that Modster unleashes, hitting then-sophomore wide receiver Theo Howard in stride behind the defense. Keep in mind that this is a throw that Rosen had some trouble with throughout college, forcing his receiver to slow down and adjust to an underthrown pass and allowing the defense to catch up.
Several minutes later, Modster makes arguably his most impressive throw, lofting a pass over a leaping Kansas State linebacker and in between a couple Wildcat defensive backs, all the while protecting Wilson from sustaining a big hit from the looming safety.
And while Modster isn't the most mobile dual-threat quarterback, he has enough speed and agility to keep defenses honest.
All in all, Modster will make an occasional outstanding throw and has decent accuracy and ball placement, but can get stuck in his progression and won't win any games with his legs. The former four-star recruit also has the head start after working with the new coaching staff in the spring.
Wilton Speight
The aspect of Speight's film that stands out – at least in the games versus Florida in 2017 and Maryland in 2016 – is how often he had a clean pocket. In 2016, Michigan had a rushing attack that averaged more than 200 yards per game and a defense that allowed barely more than 14 points per game, luxuries the 6-foot-6 graduate transfer won't have in Westwood.
Speight showed an ability to hit short, intermediate and deep passing routes, but his accuracy was inconsistent even with good protection from his offensive line.
Against the Gators, his first interception came on a slightly overthrown pass that bounced off his receiver's hands – a catchable pass that unfortunately ended up as a pick-six.
On the next possession, the Wolverines' coaching staff ran on first and second down before entrusting Speight with the ball on third-and-long. That turned out to be the wrong decision, as he uncorked a severely overthrown pass that Florida returned for a second consecutive defensive touchdown. Coach Jim Harbaugh benched Speight for the Wolverines' two subsequent possessions.
While Speight sometimes struggles with his ball placement and his high release point, he throws a decent deep ball and knows how to utilize his tight ends in the short to intermediate passing game – he helped then-senior Jake Butt earn first-team All American honors in 2016.
Speight looked especially adept at hitting crossing routes against Florida, which should facilitate his comfort with Kelly's mesh concepts in which two receivers create a natural rub by running side-by-side crossing patterns in opposite directions.
Against Maryland, Speight found open receivers in the flats time and time again. By hitting playmakers in open space, Speight showed that he's capable of going through a progression or quickly finding the hot receiver if he's under pressure.
Speight isn't a mobile quarterback – he has one rushing touchdown and negative-99 rushing yards in his career – but he knows how to deceive defensive players using his eyes, footwork and pump fakes. His mobility and agility from those two games are comparable to what Rosen exhibited the last three seasons, although Speight's recovery from three fractured vertebrae are a huge question mark.
Take a look at how he utilizes sidesteps and steps up in the pocket to avoid incoming defenders and turn sacks into positive yardage.
Based on the film, Speight's strengths are identifying presnap coverages and hitting receivers within five yards of the line of scrimmage. His mobility and consistency are true concerns, as is his durability and health after suffering a broken collarbone and fractured vertebrae the last two years. However, if Speight can operate Harbaugh's notoriously recondite offense, he will be more than serviceable in Kelly's system.
Dorian Thompson-Robinson
Thompson-Robinson hails from Nevada powerhouse Bishop Gorman, where he threw for 3275 yards, ran for 426 more and passed for a total of 38 touchdowns his senior year. The highly rated freshman started his high school career as a wide receiver – sitting behind Tate Martell, who's now a quarterback at Ohio State – and brings the highest upside and intrigue thanks to his dual-threat ability.
Bishop Gorman tends to overpower in-state schools, meaning Thompson-Robinson's stats should be taken with a grain of salt, but his film shows that he is a slippery athlete with superior arm talent at the high school level.
Even so, Thompson-Robinson was clearly bailed out by his receivers on several of his poorer throws. His offensive line was also not stellar – Thompson-Robinson had pressure in his face throughout the game versus Miami Central and Bishop Gorman was unable to generate much of a running attack. He'll have to deal with a similar situation at UCLA.
Here are his combined stats against DeMatha, Mater Dei, Miami Central and De La Salle, the four nationally ranked squads on Bishop Gorman's schedule: 61 completions on 110 yards, a 55 percent completion percentage), 1087 passing yards, 101 rushing yards, 9 throwing touchdowns, 2 rushing touchdowns, three interceptions, and a 2-2 record.
While Thompson-Robinson is labeled as a dual-threat quarterback, he doesn't play like a running back who only occasionally throws the ball, and he doesn't take off downfield at the first sign of trouble.
One of the main arguments for Thompson-Robinson to start at quarterback for the Bruins is his experience with the run-pass option that Kelly's Oregon and early Philadelphia Eagles offenses used to terrorize opposing teams.
In his games against DeMatha and Miami Central, Thompson-Robinson routinely made the correct decision to either hand the ball off to his running back, keep the ball to run himself or pass to a receiver based on the defender's positioning. It's important to note that most of Thompson-Robinson's passes off the RPO were quick slants, screens or flares towards the flat, and he only threw if he saw that the offense outnumbered the defense on one side of the field.
As a runner, Thompson-Robinson isn't known for one specific skill such as speed. Take a look at the following play in his senior year debut. Thompson-Robinson is faced with immediate pressure in his face but jukes the defender and escapes to his right. Then, seeing how much open turf is in front of him, he cuts upfield before attempting an awkward juke and getting tackled.
This clip shows that Thompson-Robinson isn't a supreme athlete who will make fleeter-footed defenders miss in open space. He also won't punish defenders' angles by speeding past them – what he does offer is maneuverability in smaller spaces and the ability to get downhill quickly and pick up yardage.
And although Thompson-Robinson is the youngest of the three leading candidates, his arm strength looks already upper-tier at the college level. If Thompson-Robinson commits to stepping up in the pocket when he's under pressure – a big "if" – he can hit any throw in the playbook.
Rosen regularly showed the ability to anticipate the defense and throw his receiver to an open spot on the field, and Thompson-Robinson also showcased that in his third and final touchdown against DeMatha. His receiver was running a corner route towards the sideline, but his throw directed him upfield towards the end zone and far enough away from any defender.
The only downsides to Thompson-Robinson's skillset are his lack of experience and more importantly his terrible decision-making and mechanics when dealing with the slightest pressure. Granted, his offensive line – which included current Bruin commit Beau Taylor at left guard – didn't do him any favors, but Thompson-Robinson's mental processing under pressure left a lot to be desired.
His first response to the tiniest hint of pressure was to shuffle his feet backwards and prepare to rush his throwing motion. Give him credit for not automatically defaulting to leaving the pocket and running downfield, but oftentimes Thompson-Robinson doesn't see open lanes to either step up in the pocket or take off if his receivers are all covered.
Thompson-Robinson also seemed to have trouble with anticipating how long he had before the pressure arrived, and at which angles the defenders were attacking. This could simply be due to not having enough in-game reps at quarterback, but it hardly inspires confidence in a freshman expected to eventually lead a Power Five offense.
If there is a saving grace, however, it's that Kelly's offensive system is predicated on quarterbacks getting rid of the ball quickly, most likely before the defense can substantially pressure the backfield. On the other hand, this requires rapid mental processing from the quarterback after the snap, something that Thompson-Robinson may require some time to build up.
Other QBs of note
Lynch is arguably the fastest runner with the best vision out of all the quarterbacks on the roster – an important quality in any Kelly offense – but his inconsistency throwing the ball places him behind the three competitors listed above. Still, he could see action in offensive packages as a de facto running back. Take a look at his first collegiate snap, a read option play where he outran the defensive end to the edge and gained 13 yards.
Burton is another quarterback to keep an eye on and led two touchdown drives in UCLA's spring game in April. Burton finished 6-of-8 for 110 yards, one passing touchdown and one rushing touchdown – the best showing out of all the quarterbacks that day – but is likely no higher than fourth on the depth chart thanks to the logjam in front of him.
Wang joined the Bruin as a freshman in 2015 and contributed until he graduated in 2019. He was an assistant Sports editor for the 2016-2017 academic year and spent time on the football, men's basketball, women's soccer, men's tennis and women's tennis beats.
Wang joined the Bruin as a freshman in 2015 and contributed until he graduated in 2019. He was an assistant Sports editor for the 2016-2017 academic year and spent time on the football, men's basketball, women's soccer, men's tennis and women's tennis beats.