Editorial: UC should divest from companies linked with immigration crisis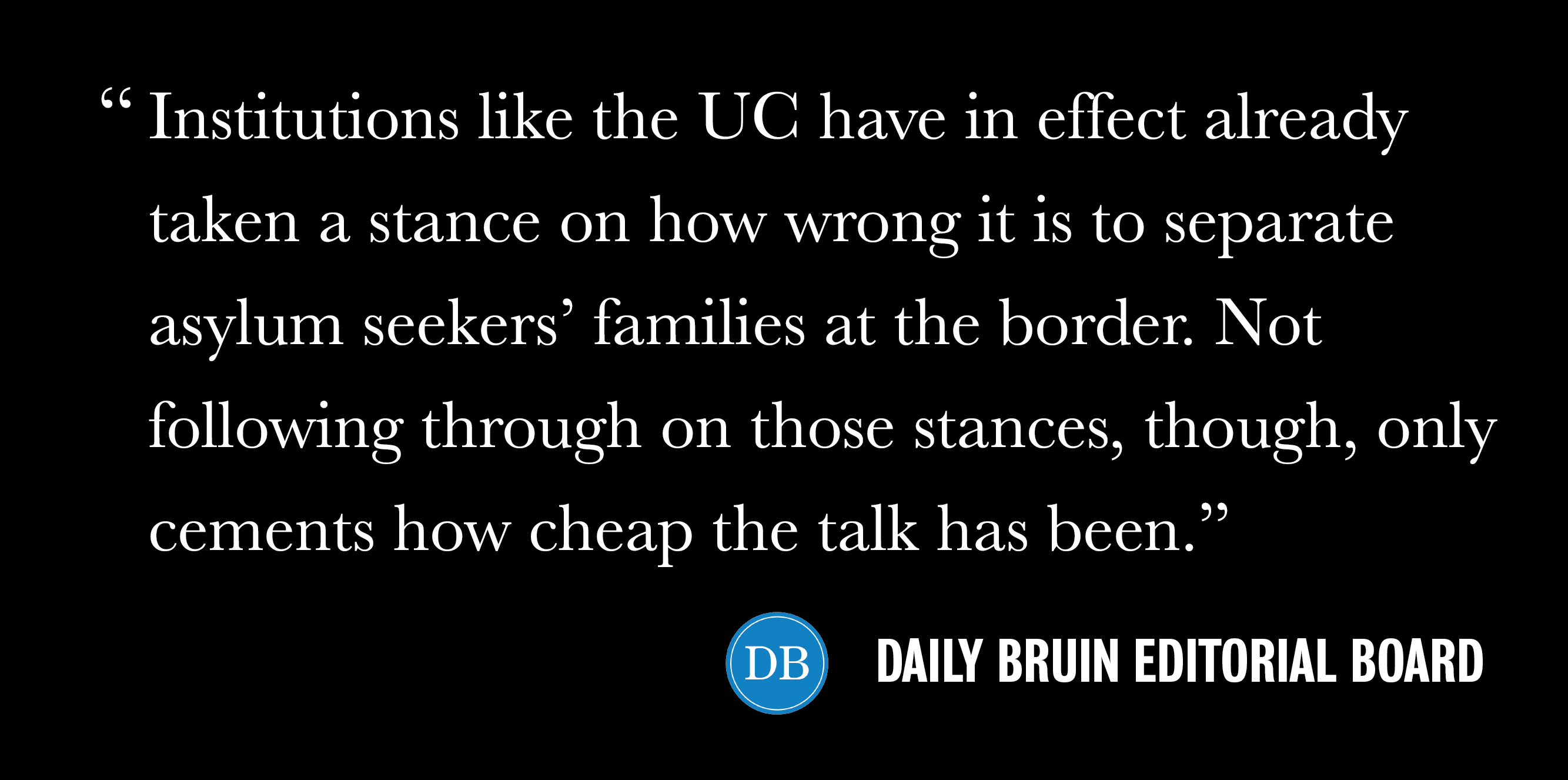 President Donald Trump's turbulent administration hit rock bottom following revelations that the federal government was separating families of asylum-seekers at the border. Among the list of offenses: caging children, coercing non-English speakers into signing esoteric forms and traumatizing minors seeking a place in this country.
Californians have been crying foul ever since.
The most prominent display of disdain has come from workers, who have called on state institutions to cut investments in companies linked to border detentions.
American Federation of State, County and Municipal Employees Local 3299, a union representing University of California workers, called on the University in July to divest from contractors linked with the detention of immigrants at the border. And California teachers wrote a letter to administrators of the California State Teachers' Retirement System earlier that month, demanding it divest from private prison companies and organizations involved in immigrant detention.
These calls are a welcome reminder of the mixed messages state institutions send by denouncing ghastly border policies while indirectly funding their enforcement. Following the money may not be an easy task, but it's incumbent on state institutions to re-evaluate their investment portfolios and sever transactions they consider to be contrary to the public stances they've taken.
And from the looks of it, there are several notable divestments these institutions can already make.
For example, AFSCME, in its letter to UC President Janet Napolitano, claimed the University spent $281 million on contractors who also work with Immigrations and Customs Enforcement. Among these companies is General Dynamics Information Technology, which administers the Analytical Writing Placement Exam for incoming freshmen. General Dynamics has advertised jobs to monitor undocumented children via the Office of Refugee Resettlement, the department responsible for the treatment of immigrant children separated from their parents.
At the state government level, CalSTRS invests in CoreCivic, a private prison company tangled in multiple lawsuits alleging violations of prisoners' civil rights.
Other companies that unions point to, however, have less direct relations with border policy. One such company AFSCME references is ABM Industry Groups, which leases parking facilities and works with both the UC and ICE.
And that's the point: Divestment is a messy business – one that's only made worse by state institutions' silence about what principles are guiding their investments.
In June, for example, Napolitano declined a request from the American Federation of Teachers' UC chapter to divest from GDIT on the grounds that it stated it is not involved in the separation of families at the border. And in the case of Californian teachers' pension funds, CalSTRS has a track record of refusing appeals for divestment so as to not miss out on opportunities to boost its pension fund.
These are paltry explanations when these same institutions have clearly expressed their disapproval of the Trump administration's attacks on asylum-seekers.
After all, the University is in the midst of a lawsuit against the federal government, claiming the halting of the Deferred Action for Childhood Arrivals program was illegal. Napolitano, who previously served as the secretary of the U.S. Department of Homeland Security, even went as far as to call out the Trump administration's policy of separating families at the border.
Institutions like the UC have, in effect, already taken a stance on how wrong it is to separate asylum-seekers' families at the border. Not following through on those stances, though, only cements how cheap the talk has been.