Avvalzameer Bhatia: UCLA should offer vacant air conditioned rooms to summer school students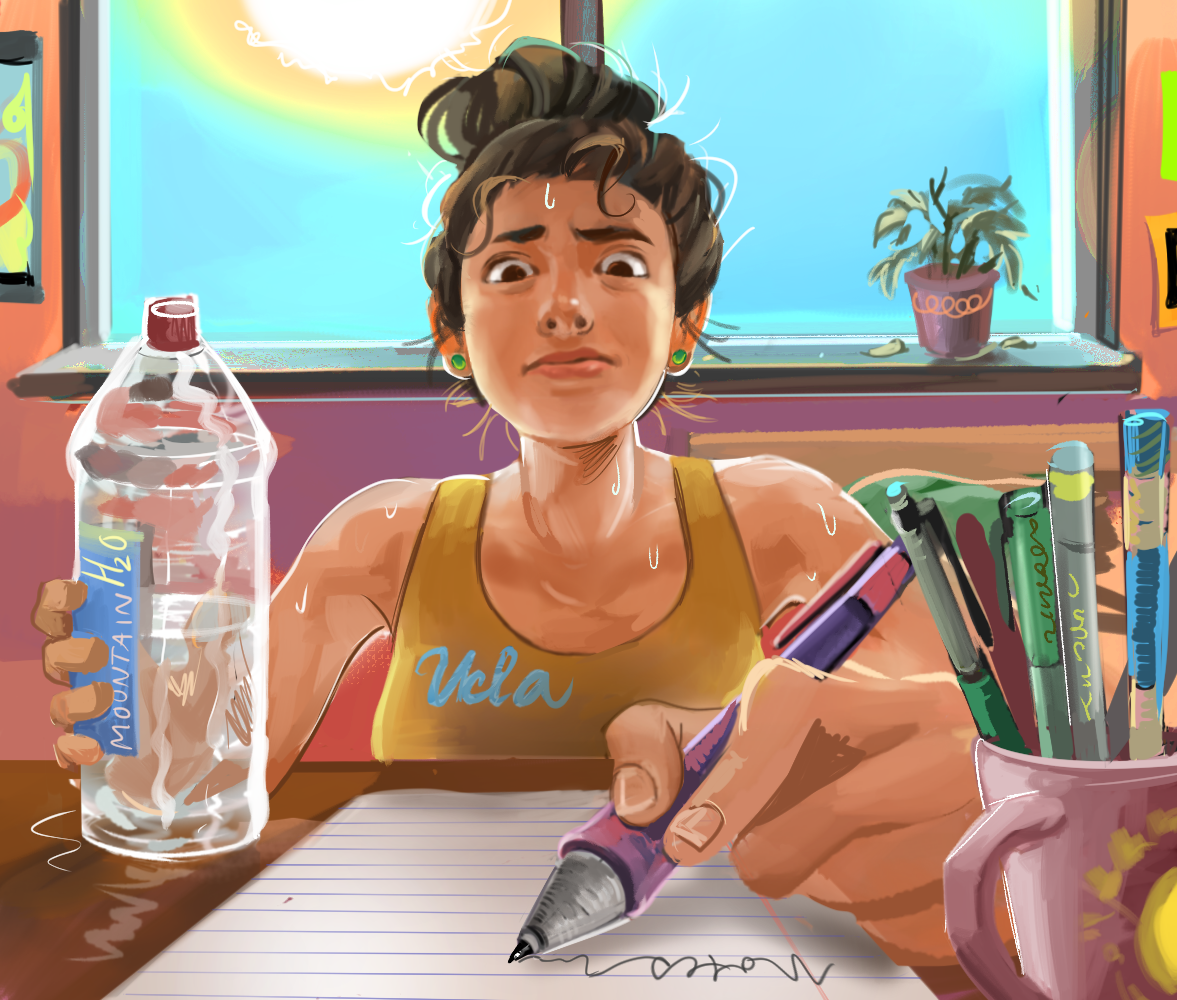 (Juliette Le Saint/Daily Bruin)
Picture this: it's nearly 100 degrees Fahrenheit and you're trudging down Bruin Plaza, hoping for some shade. You manage to get up Bruin Walk without melting into a pile of jelly and then suffer all the way up Hedrick Summit, hoping to escape the heat by getting into your dorm after an exhausting day of summer classes.
To your luck, the temperature of your room is 95 degrees. Thank you, UCLA Housing.
This is the fate of students who take summer classes at UCLA and live on the Hill. UCLA Housing and Hospitality Services offers deluxe, plaza and classic rooms, as well as suites and university apartments, for students during the academic year. Of those, Hedrick Summit, De Neve Plaza, Rieber Vista, Rieber Terrace and Sunset Village are the only dormitories with air conditioning.
However, none of these plaza rooms are available for summer housing. And while some of the university apartments do have AC, they tend to fill up quickly.
The plaza rooms are instead occupied by those attending summer conference groups or UCLA's summer high school programs, and are briefly used by incoming freshmen during orientations. However, these occupancies are sometimes only for a matter of several days, and there aren't a great many conferences or summer program groups, meaning many plaza rooms can be left unoccupied during the summer. I myself have walked by numerous empty plaza rooms in Hedrick Summit and Rieber Vista throughout the summer.
While living in the deluxe and classic rooms or suites may not be bad during the academic year, it is extremely uncomfortable to live in them during the scorching summer without AC, especially given California's recent raging heat wave.
As such, UCLA should offer plaza dormitories as an option for summer housing on the Hill. Students are sacrificing their summers and spending extra on tuition to take classes to get closer to earning their college degrees. By making them live in rooms without air conditioning, UCLA is simply discouraging them from taking summer session classes while living on the Hill.
Students shouldn't have to live without AC for up to 12 weeks in extreme heat. Not only are they being forced to live in discomfort, but heat waves can also lead to dehydration or cause heat strokes. It also becomes harder to sleep, study and carry on with student life.
Shashwat Goel, a third-year computer science student, said he finds it extremely uncomfortable to live without AC during the summer.
"My room in Hedrick Hall did not have AC or a fan, and there was virtually no air ventilation," he said. "Opening the window did not help either, as it was equally hot outside, if not worse."
Other students voiced similar concerns. Gabriela Ramirez, a second-year psychobiology student, also took summer classes this year and suffered through the heat, while living at Hedrick Hall.
"It was impossible to study in the room," Ramirez said. "UCLA should provide AC in residential spaces to make summer housing more comfortable."
To deal with the insufferable heat, students on the Hill find themselves forced to buy their own fans – a half measure at best, because fans are not merely as effective as an AC unit. Alternatively, students camp out at libraries or other air conditioned study spaces away from their rooms late at night, thus limiting student mobility during the summer.
Visiting students are put in the most comfortable plaza rooms, perhaps to make their UCLA experience positive and memorable. By doing so, UCLA can successfully convert them to future applicants. However, this comes at the expense of UCLA's current students, who have to live and study in the unbearable LA heat without air conditioning. UCLA should prioritize the well-being of Bruins taking summer classes instead of its own reputation among prospective students, especially since summer sessions are longer in duration than most programs and conferences.
UCLA Housing said in a statement that short-term summer visitors pay higher daily rates than summer session students. This helps keep housing costs for UCLA students lower throughout the year.
However, the expenses shouldn't bar returning students from having the option of staying in those rooms. Plaza rooms with AC are already more expensive than the non-AC dormitories during the academic year. Non-AC double occupancy rooms with a 19 regular meal plan, for example, are $15,068 per year, while AC rooms are $17,537. Summer session students should at least be given an option to stay in the plaza rooms, especially since many of them may not be occupied during the summer. Once given the choice, it is up to them to decide whether they are prepared to pay extra for air conditioning.
UCLA Housing added it is currently exploring opportunities to include housing with air conditioning for summer sessions, starting next year.
That's a welcome move, but it doesn't discount the fact that UCLA has prioritized the comfort of campus visitors over students who already pay a great deal in housing fees to live in on-campus dorms.
And while comforting prospective students is a nice thing, UCLA shouldn't use that as an excuse to let its own students melt on the Hill.
Bhatia is an Opinion columnist.
Bhatia is an Opinion columnist.