Editorial: Summer stats speak to inadequate and shortsighted California climate policy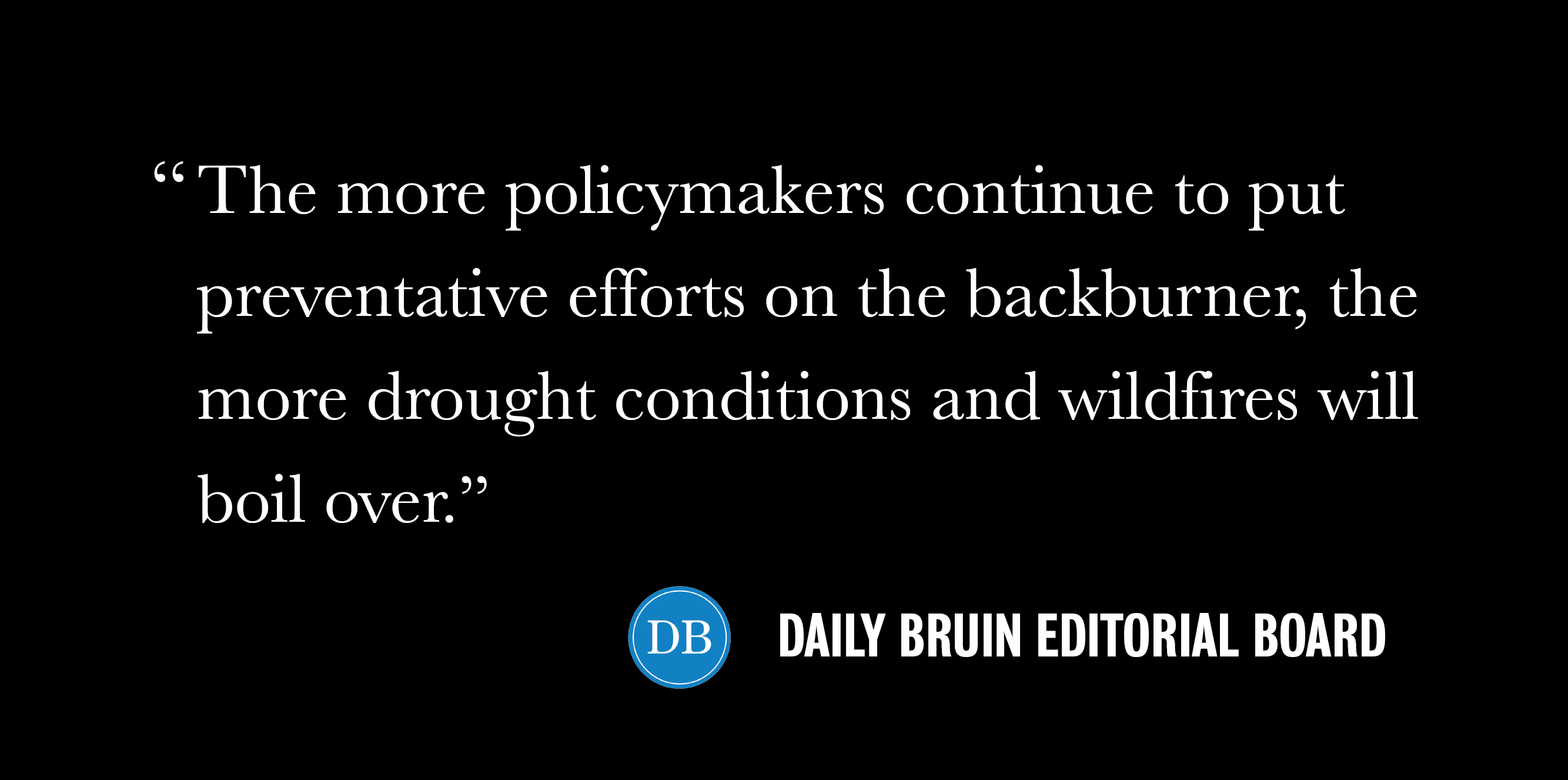 Record-breaking temperatures have put a spotlight on the dangerous conditions California's lackluster regulations fail to combat – and the heat is on for state policymakers.
The Mendocino Complex fire and Carr fire are currently raging through Northern California, and the latter has already destroyed or damaged more than 1,000 structures and 100,000 acres of land. In total, California wildfires have damaged 400,000 acres of land this year. Southern California is most recently rebuilding after December's Thomas fire and July's heat waves that left thousands of Angelenos without power. And according to the United States Geological Survey, California wildfires are only expected to get worse with more intense and widespread burning as temperatures rise.
This trend isn't new. Summer of 2017 was the hottest on record and broke California's high, which was set in 2015. In fact, five of the six hottest California summers on record happened within the last five years, and this summer only continues the trend. Nighttime temperatures are also rising, not only making it harder to fight wildfires but also putting extra pressure on electrical grids as Californians run air conditioning through the night.
Yet politicians seem to act as if these are temporary problems. Water conservation efforts have dropped steadily since the official end to the emergency drought, despite persisting drought conditions. Fire prevention regulation is outdated and unenforced. And merely asking Californians to conserve energy during massive heat waves is not only unrealistic but also shortsighted considering the temperature trends.
Preventative efforts in reaction to climate change seem to not weigh heavily on the minds of policymakers, but they are crucial to protecting Californians and their property. The state is already leading the way in combating future conditions resulting from climate change. Now it has to protect residents from the harmful conditions that have already been produced.
While Gov. Jerry Brown recently signed two bills that create an indoor water use goal of 55 gallons per person per day by 2025, there is little legislation and few recommendations in place for how to meet this goal. The average use per day per person for 2017 was 90 gallons for indoor and outdoor usage combined. Lawmakers need to incentivize landscaping that utilizes desert flora requiring less water usage than grass lawns, and put pressure on homeowner associations to put these regulations in place as well.
Legislation should also focus on the mismanagement of what little water is available – excessive groundwater pumping has led to sinking land which damages these groundwater wells and threatens the storage capacity of aquifers.
Lingering drought conditions also threaten to turn California's landscape into fuel for wildfires. Controlled burns of dead brush are crucial to maintaining a healthy landscape in the face of these droughts. However, fire protection agencies like Cal Fire might have to wait up to three years because of the 1970 California Environmental Quality Act to get approval for these fires.
Additionally, prescribed fires are increasingly harder to perform as the urban sprawl continues into fire-prone areas. Policymakers need to update the inefficient legislation and create regulation to control housing development in wildfire territory so Cal Fire can do its job.
Certainly, more regulations may seem cumbersome to the average Californian. But considering the nearly $773 million California spent in fiscal year 2018 to combat fires, it's clear climate change comes with a price tag – and a safety risk.
And the more policymakers continue to put preventative efforts on the back burner, the more drought conditions and wildfires will boil over.