Editorial: UCLA's disregard for its librarians shows once again its exploitation of workers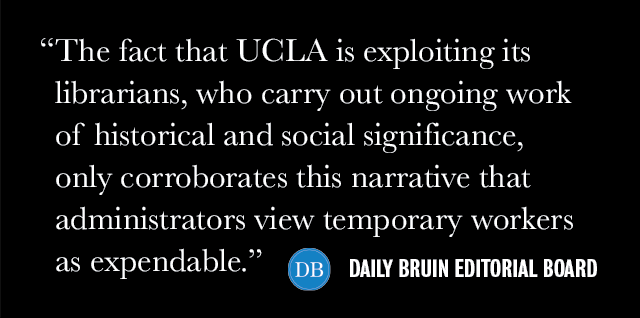 UCLA's Powell Library and Charles E. Young Research Library turn 89 and 54 respectively this year.
If only the jobs of the librarians working in those buildings had that kind of permanence.
Many of UCLA's librarians are hired via temporary contracts, which come with limited wages and benefits. The university relies heavily on these contracts to staff librarian and archivist positions, despite the institutional work these employees do to support scholarly research and manage its special collections.
Librarians argue their pay is 20 percent less than that of their peers at California State University campuses and community colleges. Some have even had to file for unemployment to pay for rent. The University Council-AFT, the union that represents lecturers and librarians, is preparing for its fifth bargaining session with the University of California Office of the President to address these grievances – a troubling sign of the University's reluctance to budge.
UCLA's dependence on temporary contracts to staff its libraries is just another chapter in a growing saga of temporary contract misuses. It already banks on temporary lecturer contracts to staff instructor positions, and its use of temporary contracts to manage its world-renowned libraries only shows how uncommitted it is to the livelihoods and betterment of its employees.
Perhaps most egregious is that the university's libraries are understaffed, despite the abuse of temporary contracts. A former temporary librarian said the university doesn't have enough employees to process existing and incoming archival materials, adding the high turnover rate of temporary librarians only exacerbates the problem.
And it's not as though there's a shortage of qualified employees. Librarians often must have years of professional experience and are required to have a master's degree to be hired, regardless of whether they are working on a temporary contract.
That's not just a sign of UCLA's negligence; it's indicative of the university's callousness to its historic institutions – and more importantly, its employees.
Disturbingly enough, we shouldn't be surprised by this. Just four months ago, UCLA discontinued contracts for its financial actuarial mathematics lecturers – trained professionals with years of industry experience – to instead have permanent faculty who aren't knowledgeable in the subject matter teach the department's courses. The move was criticized not just by lecturers and students, but also Patty Boyle, the spouse of the founder of UCLA's FAM program.
And last year, the UC arbitrarily pulled benefits for summer session lecturers under the guise of making benefits more consistent across its campuses. The move saved little money for the University and only made it all the more unattractive – and unfair – an institution to work for.
The fact that UCLA is exploiting its librarians, who carry out ongoing work of historical and social significance, only corroborates this narrative that administrators view temporary workers as expendable.
Of course, it might seem UCLA has to cut costs to keep itself afloat. But an institution preparing to celebrate its centennial year and that has raised more than $4.2 billion in donations should not be driving a department as essential as UCLA Library into asceticism. And it shouldn't be forcing its employees into it either.
It would be worthwhile to argue UCLA should put its money where its mouth is. But considering how it has treated its libraries and librarians, it's clear the university has already said enough.