Student-developed tool brings 3D molecular models to smartphone screen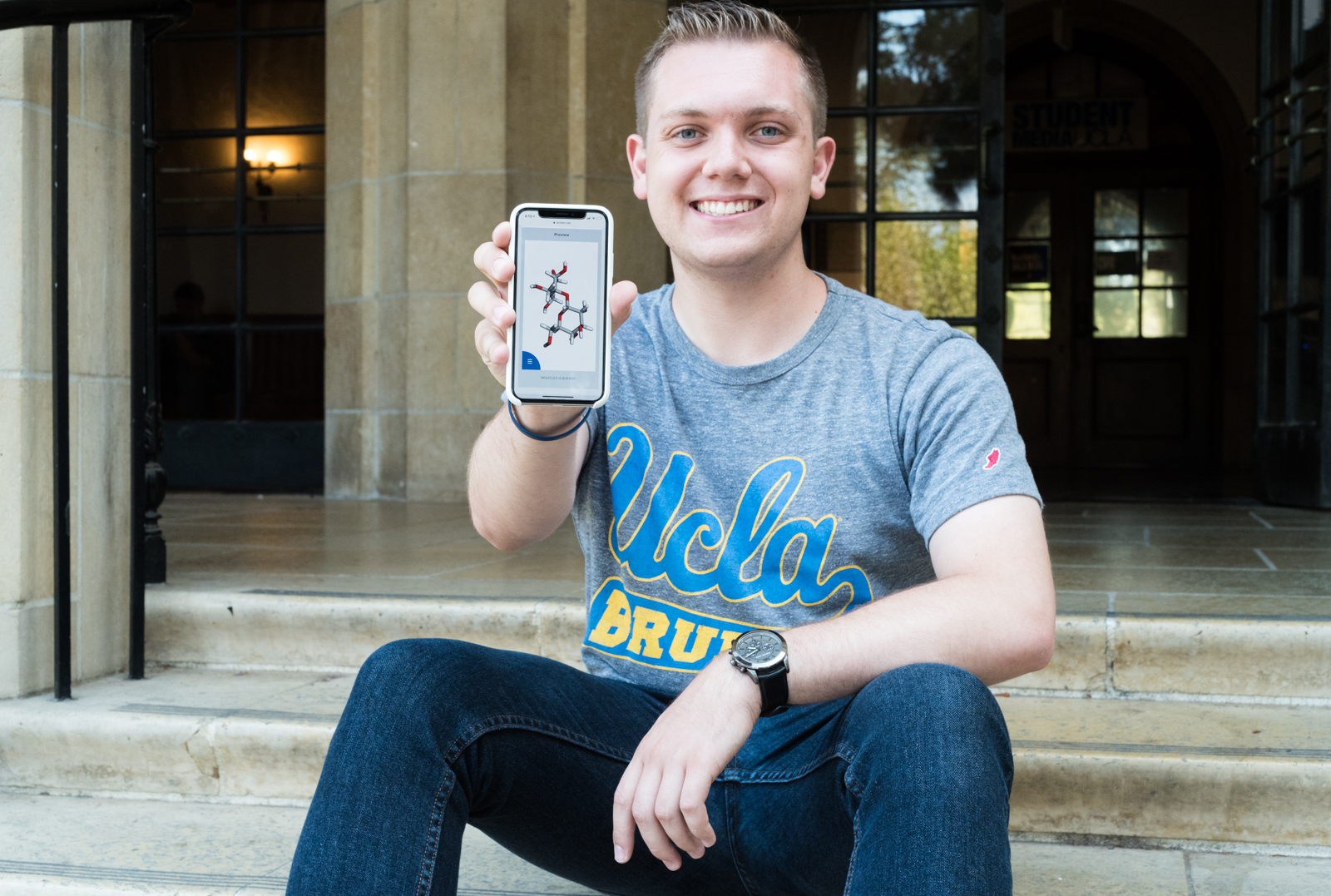 Rising fourth-year biology and cognitive science student Shawn Schwartz shows off QR Chem, a website on which students can visualize chemical molecular structures by scanning QR codes on their phones. (Joe Akira/Daily Bruin)
Correction: The original version of the caption accompanying this article misspelled Shawn Schwartz's name.
Chemistry students can now visualize 3D chemical structures by scanning a QR code with their smartphones.
A team of undergraduate students developed an online tool, QR Chem, which provides QR codes that provide a link to a 3D image of a molecule. The codes can then be used in lecture slides or printed in homework and textbooks. The team published a paper detailing the development and use of QR Chem in June.
Visualizing molecules in three dimensions is important to conceptualize many principles in chemistry but can be difficult for students, said Rishabh Shah, a rising second-year biology student who helped develop the tool. The QR codes are more convenient to use during fast-paced lessons than molecular model toolkits, which students conventionally use to build and view molecules in 3D, he added.
"Molecular models can be expensive and time consuming to build, especially for complex molecules," Shah said. "The QR codes provide much easier access and serve the same purpose."
To use QR Chem, a student or professor can type the chemical formula or PubChem CID number, which is a web-searchable ID number for each molecule in the National Institutes of Health database, according to the paper. The website then automatically generates a QR code, which provides a link that shows the molecule in 3D.
Because there are thousands of requests, a unique QR code is made on the spot each time a user enters in a molecule, said Shawn Schwartz, a rising fourth-year biology and cognitive science student in the team. This increases the website's efficiency and ability to handle hundreds of students using the website at once during class, he said.
The 3D molecules are derived from another database, known as 3Dmol.js, created at the University of Pittsburgh, Schwartz added.
The students tested QR Chem in an organic chemistry class, where roughly 200 students scanned a QR code from a slide and answered clicker questions about the molecule structure's effect on its reactivity, Schwartz said. A majority of the students polled said the QR code helped them understand the lesson material, he added.
Johnny Dang, a molecular, cell and developmental biology student who graduated in spring, said he came up with the idea for QR Chem in a Fiat Lux class, "Innovating and Educating in 21st Century," in winter 2018. The class encouraged students to create and present ideas or inventions for chemistry education.
"Everyone pulled out their phones and was really excited about how fast it was, and seeing it in everyone's eyes, I knew we had something with lots of potential," Dang said.
In the following quarter, Dang said he still felt very passionate about pursuing his idea, and joined with some classmates and Neil Garg, a chemistry professor who had taught the Fiat Lux, to develop QR Chem throughout spring quarter.
Dang said he hopes the codes will be regularly incorporated into lectures and printed into textbooks or homework for college, high school and middle school students. He added the tool also has applications beyond education, such as in chemical research.
"Research posters are typically very dry when you're trying to describe an obscure molecule," Dang said. "Imagine you could put the QR Chem code on the poster so that instead of telling people about the structure, you can show them."
Nakahara is the assistant news editor for the science and health beat. She was previously a contributor for the science and health beat.
Nakahara is the assistant news editor for the science and health beat. She was previously a contributor for the science and health beat.