Communication department manager Jane Bitar receives chancellor's award, retires after 37 years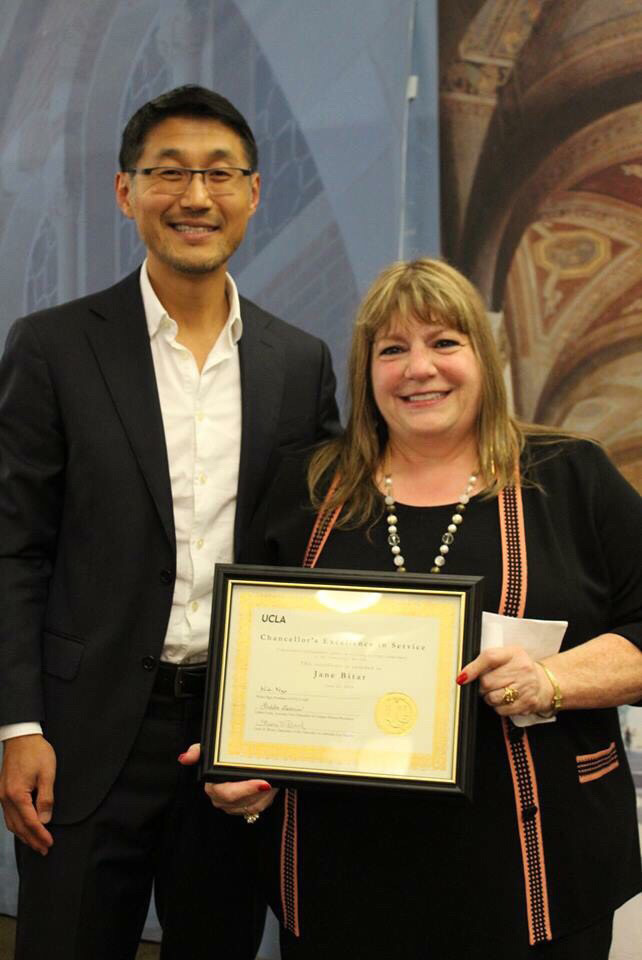 Jane Bitar, former manager of the department of communication, retired this June after having worked at UCLA for 37 years. She received the Chancellor's Excellence in Service Award last month, which recognizes the achievements of UCLA faculty and staff. (Courtesy of Jane Bitar)
Nour Dabboussi said that Jane Bitar was a bubble of happiness and someone students could always run to for help.
Bitar, former manager of the department of communication, retired this June after working at UCLA for 37 years.
Dabboussi, who graduated in June, said she met Bitar at orientation during her first quarter at UCLA and looked to Bitar for guidance throughout her college career.
"I was the class speaker for this year's graduation and I remember practicing in her office," Dabboussi said. "She would make jokes whenever I was nervous and she'd make me laugh about it. Those were really good memories; practicing in her office and her telling me it'll be okay."
Bitar also accepted the Chancellor's Excellence in Service Award last month, which recognizes the achievements of UCLA faculty and staff. Bitar said that receiving the award was one of the best moments of her professional career.
"You do your job every day and you get used to it, but when you see how you affected others is the greatest feeling in the world," Bitar said. "How people reacted when I told them I was leaving broke my heart. My feelings that came out during the time of the award. It was so touching."
Karyl Kicenski, a lecturer in the communication department, has worked with Bitar for 10 years and nominated her for the award. She said that she nominated Bitar because of her ability to meet the needs of all of the people that she worked with and her constantly warm and welcoming presence.
"She was sort of like a dynamo who meets your needs before you can tell her what they are," Kicenski said. "She's always working at all hours of the day and night, which kind of freaks me out a little bit. You can send her an email at 1 a.m. and she answers you."
Bitar said she worked at UCLA for such a long time because of her passion for helping students. She added being able to touch their lives was the highlight of her career and is what she will miss most.
"I'll miss my students the most, which is interesting because my position does not deal with students that much, but I just assumed the responsibility of a counselor," she said.
Bitar said she has kept in touch with some students for decades and that her strongest memories were of times when she helped these students during crises.
"I just went to lunch with a student that I worked with 20 years ago," Bitar said. "During her time at UCLA, she was going through family troubles and we kept a standing appointment every single week for a significant amount of time just so that she could have a safe place to talk."
Pia Svenson, the undergraduate advisor in the communication department, worked with Bitar for seven years and said she will miss Bitar's warm spirit and great energy the most.
"Our friendship will continue but in terms of filling the role for all of us in this department, it will be difficult to fill," Svenson said. "There is only one Jane."
Svenson also said that Bitar was like a fairy godmother to everyone in the department and would create a warm, nurturing environment by baking cakes to bring to work or making lunches for the people in the office.
Bitar said that creating these types of relationships in the office makes a job much easier.
"Once you make personal connections, the support system is unreal," Bitar said. "My mission every day was to make it the best it could be for my staff and my students. If I can make something good happen for one person, that is my goal."