UCLA Extension partnership creates educational program for underserved community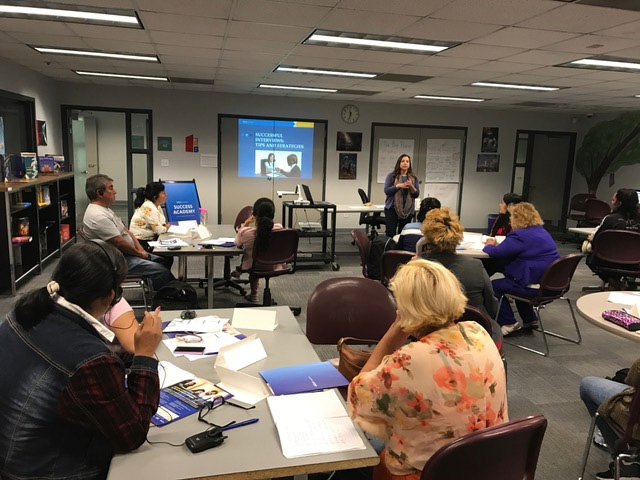 UCLA Extension and PUENTE Learning Center co-sponsored an adult education program in Boyle Heights. (Courtesy of Yuritzy Peraza)
Some adults said they want to continue their education because they want to successfully showcase why their skills and experience are useful to potential employers.
UCLA Extension, an institution affiliated with UCLA that offers career and educational programs, partnered with PUENTE Learning Center, an organization that offers educational programs to adults and children in Los Angeles' Boyle Heights neighborhood, to launch Success Academy. The program is a five-week class taught by UCLA Extension instructors that began on June 26. The program plans to equip students with communication and listening skills that employers favor, said Yuritzy Peraza, director of community engagement at UCLA Extension.
Peraza said Success Academy is part of UCLA Extension's pop-up classroom initiative, which focuses on bringing UCLA Extension professors and classes to communities that may have trouble accessing Extension classes due to geographical distance or cost.
By bringing UCLA Extension instructors and curriculum to local communities, the university aims to help students who are unable to access career counseling resources to develop the skills they need to find jobs, Peraza said. Instructors aim to teach students in local communities how to navigate the job market by helping them craft career plans, develop yearly careers goals and access online job-search resources, such as LinkedIn.
Peraza said around 18 students attend the program each week to learn soft skills and receive career management advice that is not offered in a conventional classroom setting. Upon completing the Success Academy program, participants will receive a digital badge from UCLA Extension to use on social media and professional networking sites to demonstrate their communication and job searching skills to employers.
Each Success Academy class is taught by a different instructor and focuses on a different career-related topic, including how to search for a job, progress in a career, cope with stress, strengthen entrepreneurship skills and understand employee workplace rights.
UCLA Extension and PUENTE tailored the curriculum to the needs of students in Boyle Heights based on prospective student survey responses, Peraza added.
Lissa Santillan, a student in the program, said no one ever completely masters how to apply for jobs because today's workforce is constantly changing.
"I appreciated that Success Academy has taught me how to apply and research jobs because it means that I am not dependent on others and solve a problem myself," she added.
Jessica Oviedo, the instructor for Success Academy's first class, said the program is important to students because it provides job-search resources underserved community members may not normally have access to.
Because most Success Academy students speak Spanish, the program offers course materials in English and Spanish and provides Spanish speakers with headsets that translate lectures, Peraza said. She added that she taught students how to use online job-search sites that operate in both English and Spanish.
Oviedo said the program teaches students to evaluate their current skills and experience and translate them into career opportunities.
"This type of education, no matter if it is at UCLA Extension, a four-year university, or community college, is the key to opening career paths and opportunities for students," she added.
Peraza also added UCLA Extension was able to help PUENTE offer the Success Academy program at no cost to students because UCLA Extension received a $15,000 grant from U.S. Bank and Herman Miller to run the program.
Peraza hopes the program's success will help UCLA Extension secure future partnerships with other community organizations and continue its partnership with PUENTE. She added that if this program can help students successfully secure jobs, UCLA Extension may be able to create more programs.
Success Academy will continue to hold classes until its last session July 24.