Authorities, students review UCLA's responses to emergency situations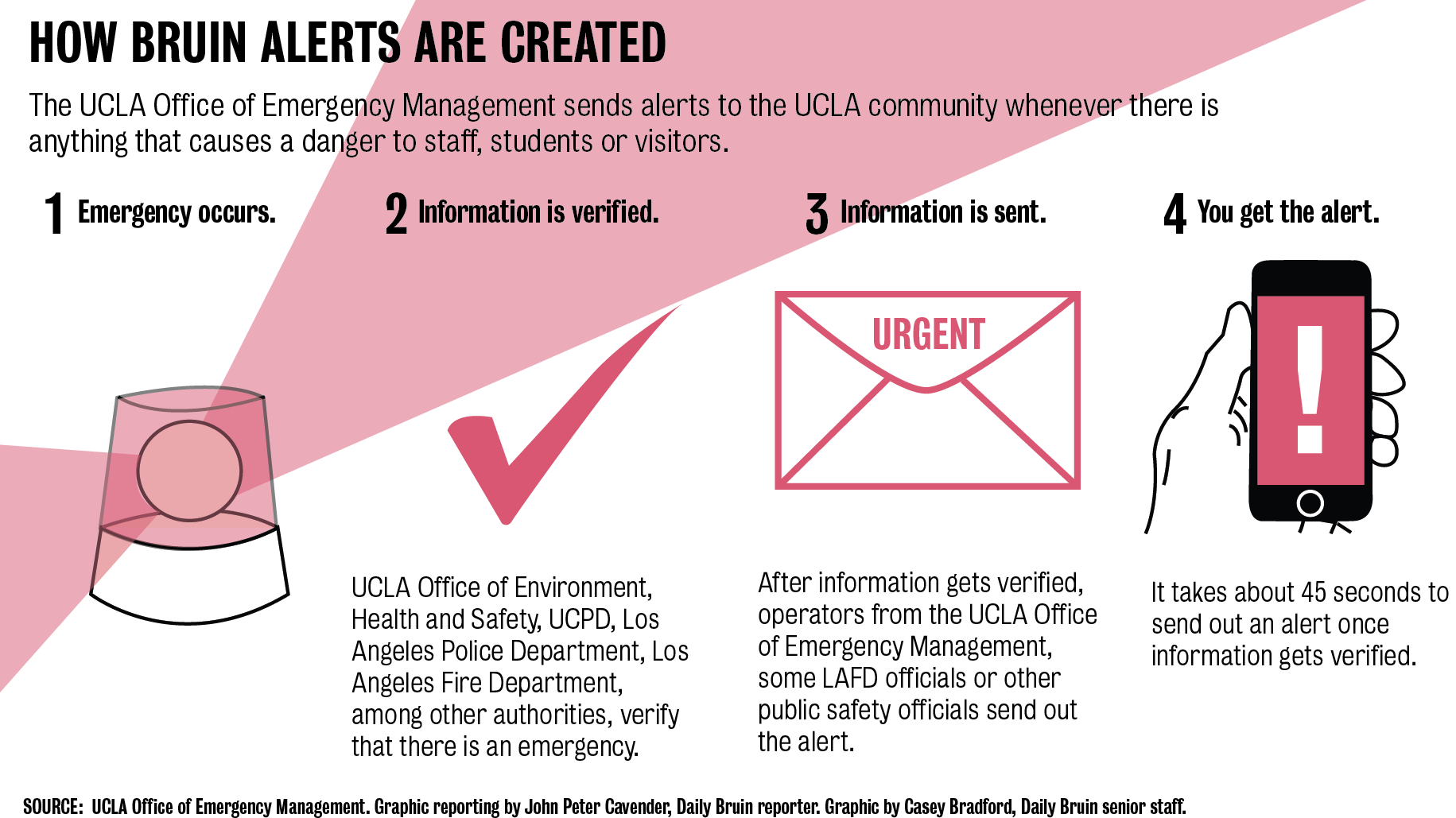 During the Skirball fires in December, students received security alerts to their phones and emails about campus safety, class schedules and potential actions regarding evacuations.
The BruinAlert system provides security updates via text message and email to students, faculty and staff and is regulated by the UCLA Office of Emergency Management. UCPD and the Los Angeles Fire Department work with OEM to provide accurate information in emergency situations.
The Skirball fire began near the 405 Freeway around 4 a.m. on Dec. 6 and led to power outages in several medical facilities and buildings on the Hill as well as the cancellation of athletic matches. UCLA also closed campus and cancelled classes starting at noon. However, OEM did not send out BruinAlert text messages and emails until noon that day.
Art Kirkland, director of OEM, said news of certain emergencies may take a longer time to be delivered to the UCLA community through the BruinAlert system because they may require more dialogue between different University of California security departments. However, they said the OEM encouraged students to follow new updates on emergencies by streaming the Bruins Safe Online website.
"It is very quick in terms of when we send the messages out, it takes less than four to five minutes to get the messages out to everybody," Kirkland said. "Usually, it is faster than that and they get the text messages within a minute."
Kirkland added that the office plans on installing new speakers and emergency alert poles that include the blue light poles on campus to provide immediate updates in emergency events.
"In the spring quarter of next year, we will have outward speakers around all the way down the Bruin Walk and all the emergency announcements will be heard out of those," Kirkland said.
UCPD Lt. Kevin Kilgore said he thinks that it is important for the different administrative offices on campus, such as OEM and UCPD, to work together in emergency scenarios.
"Everything is always a warning process. There is nothing that we can really master and you learn new perspectives each time something happens," Kilgore said. "And so I think it makes us better each time we are able to sit down and be brief and look at the things from (a) holistic point of view that will allow us to be more effective on our response on other emergencies that may occur in the future."
Some students think the alert system is an effective way to update the campus community in emergency situations.
Bibek Ghimire, a rising fourth-year computer science student, said he thinks the BruinAlert system is helpful in emergency situations, such as the shooting that occurred on campus in 2016 because it updated students with verified information.
"There were a lot of other rumors circulating on Facebook and social media about the shooter, but the BruinAlert did not fall into the rumors and (gave) reliable information," Ghimire said.
Ghimire added he thinks that consistent security updates from the university are helpful but that the university should have done more to address concerns during situations, such as the Skirball fire.
"It is a good system and I am sure it gets (information) to people pretty quickly. I think it would have been a safer measure to have the classes cancelled (during the fire)," he said. "It did feel that the university (did) not having the right priorities at that time."
Shawntel Okonkwo, a doctoral student in molecular biology, said she thinks security updates should be more thorough.
"I think the BruinAlert system during the shooting and the Skirball fire could have been improved because it wasn't as robust of a coverage for people to know about what is going on," Okonkwo said.
She added that she thinks the security alerts are helpful for students, but that UCLA should act on them when making administrative decisions in emergency situations.
"Maybe there needs to be more critical analysis in regards to what impacts the campus community outside of the physical campus," she said. "I think there is no argument (whether or not) to host classes during emergencies of any types. … That is awful, that is some sort of violation of some types of human rights."
Kilgore said that confronting the long-term effects of emergency situations varies depending on the scenario but that he thinks campus safety is the top priority.
"We are always going to respond to safety matters first to make sure that people are safe, our community is safe," Kilgore said. "As things begin to settle down a little bit and more resources (come into) the picture, then we can start to open up different emergency operation systems and things like that to start making decisions that are going to be a little bit more futuristic."