Bruins see success at NCAA men's and women's track and field championships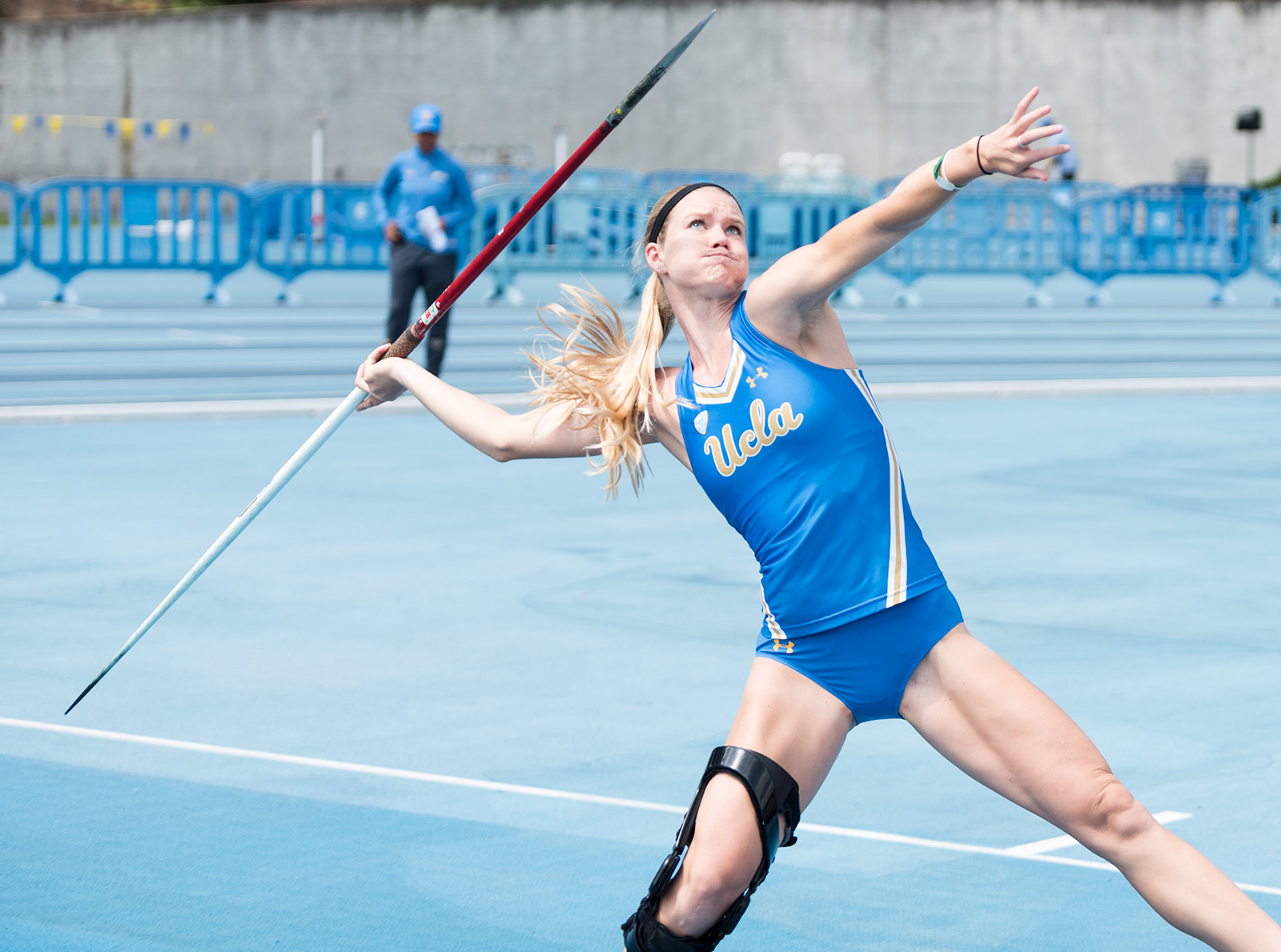 Senior heptathlete Kendall Gustafson threw for a distance of 43.27 meters in the javelin throw. After finishing the 100 meters in 21st place, she made up ground and finished fourth overall in the heptathlon. (Michael Zshornack/Daily Bruin senior staff)
Men's track and field
The Bruins sent four athletes to compete against the nation's top 24 athletes in their events at the NCAA Outdoor Championships in Eugene, Oregon.
Junior Robert Brandt placed eighth in the 10,000-meter run with a time of 29:13.12, his second-best performance on the season. His eighth-place finish earned him First-Team All-American honors and is the highest a UCLA distance runner has placed in the event at the NCAA Championships since Meb Keflezighi finished fourth in 1998.
Sophomore javelin thrower Marian Spannowsky ended his season ranked No. 11 in the javelin throw with a best throw of 68.05 meters. Sophomore Simon Litzell finished No. 14 with a throw of 66.72 meters in the same event. Both earned Second-Team All-American honors.
Junior hammer thrower Justin Stafford made his NCAA Outdoor Championships debut, uncorking his best throw on his first attempt with a distance of 64.25 meters – 67 centimeters behind his personal best. Stafford finished No. 18 overall, two spots short of an All-American team.
"I'm very excited to use the experience I got at NCAAs as I train for next year," Stafford said. "We all want to be at NCAAs and the team has a strong conviction that we'll have a much stronger showing here next year."
Women's track and field
The Bruins fought through rainy conditions on the final day of the NCAA Outdoor Championships to finish 14th in team scoring, bringing home three top-four finishes.
Freshman thrower Alyssa Wilson, who was the only athlete at the NCAA Championships to qualify for three individual events, competed in the hammer throw, shot put and discus and finished fourth, sixth and 21st, respectively. Although she fouled out in the discus, Wilson recorded personal bests in both the hammer throw and shot put with distances of 66.99 meters and 17.21 meters, respectively.
Wilson's finishes in the hammer throw and shot put earned her First-Team All-America honors. She is the first UCLA freshman to earn First-Team All-American status in two separate events since 2002, when future USA Olympic gold-medalist Monique Henderson earned the honors in both the 400-meter dash and as a part of the 4×400-meter relay team.
"After letting it all sink in, it's all still crazy because I only came to the meet expecting to be an All-American in the hammer," Wilson said. "You just have to trust the work you've put in all season to get to this point and it all clicked for me (this weekend)."
Senior triple jumper Jessie Maduka placed fourth in the triple jump and was separated from the medal podium by one centimeter. Maduka earned First-Team All-America honors again, which she also earned in the triple jump following her third-place finish at the NCAA Indoor Championships earlier this year.
"I'm happy with scoring, but I'm a little upset that it only took a quarter of an inch to make third place," Maduka said. "Last year, I was only a decent triple jumper but this year I was able to score a lot of points at nationals; it was a big surprise, but it was a happy ending for me."
Senior heptathlete Kendall Gustafson overcame a 21st-place finish in the 100-meter hurdles to climb through the field and finish fourth overall, also earning First-Team All-America honors. Gustafson finished in the top seven in four of the seven heptathlon events, a feat that only the event winner, senior Georgia Ellenwood of Wisconsin, was able to eclipse with six such finishes.
Gustafson had to fight against her own body in addition to her fellow competitors and the Oregon weather to gut out her fourth-place finish.
"After day one my Achilles had been feeling pretty tight, and on my first long jump I just got shooting pains up my ankle," Gustafson said. "On the starting line for the 800-meter run (the last event of a heptathlon) I was just thinking 'I did everything I could possibly do to get here, there's no reason I can't make it two more laps.'"
With the assistance of UCLA's trainers, Gustafson was able to fight through the pain and set a new PR on the 800-meter run, which elevated her from sixth to fourth place in the heptathlon and concluded UCLA's competitions at the meet.
Frederick joined the Bruin as a junior in 2017 and contributed until he graduated in 2019. He spent time on the cross country and track and field beats.
Frederick joined the Bruin as a junior in 2017 and contributed until he graduated in 2019. He spent time on the cross country and track and field beats.