Retiring psychology professor reflects on, encourages interdisciplinary research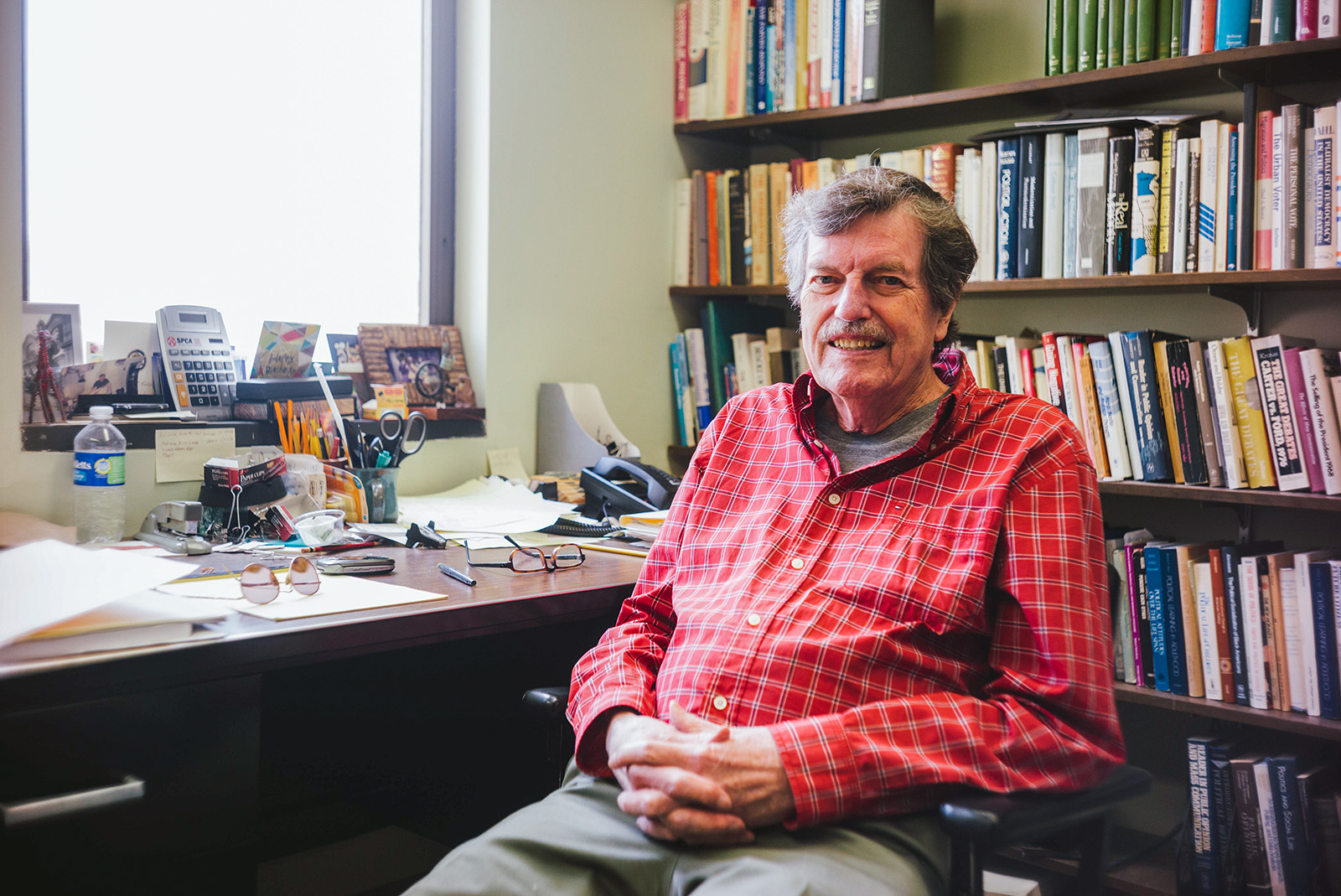 David Sears, a distinguished professor in the department of psychology, is retiring after almost 60 years of teaching at UCLA. (Ken Shin/Daily Bruin staff)
David Sears said he once flirted with former President Barack Obama during a photo opportunity.
"He said, 'Where do you teach?' and I said UCLA, and he said, 'Oh, my wife was just there last spring and she said it was such a beautiful campus,'" Sears said. "Then I said, 'Well, your wife has wonderful taste in campuses and in men,' and I patted him on the back."
Sears, a distinguished professor in the department of psychology, is retiring after almost 60 years of teaching at UCLA, and proudly displays a series of photos of himself, his daughter and a surprised-looking Obama in a frame on his desk.
Sears said he developed an interest in politics and history after participating in a UCLA study after the 1965 Watts riots, in which LA residents in the Watts neighborhood protested after an incident of alleged police brutality.
This interest led Sears to specialize in the study of political attitudes and race in the U.S. He addresses his research questions through an interdisciplinary lens, incorporating his backgrounds in history, political science and psychology.
"I've always felt grateful (because) UCLA has been extremely generous in letting me define my own path," he said. "I think it's a wonderful testimony to their belief in academic freedom, basically, that I could do something I wasn't really hired for."
Felix Danbold, a graduate student in psychology, said Sears' interdisciplinary approach and experience has helped him look at his own research from new perspectives.
"He's encouraged me to look at political outcomes and think about things in a political context more, something I wasn't super confident in approaching when I started the grad program," Danbold said. "Now, I consider myself a little bilingual – not fluent – in (political science) thanks to (Sears') class."
Danbold has worked with Sears for seven years. He said he trusts Sears to give him honest feedback about his work.
"(He) will point out meaningful flaws in my work, or thinking, or data or what have you, but he always has a solution, a suggestion," Danbold said. "He genuinely cares about me and the other students in that regard."
Sears said that he prefers working individually with students, like he does with Danbold, over teaching undergraduate classes in large lecture halls.
"I'm a rather shy person, and the undergraduate lecturing (has been) the challenging part of teaching for me," he said. "The one-on-one work with graduate students and watching them grow and mastering the techniques, that is, for me, thrilling."
However, Sears said one of his proudest moments of his career involved teaching a five-week course with over 1,000 enrolled students and over 50 teaching assistants. Sears and his colleagues organized a course about the Vietnam War in response to a campus protest after the 1970 shootings at Kent State University, where the Ohio National Guard shot unarmed students who were protesting U.S. military action during the war.
For the course, students conducted home interviews with voters in districts represented by politicians without an official stance toward the war. Sears said he wanted to redirect students' political agitation into something constructive.
"These students were very dispirited after the killings and the shutdown of the (UCLA) campus. They felt powerless, and some of them were talking about dropping out," Sears said. "They had all this youthful energy that was directed toward protest and we wanted to not let that go to waste, so we tried to convert it into something constructive and educational."
Decades after the crisis, he continued to encourage students to use their energy in constructive and academic ways. Enya Kuo, a third-year psychology and political science student, said that Sears has been a mentor to her and inspired her to pursue research in her first year.
"Seeing him work has made me really want to work in research and has made me really excited about research," Kuo said. "He's always encouraging of me to do more and get out of my comfort zone."
Sears said that even after retiring he still wants to teach graduate seminars through a recall agreement with UCLA, which allows retired faculty to teach. Although he will not be paid, he said he wants to continue to work with graduate students.
"I've watched this campus grow in all sorts of ways," Sears said. "It's gone from being a kind of modest regional university to being a superstar in the world, and I've had the pleasure of being part of that growth."