Are you there, UCLA? It's me, Mom: UCLA should follow other UCs' leads on supporting students with dependents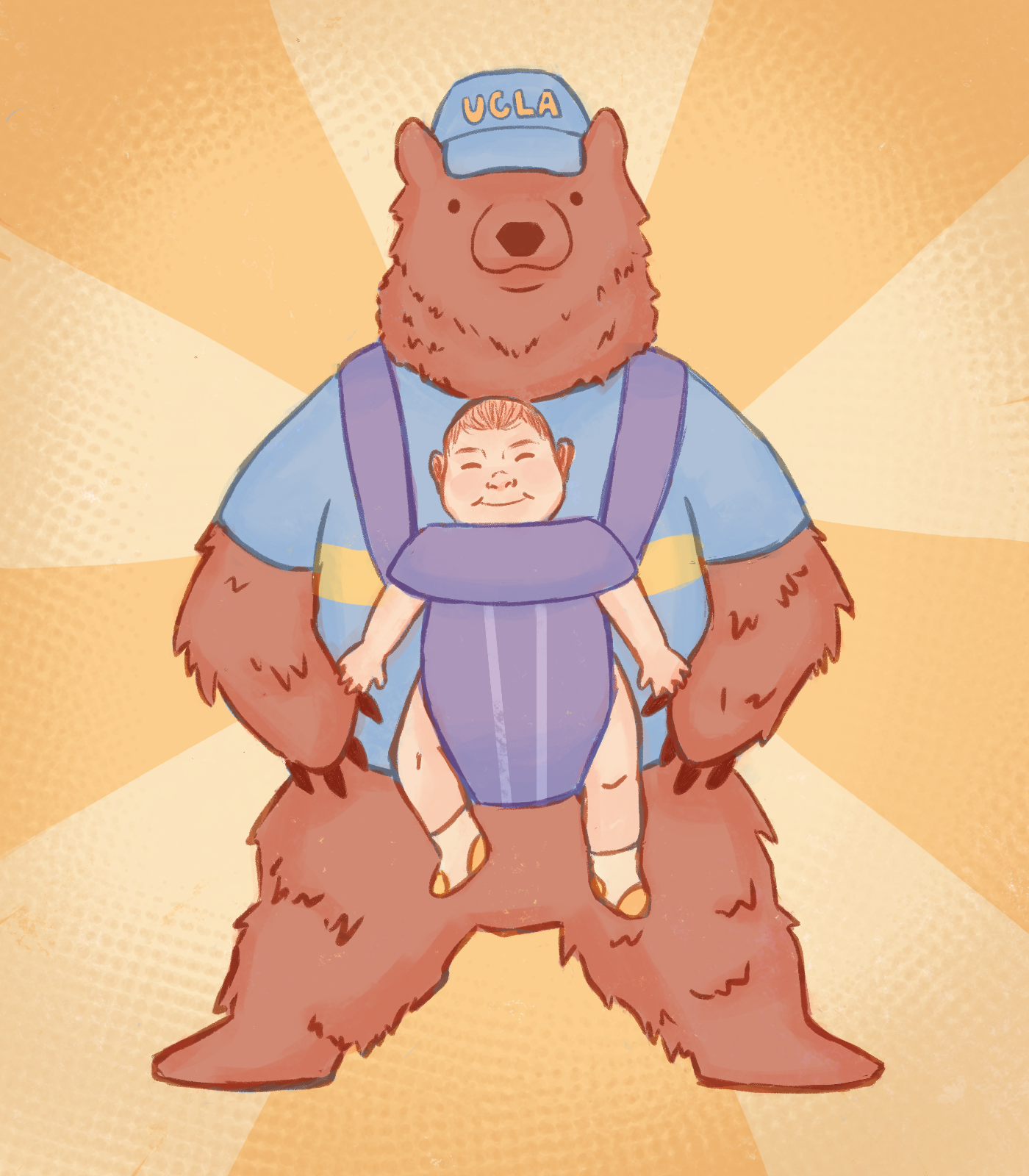 (Courtney Fortier/Daily Bruin)
Parenting students and faculty on campus are a forgotten constituency. The voices of nursing mothers have been largely ignored by UCLA, heard only by student activist groups. This is the finale to the column series, which explores the issues these mothers face and the steps UCLA must take to address these unmet needs.
The University of California's 10 campuses share the same name. But the schools don't share policies about lactation rooms and childcare accessibility.
Because support for parents on campus within the UC system is neither standardized nor centralized, this group often sees its needs go unmet and unrecognized at campuses that don't make them a priority.
The support parents on campus receive differs greatly depending on their school. UC Davis, for example, has 50 lactation rooms and plans to build 20 more.
UCLA only has 12, and most of them aren't easily accessible.
The success of UC Davis' program is largely due to its comprehensive campus health policies, which go beyond federal, state and University of California Office of the President requirements to truly support campus needs. For example, UC Davis has a rule that there must always be a lactation space within five minute's walking distance.
UCLA doesn't have these kind of campus-specific policies, let alone a centralized office to meet all parents' needs.
If that glaring disparity strikes you as pathetic, that's because it is.
It's ironic that while UCLA makes it a priority to be the best academically and athletically, the administration has been content with the university lagging behind the rest of the pack in its support of parents on campus, accessibility of lactation spaces and affordability of childcare.
This has UCLA student activists crying out desperately for help.
Mothers of Color in Academia de UCLA, a group of student activists, presented these concerns at the Students of Color Conference at UC Riverside in January and demanded the UCs' graduate student associations elevate this conversation to the University-wide level.
"It is really confusing that one university has policy in place and one doesn't," said Christine Vega, a co-founder of MOCA.
One of the people inspired by MOCA's presentation was Erin Adamson, vice president of external affairs for GSA at University of California Santa Barbara, and co-chair of the UC Graduate and Professional Counsel committee. UCGPC is working to collect data to inform a UC-wide policy for lactation rooms and childcare access.
Student regents are also supportive of this effort. Adamson said the student regents have hosted UC-wide calls concerning the unmet needs of parents on campus.
Adamson said that a UC-wide policy is necessary to take the pressure off student activists, many of whom are graduate students in vulnerable positions who fear losing their funding if they speak out.
"We're at risk of being attacked or having backlash come from the administration," Adamson said.
The well-being of parents on campus and their children should not be left in the already-too-busy hands of student activists.
"The university can and should do better to support parents on campus so the onus doesn't have to fall on a group of student activists to fill in the gaps," Vega said.
On top of supporting the system-wide policy UCGPC is preparing, UCLA also has serious work to do in centralizing support for Bruin parents.
Right now, support for parents on campus varies because different offices handle the respective needs of faculty, staff, undergraduate and graduate students.
This doesn't make a lot of sense because many of these needs, like the need for lactation spaces and childcare, are shared.
The division between departments makes it incredibly complex to even assess how many parents on campus there are because data is collected from students, staff and faculty by different offices through different survey methods.
Jean Libby, program director of both the Students with Dependents and Collegiate Recovery programs, said UCLA's data on the number of undergraduate students with dependents comes from responses to the Free Application for Federal Student Aid.
But not all students file the FAFSA. Libby said, for example, that graduate students typically do not file FAFSAs, meaning the university has to rely on other forms of self-reporting to get those numbers.
Libby said her records indicate there are at least 275 undergraduates and 800 graduate students with dependents at UCLA. She added, however, that she thinks the latter is underreported.
It's no wonder UCLA is doing a poor job meeting the needs of parents on campus — the administration doesn't even know how many of them there are at UCLA.
Libby and her team are working to correct this problem by partnering with the Student Affairs Information Research Office to do a campus-needs assessment.
"We are building towards a collaborative and cohesive support program," Libby said.
One of the ways UCLA can fast-track this centralization project is by following in the footsteps of its sister schools.
UC Davis, UC San Francisco, UC San Diego and UC Irvine all have work-life offices that support the entire campus community, including both students and staff, in integrating work and life. This work-life office serves as an umbrella covering all elements of support for parents on campus.
Sandy Batchelor, WorkLife Coordinator at UC Davis, said that institutionalizing this work-life focus is one of the ways UCD has been successful in supporting parents on campus.
Batchelor said this centralized position has helped them develop a wide base of support for programs that help parents on campus by combining the needs of parenting staff, students and faculty.
It's clear UC Davis' approach has been much more successful than UCLA's. UCLA should consider creating work-life coordinator positions as a first step in centralizing and streamlining the currently divided support programs for parents on campus.
Batchelor said that it takes a combination of pressure, policy and collaboration to improve existing infrastructure to better support parents on campus.
MOCA and other student activist groups have done the necessary work to put pressure on UC schools. UCGPC has been taking the first steps towards coming up with policy.
Now, UCLA administration must collaborate with these groups to centralize and institutionalize support for parents on campus.
Furtek is a staff columnist for the Opinion section.
Furtek is a staff columnist for the Opinion section.