Mitchell, one of UCLA's best baseball recruits, thrives despite health issues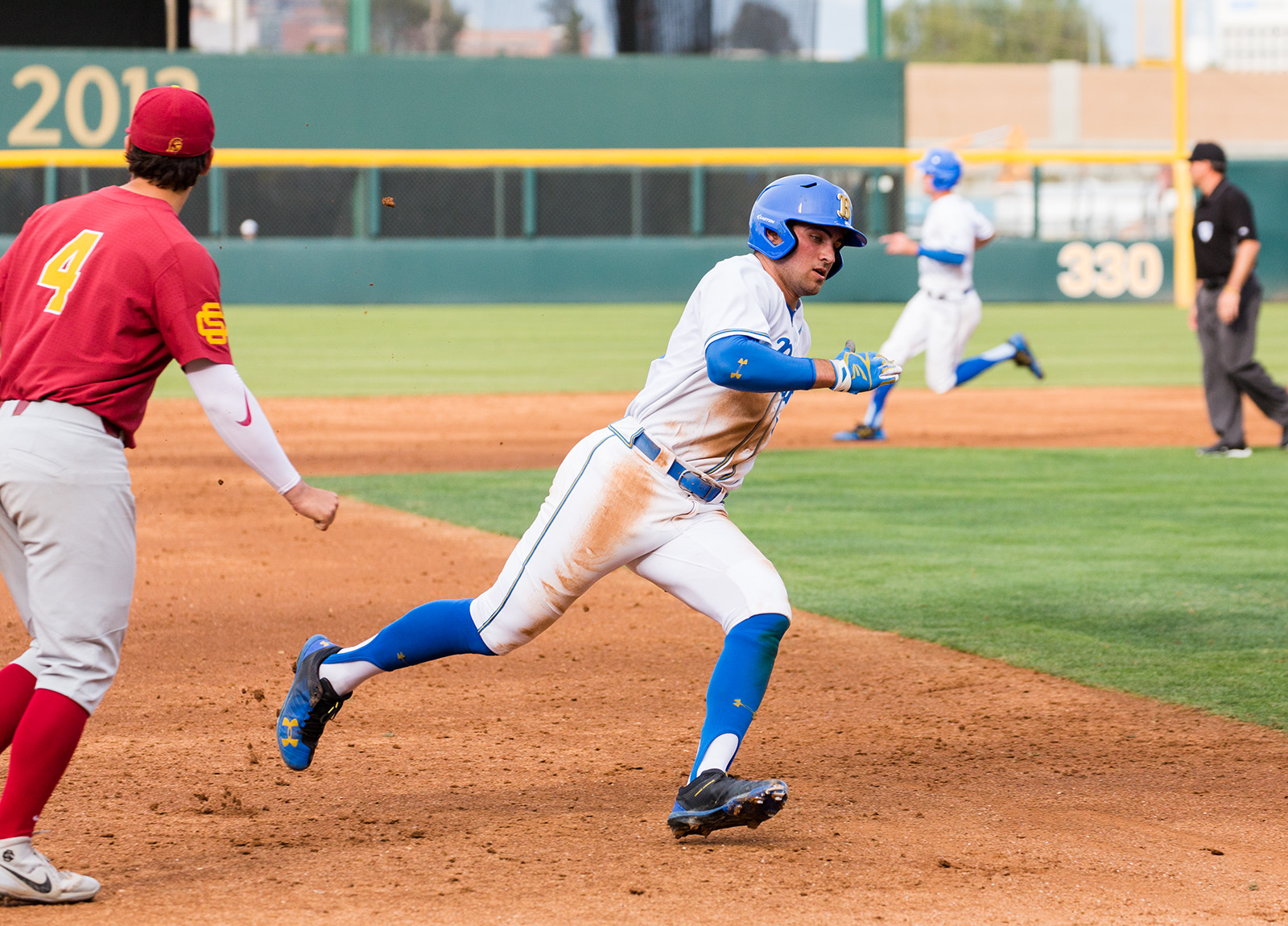 Coach John Savage said he was glad to get a chance to work with freshman right fielder Garrett Mitchell this year, who Savage praised for his speed – both in the field and on the basepaths – as well as his potential at the plate moving forward. (Alice Naland/Daily Bruin)
Garrett Mitchell has been compared to Lonzo Ball and Myles Jack for good reason – he's one of the best baseball recruits ever to come to UCLA.
However, his story is not as straightforward as the five-star recruit on his way to the pros after a brief stop in Westwood.
Coming out of Orange Lutheran High School in Orange County, Mitchell was probably the best pure athlete from Southern California, according to MLB.com. MaxPreps called him the 12th best senior of his 2017 class. Baseball America projected him to be picked in the first-round of the MLB Draft last June.
"He's a five-star guy. You watch him take batting practice and even if you don't know anything about baseball you'd say this guy looks good," said UCLA coach John Savage. "It's Lonzo Ball, it's Myles Jack – it's a no-brainer."
The freshman right fielder is physically prepared for the pros at 6 feet, 3 inches and 200 pounds. He can blast a 390-foot homer and make it to first base in under four seconds.
"He is one of those gifted athletes that can do just about anything," said Mitchell's high school coach Eric Borba. "His skill set is better than any kid I've ever coached. The combination of size and speed, jumping ability, all the athletic tools – he's off the charts."
Savage has recruited some of the top pitching talent during his 14-year stint with the Bruins. Former Bruin pitchers Gerrit Cole and Trevor Bauer were drafted first and third overall, respectively, in the 2011 MLB Draft. Mitchell is one of the best position player recruits to come to a normally dominant pitching school, Savage said.
The right fielder started immediately for the Bruins and batted .280 with 31 RBIs, but his season was plagued with inconsistency. The freshman missed more than a dozen games with various health issues.
It's part of the reason he is at UCLA instead of the pros.
Over a decade ago, Mitchell was diagnosed with Type 1 diabetes – a treatable, yet incurable, disease in which the pancreas is unable to produce insulin for the body. Mitchell wears a pump that constantly monitors blood sugar levels and delivers controlled doses of insulin through a catheter under his skin.
Even with the help of an insulin pump, people with Type 1 diabetes often have difficulty balancing blood sugar levels. If Mitchell skips a meal, exercises strenuously or if his insulin pump delivers the wrong amount of insulin, he can experience immediate health problems that can inhibit his performance on the field. A sudden adrenaline rush during a game can cause his blood sugar levels to plummet, Mitchell said.
Though the pump helps him better control his blood sugar levels, he still has to constantly monitor his body on the baseball field, in class, in the dining halls and before going to bed.
The 19-year-old has to worry about far more than his next at-bat during a game.
"I've had a good amount of highs and lows (with blood sugar) during the games this year, but I don't make it a big deal," Mitchell said. "I have to worry about making sure my blood level is consistent, eating right before (a game), getting a lot of sleep before game day and always having sugar on me just in case for emergencies."
Major league scouts rave about Mitchell's athletic ability, but Savage believes that his fragile metabolic condition affected his marketability in last year's MLB Draft. He wasn't taken until the 14th round, a far cry from scouts' first- to third-round projections.
"There were some lingering questions concerning (the diabetes)," Savage said. "His diabetes may have helped (us) with the pro clubs."
But in his first year away from home, he proved he could handle the constant struggle of monitoring his illness while also keeping his body in shape, Mitchell said.
"He was very independent with (his diabetes care)," Borba said. "He was very responsible in checking his blood sugar. As far as my role, it was really just communicating with him making sure he was good to go."
Beyond the diabetes, Mitchell and his coaches agreed that he needed to improve some things before going pro, including improving consistency at the plate. Mitchell too admitted he wasn't mature enough yet.
MLB rules require athletes to wait three years in college before turning pro, if they decide not to straight out of high school. So, as the MLB Draft approached last summer, Mitchell was thrust into a situation that demanded tremendous maturity for the recently turned adult.
In consultation with agents, Mitchell set his asking price at a firm $2 million signing bonus. Knowing no team would pay that much for a 14th round pick – that contract is more in line with a first-round bonus – Mitchell set his sights on attending the school he had dreamed of going to since he was 6 years old. UCLA was the first school to recruit him after his sophomore year of high school.
Mitchell watched the Bruins win the 2013 national championship as an eighth-grader and knew UCLA's pedigree and their West Coast style of baseball suited him perfectly.
"When (Savage called) I knew that I wanted to be here," Mitchell said. "Being able to compete for a national title every year was appealing to me. SoCal baseball is really quick, exciting, tough, and I wanted to be a part of that type of program."
College is another step in Mitchell's promising career – another opportunity to prove that he can play at the highest level.
"It doesn't get annoying talking about (my diabetes), but the part that gets frustrating or annoying is if I can play or can't play with it," Mitchell said. "I've been dealing with that for a very long time, and I think I've done a pretty good job of (showing I can play)."
Mitchell made the jump from 30 seven-inning games in a high school season to nearly 60 nine-inning games during his first year in college.
He shouldn't have a problem moving up to 162 games a season in the MLB.
"It takes a lot more toll on my body, but I can play at a high level just as much as anyone else can – if they have diabetes or if they don't."
Kearns joined the Bruin as a sophomore transfer in 2017 and contributed until 2018. He spent time on the baseball and women's volleyball beats.
Kearns joined the Bruin as a sophomore transfer in 2017 and contributed until 2018. He spent time on the baseball and women's volleyball beats.