Baseball comes from behind to take down Gonzaga 6-5 in nail-biter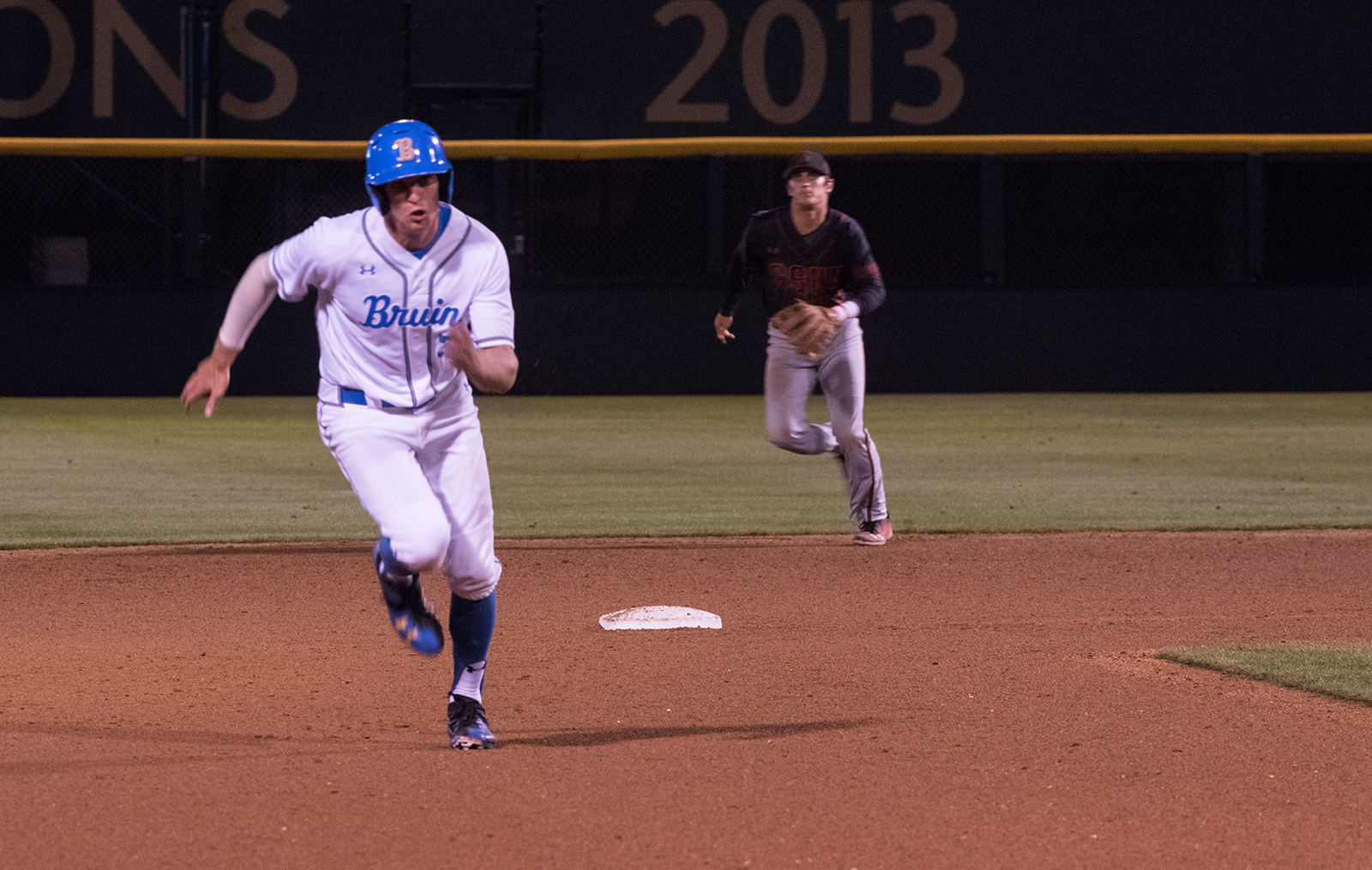 With the game tied 5-5 in the bottom of the ninth inning, junior outfielder Jake Pries hit a walk-off to left field to bring home sophomore second baseman Chase Strumpf and defeat Gonzaga 6-5. (Mia Kayser/Daily Bruin)
Down three runs in the bottom of the ninth, the Bruins found a way.
"We got outplayed for eight and a half innings," said coach John Savage. "Baseball is a funny game in that way. It didn't look pretty for a long time, so we were very fortunate to win."

No. 2-seeded UCLA baseball (37-19, 19-11 Pac-12) was held at bay by Gonzaga starter Daniel Bies for 7 2/3 innings. But in the final inning, the Bruins scored 4 runs to earn a walk-off 6-5 victory over the No. 3-seeded Bulldogs (32-23, 16-11 West Coast Conference) in the opening game of the NCAA tournament.
Down 5-2 to start the ninth inning with the back end of the Bruins' lineup up to bat, sophomore Ryan Kreidler got on base via a hit by pitch and freshman pinch hitter RJ Teijeiro doubled to turn over the lineup.
Freshman shortstop Kevin Kendall then blooped a single that would have been a foul, but it hit the first baseman's glove to score a run.
"It always starts with a walk or a hit by pitch," said junior outfielder Jake Pries. "Once that happened, we knew we were going to score some runs."
This brought up the Bruins' middle-lineup hitters. Sophomore second baseman Chase Strumpf singled to right field to make it 5-4 and sophomore first baseman Michael Toglia hit a ground-rule double to tie the game. The line drive bounced off the more rigid astroturf field, and would have won the game if it had stayed in play.
"Strumpf's at-bat was the key," Savage said. "He put on a clinic hitting with two strikes in the middle of the field. That's how you hit, and we didn't hit like that for much of the game. (I think Strumpf) was the difference in the game."
This brought up Pries, who pinch hit for the five-hole hitter sophomore designated hitter Jack Stronach. Pries took one strike and then hit the next pitch high to left field to bring home Strumpf for the walk-off win.
"He threw a first-pitch slider and the second pitch was the exact same slider, so it was a pitch I should have hit," Pries said. "For the most part (I was expecting it)."
Savage said that once Kreidler got hit by the pitch, he knew they had a chance because they could get to Bruins' middle-lineup hitters of Toglia and Strumpf.
"We needed to get (the lineup) turned over," Savage said. "When you get to that it's like a shot on goal, and that's all you can really ask for and we were fortunate we got into that situation."
It was a pitcher's duel for most of the game between the Bruins' Friday ace, senior Jake Bird, and Bies. They both went 7 2/3 innings to cap off what looked like a Gonzaga victory before they left the game.
Bird came into the day with a 1.99 ERA, but allowed 3 runs in the first three innings.
In this second inning, Bird hit a batter and walked another, and then allowed a double that drove in the Bulldogs' first run of the game.
Bird then loaded the bases with no outs one frame later and allowed a run on a flyout. But sophomore left fielder Jeremy Ydens made a throw down the left field line to prevent another runner from tagging home and end the inning.
Savage came out to talk to Bird in the third frame after going almost sixty pitches deep, but Bird stayed in to give up 1 more unearned run. He has averaged 6.8 innings pitched a game in 15 starts this season.
"I don't think I was very good tonight. I'm not too happy with myself," Bird said. "I just made sure I was getting to my next pitch, going for it with as much conviction as I could."
Strumpf and Toglia plated the Bruins' first 2 runs in the sixth inning. Bies held the Bruins to five hits and finished with nine strikeouts.
UCLA will play the winner of the matchup between No. 1-seeded Minnesota and No. 4-seeded Canisius on Saturday at 5 p.m.
Kearns joined the Bruin as a sophomore transfer in 2017 and contributed until 2018. He spent time on the baseball and women's volleyball beats.
Kearns joined the Bruin as a sophomore transfer in 2017 and contributed until 2018. He spent time on the baseball and women's volleyball beats.