Relievers offer promising performances after baseball loses starters to injuries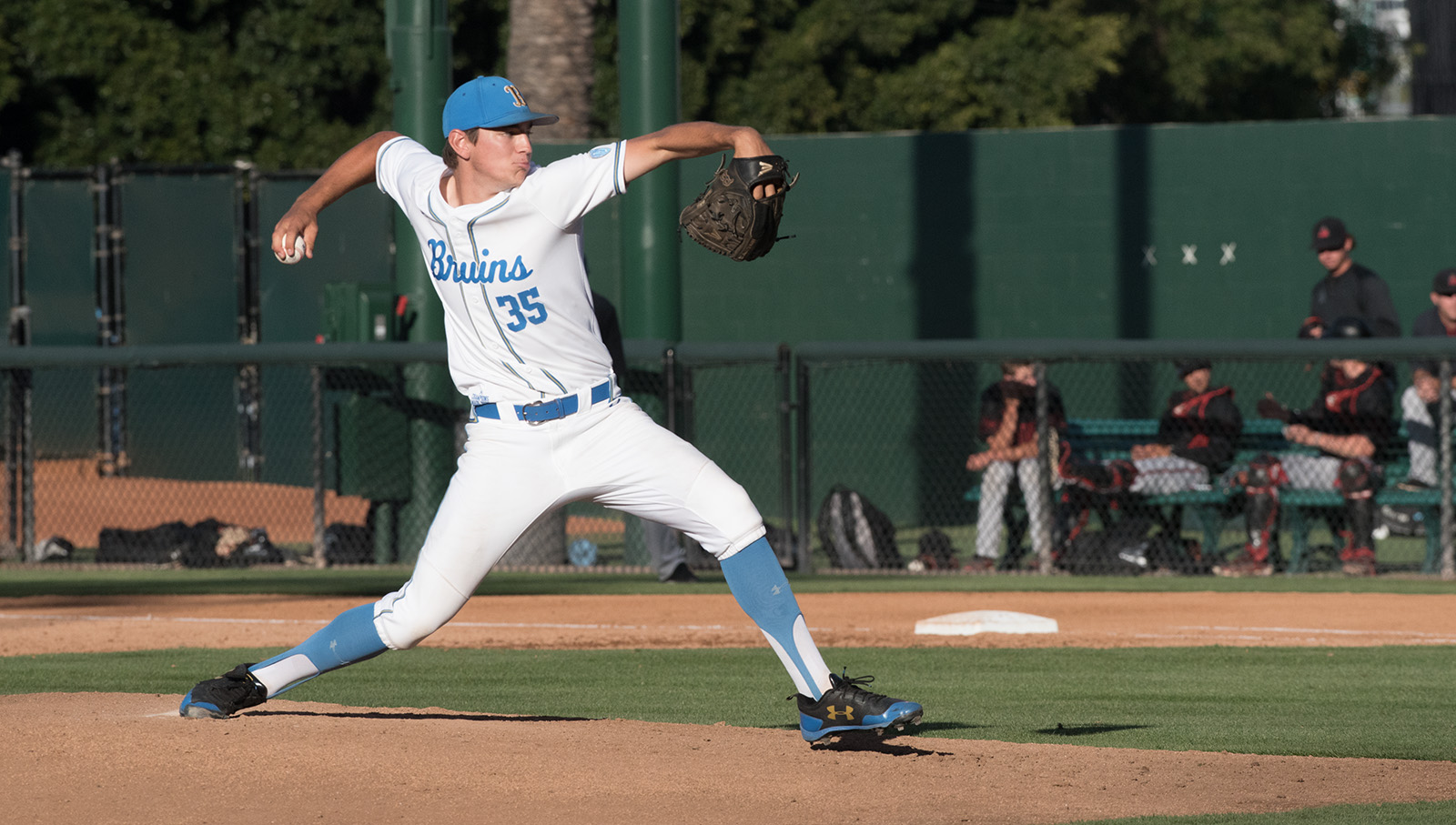 Sophomore reliever Kyle Mora has stepped up for the Bruins in 2018. The right-hander had just four appearances as a freshman last year, but this season, he came out of the bullpen and pitched in 18 games, recording a 1.69 ERA with a 0.154 batting average against. (Mia Kayser/Daily Bruin)
The Bruins' pitching staff was plagued with injuries all season, forcing inexperienced pitchers into major roles from the bullpen.
No. 19 UCLA baseball (36-19, 19-11 Pac-12) lost three potential starting pitchers over the course of the season, leading coach John Savage to reach into his bullpen to find three new starters in freshman Zach Pettway, sophomore Ryan Garcia and redshirt sophomore Jack Ralston.
Boasting just one pitcher with ample experience over 30 innings pitched at UCLA – sophomore Nick Scheidler – the bullpen has allowed just 15 runs in the month of May, with less than a third of the total runs scored by the Bruins' opponents during a 15-game span. The bullpen has helped carry the Bruins to the fifth-best ERA and eighth-best WHIP in the nation.
"Whether it's a reliever or a Friday-night guy, we believe that they're going to get outs, and they have to believe in us that we're going to get outs for them," said sophomore second baseman Chase Strumpf. "So I think the biggest part is the relationship and the trust between the two, and it doesn't really matter who's on the mound then."
Two pitchers weren't expected to have significant roles out of the bullpen before the season, but they stepped up to lead the Bruins in ERA.
Sophomore Kyle Mora made four appearances his freshman year and boosted that total to 32 this season, posting a 1.69 ERA with 39 strikeouts. He started one game April 3 against Loyola Marymount, pitching 5 2/3 frames with 1 run allowed and eight strikeouts.
Redshirt junior left-hander Garrett Barker pitched a combined 1 1/3 innings before this year, but this season he has appeared in 30 games, posting a team-best 1.23 ERA.
"Mora and Barker have been huge," Strumpf said. "Seeing these guys that haven't pitched at all last year or even the year before (playing) like they've been pitching for the last three years is pretty amazing to see."
Freshman Holden Powell began the year fighting for the closer spot with junior Brian Gadsby. The right-handed freshman claimed the role, recording a 4.03 ERA in 27 games with six saves and doesn't think his role changes with the injuries to the mound.
"I think everyone just has to stay ready, (and) I don't think my role specifically changes at all," Powell said. "I pretty much have the same approach every inning, knowing my teammates trust me and (I'm) trusting our system."
Southpaw Scheidler pitched in as many games as he did last year, but dropped his ERA from 5.28 to 3.31. He leads the conference in appearances as Savage's primary left-handed option.
Savage said there was a silver lining to the injuries to junior Justin Hooper, redshirt sophomore Kyle Molnar and junior Jon Olsen.
"Any good teams (can) have injuries, and we've gone pretty deep into the roster," Savage said. "Some guys that maybe weren't going to pitch as much as we thought have pitched a lot and pitched pretty well."
The Bruins will see if their lack of experience in the bullpen will come back to haunt them in the playoffs, which start Friday. So far, it's as if three of their best guys never left.
Kearns joined the Bruin as a sophomore transfer in 2017 and contributed until 2018. He spent time on the baseball and women's volleyball beats.
Kearns joined the Bruin as a sophomore transfer in 2017 and contributed until 2018. He spent time on the baseball and women's volleyball beats.