Student representatives claim Board of Regents misrepresents college population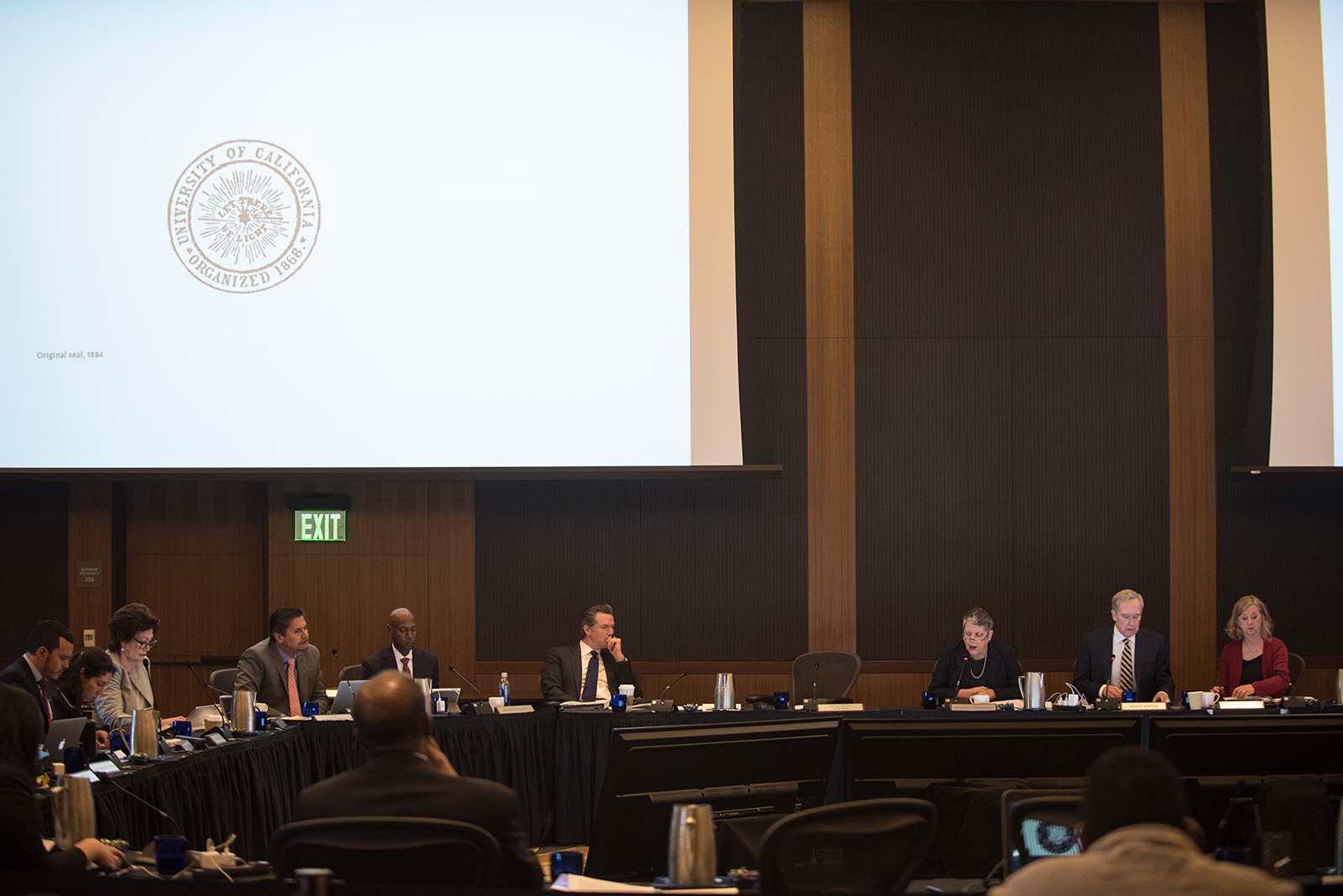 The University of California Board of Regents meets bimonthly to make financial and administrative decisions. (Amy Dixon/Daily Bruin Assistant photo editor)
Student representatives of the University of California said that while the Board of Regents has improved in diversity in recent years, it still falls short in accessibility to students.
The Council of University of California Faculty Associations sent a letter in protest last summer stating that the Board of Regents is mainly composed of wealthier, white males and does not accurately represent the demographics and interests of the UC student body.
The Board of Regents is tasked with governing the UC, which includes making major financial and administrative decisions such as increasing tuition or appropriating funds across the UC.
The board comprises 26 voting members, including one student regent and seven ex officio members. Ex officio members of the board include the governor of California, lieutenant governor and speaker of the state Assembly. Members of the Board are nominated by the governor and confirmed by the California Senate.
The California State Constitution states that regents should reflect the social, economic and cultural diversity of the state, which includes ethnic minorities and women.
The current demographics of the UC Regents include 58.9 percent white, 6 percent Asian, 6 percent black and 29 percent Latino members. The demographics of the UC student body is 37 percent white, 34 percent Asian, 3 percent black and 19 percent Latino. Four regents out of the 26 regents – or about 15 percent – are women.
Paul Monge, the student regent, said he thinks that although more women and people of color have been appointed to the board in recent years, there should be a push to select more regents that represent the geographical diversity of California. Monge said that since former Regent Bonnie Reiss died in April, there have been no regents residing permanently in the Central Valley of California.
"(Diversity) can be gender identity and ethnic background, but also geographical representation," Monge said. "I think that is important because it is translate(s) into access campuses have to regents."
Devon Graves, the student regent-designate, said that while he thinks the Board of Regents should represent California's geographical diversity, it is also essential for Gov. Jerry Brown to bring expertise and experience to the board's positions, which can be found in regents with finance, investment, higher education or legislative backgrounds.
Monge said he thinks that experience in higher education should be an important factor in the selection of new regents.
"One thing that for many years felt like was lacking was regents with substantive experience in higher education," Monge said.
Graves added he thinks students should encourage Brown to select more diverse regents to fill the board's current five vacancies.
"Any time students can engage the governor and folks in the Senate, they should be, and students should reiterate why there should be a diverse Board of Regents and regents selected from all over California," Graves said.
Parshan Khosravi, Graduate Students Association vice president of external affairs, said he thinks the current process for selecting regents favors those who have prior experience working with the governor.
"There has been a very disturbing trend where the regents have been selected too often from government old buddies or donors to the UC. Oftentimes also they are acting independent of the needs of the UC," Khosravi said. "They don't actually have a history in higher education."
Khosravi said he thinks the 12-year term of regents is problematic because regents who may not represent the University well sit on the board for a long period of time.
"If you're there for 12 years, you are going through entire generations of students," Khosravi said. "(The regents) are not coming to the campuses. We have to go around and get them to come here, and they aren't aware of the issues that are happening on their own campuses."
He added he thinks regents could learn more about student lives by coming to campus and interacting directly with students in meetings and informal lunches.
"If you want to see what's going on, come to a cafeteria or have lunch with me," Khosravi said. "You will see more about how a student is living today by just coming to a cafeteria than you will ever do in your meetings."
Contributing reports from Julia Shapero, Daily Bruin contributor.
Coneeny is the 2018-2019 assistant News editor for the City and Crime beat. She was previously a contributor for the National News and Higher Education beat. She is a second-year pre-global studies student from the east coast.
Coneeny is the 2018-2019 assistant News editor for the City and Crime beat. She was previously a contributor for the National News and Higher Education beat. She is a second-year pre-global studies student from the east coast.