UCLA softball gears up to face Arizona at NCAA Super Regionals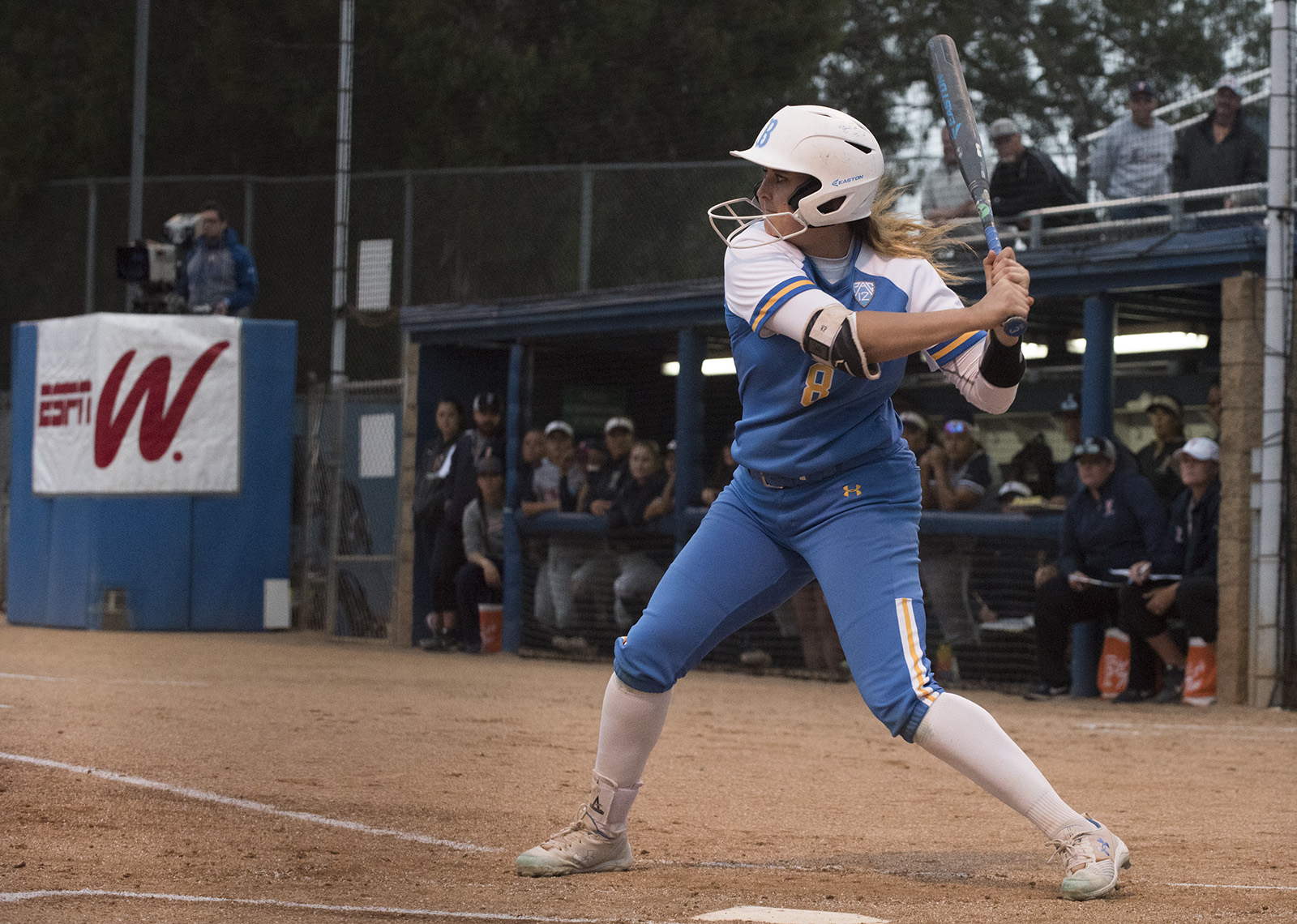 Senior infielder Kylee Perez and the Bruins will meet the Arizona Wildcats for the second time this season in the NCAA Super Regionals. The first time they met this season, Arizona was the home team, and fell to UCLA in three straight games. (Grant Mooney/Daily Bruin)
The Bruins have made it to the Super Regionals for the fifth year in a row.
After winning three straight elimination games to keep its postseason alive, No. 3 seed UCLA softball (54-5) will face conference rival No. 14 seed Arizona (43-14) in a best-of-three series in the Super Regionals.
The last time the Bruins played the Wildcats, they beat them with scores of 7-6, 7-3 and 10-3, but battled through five ties and seven lead changes during the series. Arizona has only lost one game so far in May, however.
Arizona needed just three games to get past the regionals in Tucson, Arizona, where it kept St. Francis and North Dakota scoreless and had a comeback win against Mississippi State.
Senior infielder Kylee Perez recognizes the conference rivalry between both teams and how UCLA's loss in the regional round made it battle tested.
"It's going to be a battle with … two schools (that have) huge legacies," Perez said. "We obviously weren't expecting to lose, we didn't want to lose, but it definitely helped make us stronger."
Defensively for the Wildcats, pitcher Taylor McQuillin pitched 19 2/3 innings, struck out 22 players and had a 1.49 ERA in the Tucson regionals. During the regular season, she was second among Pac-12 pitchers in total strikeouts with 277 and pitched the most innings at 231.
On offense, Arizona features two powerhouses in outfielder Alyssa Palomino and infielder Jessie Harper. Both players lead the Pac-12 in home runs with 18 and are in the top five in total bases.
Despite sweeping the series last time they played the Wildcats, coach Kelly Inouye-Perez acknowledges Arizona's offensive game and reminded her players that, although these are different games, they will have to remember how the last series played out.
"To sweep them in their house … really has no bearing on what's going to happen this series, but we remember what it felt like and how we threw punches and literally outhit them," Inouye-Perez said. "They can hit. … They have speed, they have power. I think Palomino is a real hitter – she has real numbers."
In the circle for the Bruins, espnW player of the year redshirt sophomore Rachel Garcia will be key to stopping the Wildcats' offensive power and will look to add to her 25-3 record. In the Los Angeles regionals, she pitched 30 1/3 innings and struck out 37 players, boasting a 1.00 ERA. She also threw a complete-game shutout, only allowing one hit for the first game.
"She's always been a lights-out player. … She always buckles down and has a lot of grit when we need it," said sophomore utility Bubba Nickles. "Credit to how tough she is mentally; it just shows when she plays."
The first game between UCLA and Arizona will begin Thursday at 6 p.m. The series will continue with game two Friday at 6 p.m. and game three, if necessary, Saturday at 4 p.m.
Chen is currently a contributor for the Stack. He was previously a contributor for the women's basketball and softball beats.
Chen is currently a contributor for the Stack. He was previously a contributor for the women's basketball and softball beats.