Incumbent Sen. Dianne Feinstein talks UC funding, gun control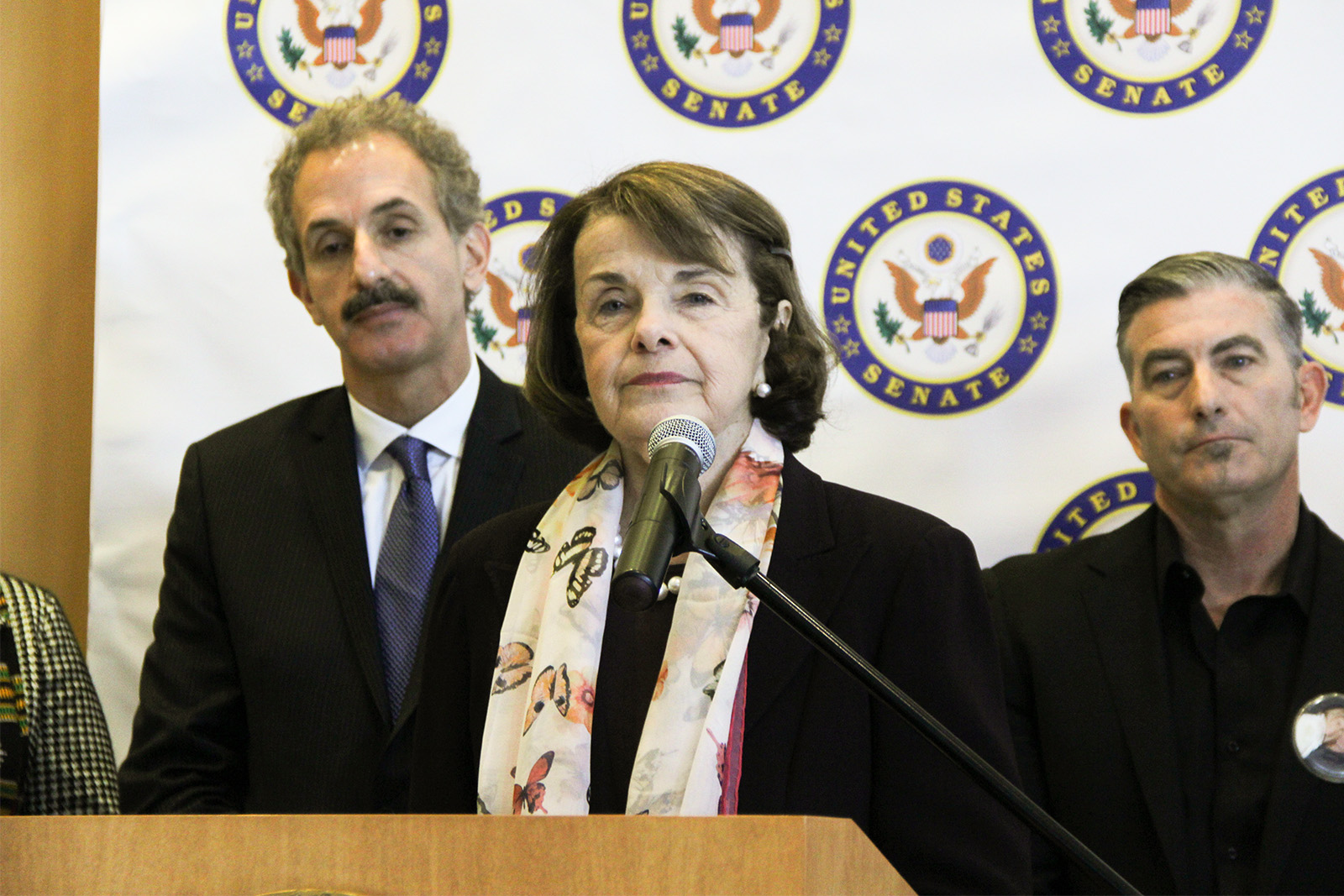 Dianne Feinstein said one way to combat tuition rises is to increase Pell Grants. Pell Grants currently cover less than a third of college tuition, she said. Feinstein said she has not voted against a single education program or loan and added she does not intend to ever vote against such proposals. (Sharon Zhen/Daily Bruin senior staff)
U.S. Sen. Dianne Feinstein said she is depending on young people to advocate for gun control legislation.
Members of the Daily Bruin Editorial Board spoke with Feinstein, a Democrat who is running for re-election against California state Sen. Kevin De León, via a phone call Monday. Feinstein, a current U.S. senator for California, has held the position since she was first elected in 1992.
On higher education
Feinstein said one way to combat tuition rises is to increase Pell Grants. Pell Grants currently cover less than a third of college tuition, she said.
Feinstein said she has not voted against a single education program or loan and added she does not intend to ever vote against such proposals.
"We probably provide the University of California – its 10 campuses – about $10 billion a year," she said. "A lot of it goes to labs I'm sure, but a lot of money goes out for education too."
Nevertheless, Feinstein said it is up to the state government to provide the UC with funding and added she thinks the state should put more money into the UC.
On gun control
Feinstein said she authored the Federal Assault Weapons Ban that lasted from 1994 until it expired in 2004. She added while the ban was in place, there were fewer gun-related killings and injuries.
However, during the first year after the bill expired, companies produced 1.5 million assault weapons, Feinstein said.
"Since then, (the companies) have produced another 13 million so that (the) total number of weapons of war, weapons that were designed to kill large numbers of people in combat, are about 15 million in this country," she said.
Since the Sandy Hook Elementary School shooting in Newton, Connecticut, in 2012, there have been more than 200 school shootings and 400 children and adults who have been killed in those shootings, Feinstein said. After Sandy Hook, she said she drafted the Assault Weapons Ban of 2013, but it did not get enough votes to pass. However, Feinstein said she is currently sponsoring the Assault Weapons Ban of 2017, a bill which aims to regulate assault weapons and currently has 29 co-sponsors. The bill is still in its introductory stage, and seeks to make it a crime to knowingly import, sell or own semi-automatic assault weapons or large capacity ammunition feeding devices.
"What it does is (the bill) essentially bans about 250 assault-type weapons and exempts 2,200 rifles and shotguns and pistols that are not assault weapons," she said.
She said she thinks young people are crucial for addressing gun control.
"(Young people) want gun control and the problem is we have to keep going, we have to keep the pressure on increasingly," she said. "The NRA is a very powerful lobby, and what they do (is) hardball politics. In the smaller states they go out and they defeat anyone that supports gun legislation."
However, Feinstein said she thinks people forget about shootings too quickly and that young people need to consistently advocate for change.
"The school shooting is news and then everybody forgets about it, and we've got to stop that," she said. "Students and individuals have … got to ask to sit down with Republicans and have to make the case (on gun control) and write about it, talk about it and stay on it to become a powerful lobbying force."
On foreign policy
Feinstein said she does not approve of how President Donald Trump handled peace negotiations with North Korea.
"Well the first thing is that both Kim Jong Un and President Trump should stop talking," she said. "No more 'My button is bigger than your button.'"
She added she hopes North Korea can denuclearize in return for economic openness.
Feinstein added she thinks Trump has made a mistake in his decision to withdraw from the Iran nuclear deal because Iran has kept its agreement, according to U.S. and U.N. oversight.
"This wasn't just our agreement, it was with Russia, China, France, Germany, U.K.," she said. "It was a multilateral agreement and all I can say is for shame, President Trump."
Comparisons with De León
Neither Feinstein nor De León were awarded the Democratic party nomination this year for the U.S. Senate because neither won a 60-votes majority among state Democratic delegates. However, Feinstein said she thinks she is substantially ahead in the polls and has always done well in elections.
In response to De León saying he would not negotiate with Trump, Feinstein said even though she does not support Trump nor think he is a good president, she still has to do her job as a senator to get the president to sign bills.
"It's easy to throw stones … but (you) also have to be able to get the signature on the bill, unless you're just coming here to do nothing," Feinstein said. "I am the lead (Democrat) on the judiciary committee (and) we published important reports."