STEM event presents research opportunities for community college students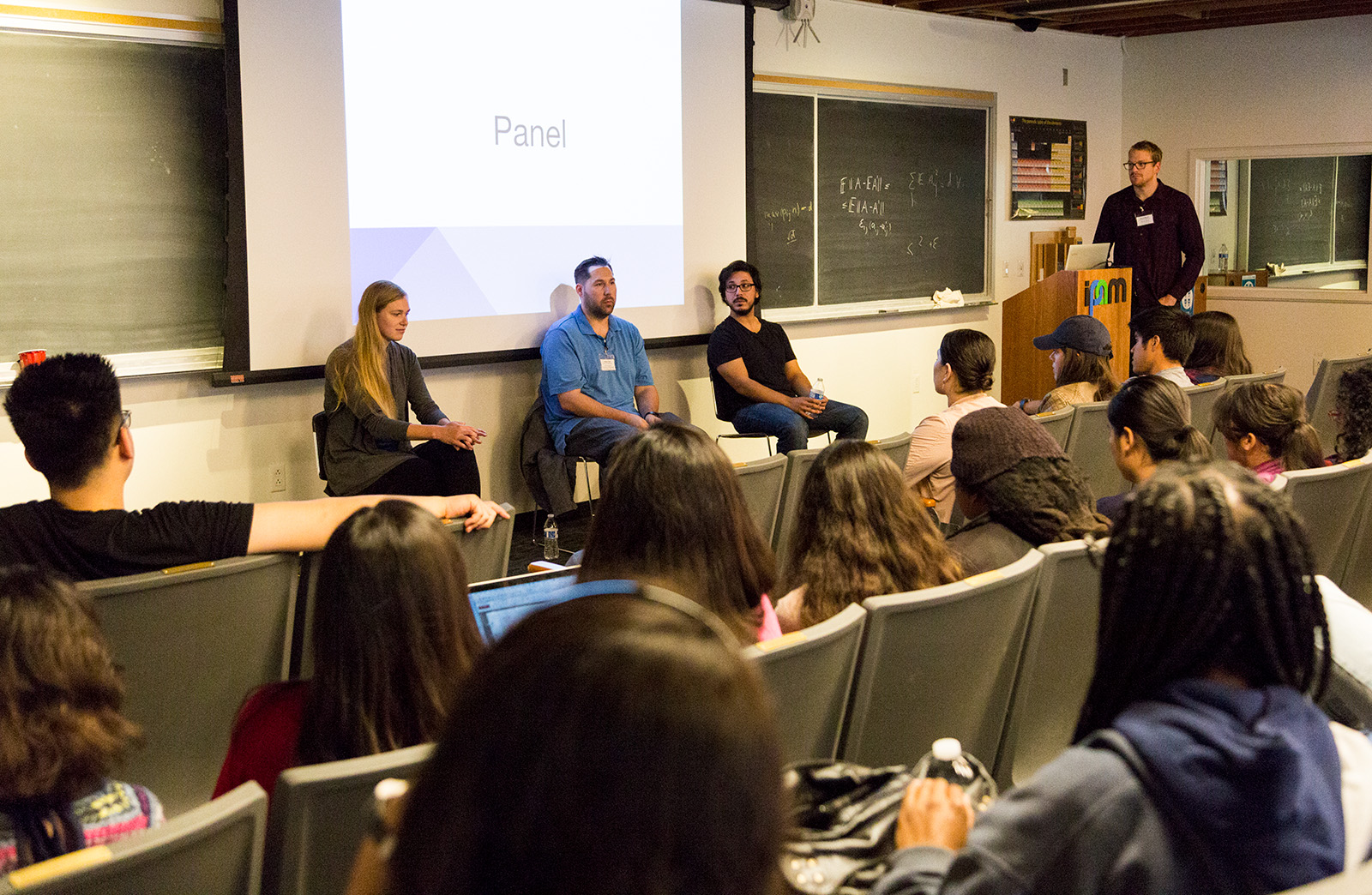 The Organization for Cultural Diversity in Science (OCDS), which aims to empower underrepresented groups in the sciences, held a Spring Science and Engineering Showcase to encourage community college students to pursue STEM in higher education. (Amy Dixon/Assistant photo editor)
Local community college students toured UCLA laboratories and attended transfer admission workshops and panels Saturday as part of an effort to promote diversity in the sciences.
The Organization for Cultural Diversity in Science, which aims to empower underrepresented groups in the sciences, held a Spring Science and Engineering Showcase to encourage community college students to pursue STEM in higher education. Students attended UCLA faculty research presentations, research lab tours on campus and a panel of graduate students in STEM who were undergraduate transfers.
The student panelists informed participants about the accessibility of postsecondary education and research opportunities in STEM, while faculty presenters outlined steps to take to pursue careers in STEM research. Graduate student volunteers also presented their research projects to give participants a closer look at graduate STEM research.
David Gonzalez, a doctoral student in the department of atmospheric and oceanic sciences and co-president of OCDS, said the organization previously held monthly outreach events for community college students, but switched to hosting two large annual outreach events last year, one for community college students and one for UCLA undergraduate students.
"Logistically it is better, (since) it gives us an opportunity to invite a larger audience at once," Gonzalez said.
Jose Rodriguez, a faculty research presenter and assistant professor in the department of chemistry and biochemistry, said he thinks the showcase gives prospective transfer students a chance to see what it is like to study and do research at a four-year institution such as UCLA.
The organization invited six community colleges in Los Angeles to attend the event this year, and welcomed more attendees than last year, Gonzalez said.
The panelists said students should participate in undergraduate research projects on campus as a short-term and risk-free method to evaluate whether pursuing STEM graduate programs or a research career is a good fit for them.
Kersti Caddell Haatveit, a panelist and organic chemistry graduate student, said there are a lot of undergraduate research opportunities on campus, but students need to take the initiative to search for them.
The panelists also reflected on their decisions to transfer to a university as community college students instead of going straight to a four-year university after graduating from high school.
Jason Fell, a panelist and chemistry graduate student, said he saw community college as a good chance to reevaluate his academic and career goals before deciding whether to attend a four-year university.
Haatveit said she attended community college so she could take out fewer loans. She added she thought the small class sizes in community college helped her learn in lower division STEM courses.
Gonzalez said he thinks community college gives students who did not perform as well in high school a chance to succeed and pursue their career goals.
"Community college was a second chance for me to get good grades and transfer to a four-year institution like UCLA," he said.
Adam Gomez, a fourth-year computer science student at El Camino Community College, said he had never participated in research before, but became interested after attending the event.
David Boyer, OCDS social media chair and a doctoral student in biochemistry at UCLA, said he hopes this event will help community college students realize that pursuing STEM in graduate school is an option for them and that there are resources available to help them succeed.
"Science is done better when everyone is able to participate," he said.