Editorial: Requiring newly built houses to have solar panels will do more harm than good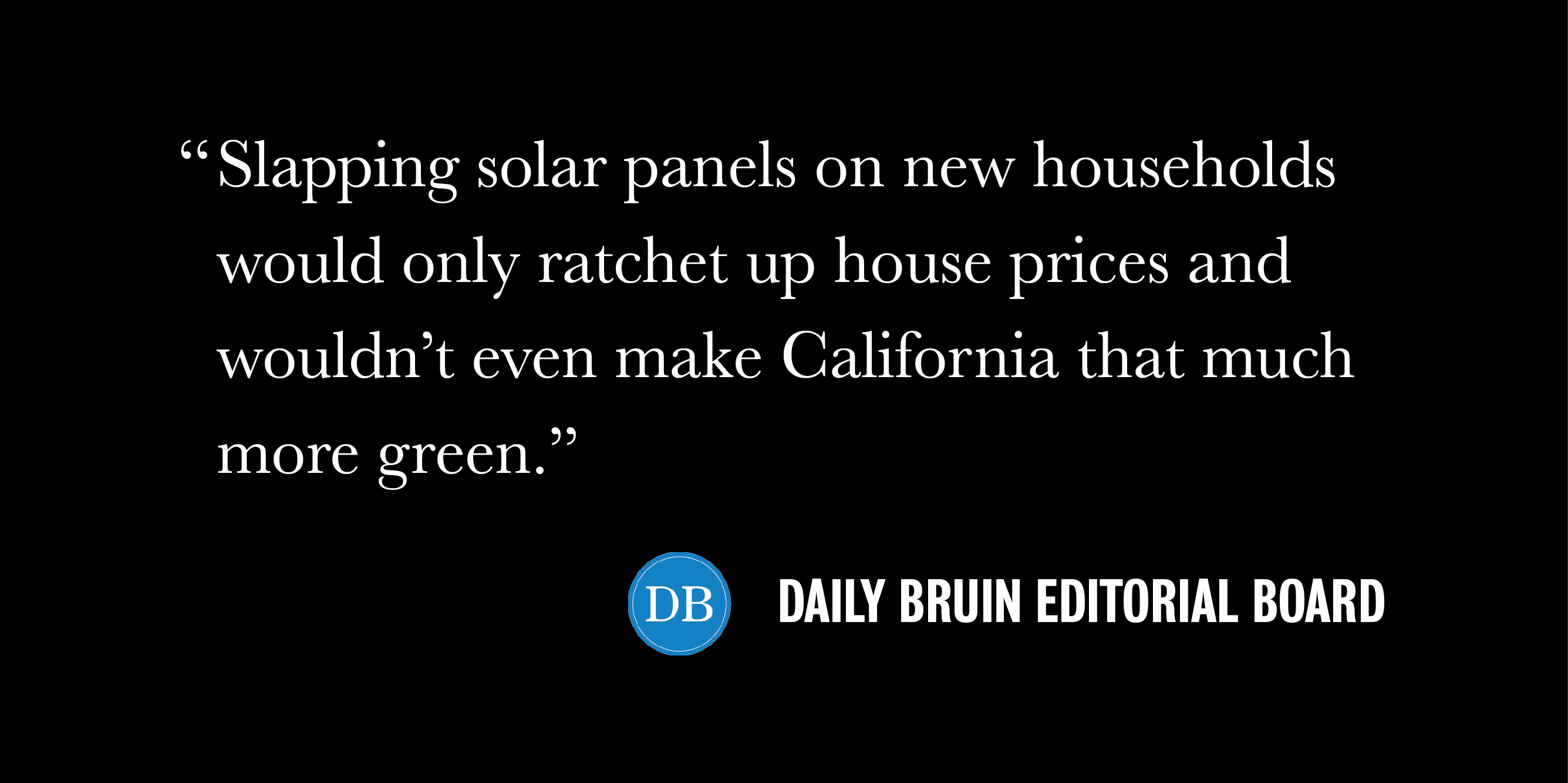 When it comes to solar panels in California, more means less.
The California Energy Commission, the state's primary energy policy and planning agency, adopted new building standards May 9 requiring, among other things, that all homes built after 2020 be equipped with solar panels. The solar panel requirement focuses on residential buildings, and applies only to single- and multifamily homes that are under four stories. The changes are intended to increase use of renewable energy and decrease total energy use by improving thermal insulation and ventilation in buildings.
The commission, however, did not take any advice from environmental or economic experts when creating the standards. And experts took note. Severin Borenstein, a professor of business administration and public policy at the UC Berkeley and a research associate at the Energy Institute at the Haas School of Business, wrote a letter to the commission stating how he and many energy economists were excluded from the decision-making process.
There's a more concerning reason academics spoke up: Borenstein and other experts believe the solar panel requirement is a costly move that wouldn't help California financially or environmentally. That's because slapping solar panels on new households would only ratchet up house prices and wouldn't even make California that much more green.
It's easy to think the new standards argue that installing more solar panels can only be beneficial – it's hard to beat energy that's channeled from the sun's rays.
But that simply isn't the case. California already has huge problems when it comes to solar energy. Solar panels in the same region produce energy at the same time, and energy storage is not as simple as it sounds. This has resulted in the state being forced to pay other states to take excess power when its solar panels overproduce power, so as to prevent its power lines from overloading.
Potential overflows of the power grid are also why the state already ordered some solar plants to reduce their production. With the new standards, California will hit the state's renewable energy targets it has today, but at a much higher cost because of the cost of manufacturing and installing the new rooftop panels.
On top of that, the new requirement only applies to single-family and multifamily homes that are three stories or fewer – leaving big energy consumers like office skyscrapers or large apartment complexes where they are today. And while the standards will save homeowners a net $40 on their monthly electric bills, they're projected to add $10,000 to the cost of a new home. It would take on average more than 20 years to recoup the additional costs of installing these solar panels.
This isn't to say California shouldn't require homes be energy efficient. The time of burning coal and fossil fuels will come to a close, and it's good the Golden State is trying to be on the right of America's reckoning with renewable energy.
But thought-experiment-turned-realities like solar panels on all new households shouldn't be mistaken for sustainability.
California has always had one foot firmly planted in the future. Propelling home prices for no reason but to see more silicon on rooftops, however, doesn't fit with the state's current or future plans.