USAC proposes installment of cameras in Kerckhoff in response to hate crimes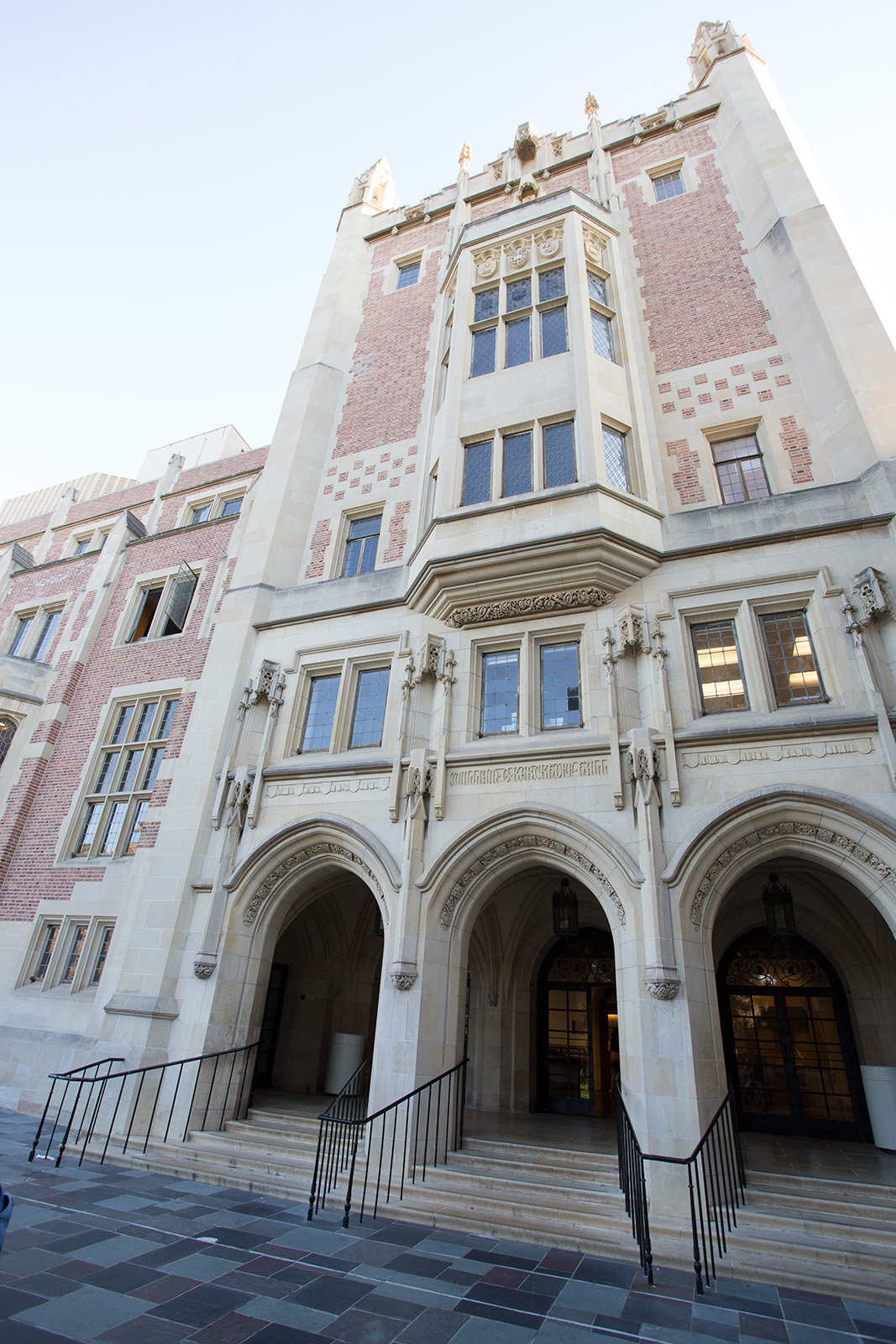 Undergraduate student leaders are proposing to install security cameras to the third and fourth floors of Kerckhoff Hall after several hate crimes occurred during the school year.(Daily Bruin file photo)
Student leaders are calling for security cameras to be installed at Kerckhoff Hall after several hate crimes occurred during the school year.
The Undergraduate Students Association Council first proposed adding security cameras to the third and fourth floors of Kerckhoff during its meeting May 8 because the Academic Affairs commissioner's door was vandalized with a homophobic slur earlier in May. This was the third reported hate crime in recent months that occurred on the third floor of Kerckhoff, said UCPD Lt. Kevin Kilgore.
In the first incident, USAC President Arielle Yael Mokhtarzadeh's mezuzah, a religious item placed on her office's doorpost, was vandalized over winter break. A pride flag hanging outside of AAC was also stolen earlier in May.
Facilities Commissioner Zahra Hajee said it is difficult for UCPD to investigate reported hate crime incidents without evidence. She added the only security cameras in Kerckhoff are in the building's study rooms.
"When it comes to investigating these crimes, it is very difficult for UCPD to do so if no one saw anything," Hajee said.
Kilgore said UCPD was not able to identify any suspects for any of the hate crimes because of the lack of evidence and witnesses.
Associated Students UCLA Student Union Director Roy Champawat said this is not the first time USAC has discussed installing security cameras.
In 2012, the Vietnamese Student Union's sign was vandalized with racist and sexist slurs on the fourth floor of Kerckhoff. However, the council responded by limiting the access hours of the third and fourth floors to between 8 a.m. to 8 p.m. rather than installing cameras.
"The council decided to put up signs on the third and fourth floors that the space is for students, faculty and staff only," Champawat said. "The council felt that was an adequate response."
Mokhtarzadeh said she thinks cameras had not been installed earlier because USAC offices wanted to operate independently from the administration.
"For decades, many student leaders believed that installing security cameras could undermine that independence and autonomy," Mokhtarzadeh said. "However, the prices we paid this year were far too high for us not to weigh the value of accountability."
However, Sharma said he thinks educating students about the issues marginalized communities face would be a longer-term solution to the hate crimes than installing cameras.
"I think cameras are a good idea to keep and hold students accountable, but I don't think that should only be done," Sharma said. "It's a wider conversation about campus climate."
In response to the latest instance of vandalism, Sharma's office created a student organization last week called Students for Allyship and Justice through Education, which will provide allyship training to UCPD and various student organizations.
Hajee added she thinks the council also needs to consider how security cameras might infringe upon people's privacy.
"A student mentioned that in the (Student Wellness Commission) office there is a space for students to take condoms and menstrual products, but if there is a camera it might invade the privacy of students who want to pick those items up discreetly," she said.
Access to the security tapes would most likely be restricted to ASUCLA's Security and Loss Prevention Department and UCPD, which may only review the footage if it has investigatory reasons, Champawat said.
"Cameras in general are investigative tools, it doesn't mean there's always someone sitting on the other end," he added.
Champawat said if the council approves the cameras, ASUCLA would be in charge of ordering, installing and funding the cameras. He added that he thinks ASUCLA would install cameras on each end of the hallway to see who is entering and exiting the space.
Hajee added she thinks the camera could be installed over the summer, in time for fall quarter.