Led by pitcher Jake Bird, UCLA baseball flies to 12-4 win over Oregon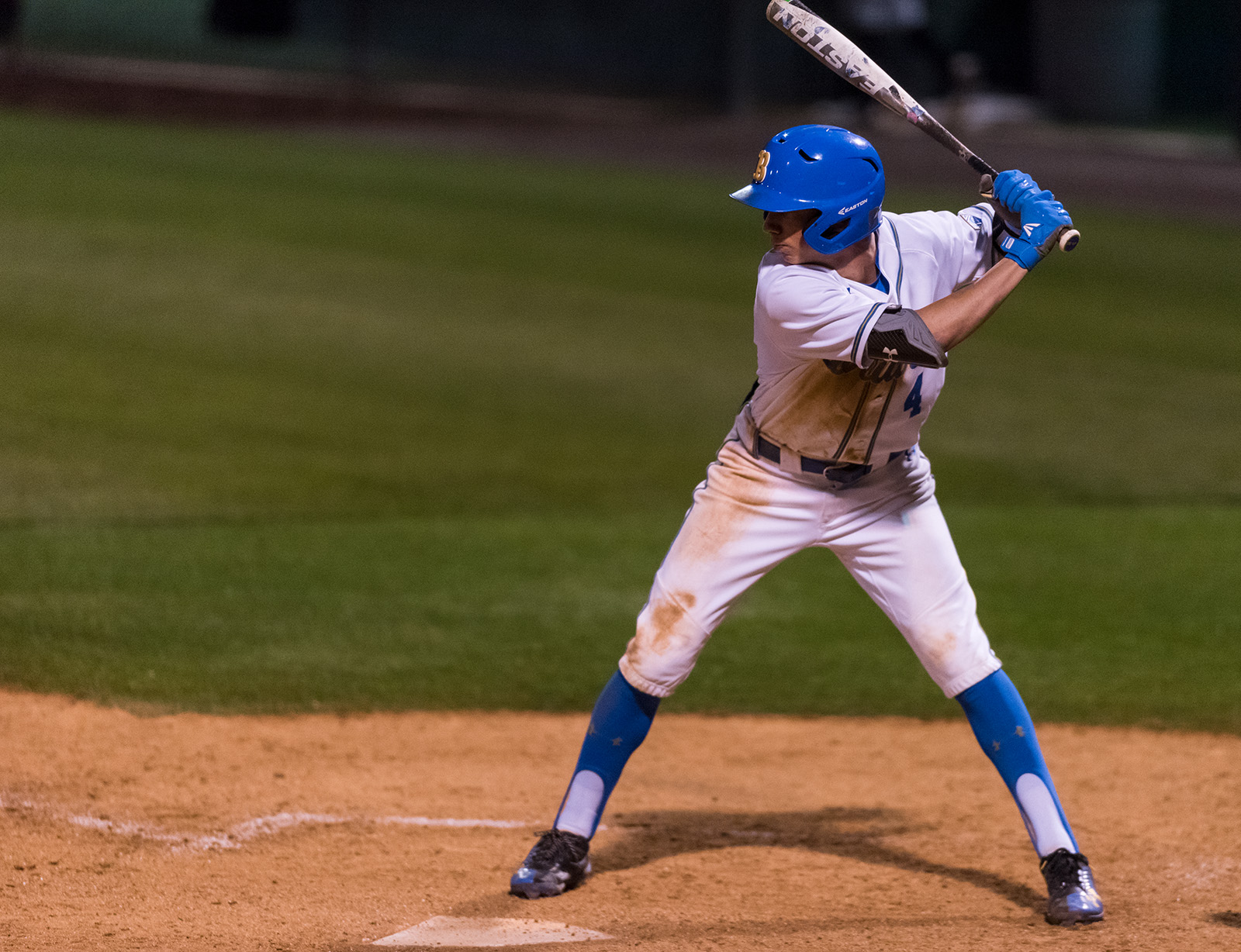 Freshman shortstop Kevin Kendall went 2-for-4 with 3 RBIs at the plate Friday night. No. 18 UCLA baseball took the series-opener against Oregon 12-4. (Grant Mooney/Daily Bruin)
Jake Bird stood alone on the mound of Jackie Robinson Stadium after Tuesday night's game against CSUN, throwing some practice pitches to prepare for what could have been his final home game as a Bruin.
Three days later, the senior pitcher delivered one of the best outings of his career.
Bird tossed a career-high eight strikeouts in eight innings allowing just one run, leading No. 18 UCLA baseball (33-17, 16-9 Pac-12) to a 12-4 home victory over Oregon (25-25, 11-14) in the series opener Friday night.
If the Bruins do not host a regional for the playoffs, Friday will been Bird's final game pitching at home. Bird said he was not feeling emotional, but was just happy to hear the Randy Newman "I Love LA" song that plays in Jackie Robinson Stadium after every UCLA win.
"I feel like I'm getting better as the year goes along. My command was a lot better today, and it's good to know that I'm still making strides this long into the year and moving forward into the playoffs," Bird said. "(It) would have been nice (to throw a complete game, but) by the time I got in the dugout after the eighth (coach John Savage) said 'You're done,' so there's not much I could do."
Bird earned his seventh win of the season, allowing 4 runs – 3 unearned – on seven hits and walking four batters, lowering his ERA to 1.90. Savage has come to expect this level of performance from his Friday ace.
"We made a couple mistakes and put him in some problems, and it was a pretty clean game. He walked a couple guys, but overall I thought he showed his senior leadership," Savage said. "That's what a Friday night pitcher is supposed to do."
Bird faced off against dual-threat Oregon ace Kenyon Yovan, a preseason first-team All-American with a 2.55 ERA who is also a regular in the batting order with a .237 average. He batted fourth in the lineup for the Ducks and played designated hitter after his day ended on the mound.
Yovan became Oregon's Friday starter against then-No. 3 Stanford on March 29, defeating the Cardinal 10-1 in six shutout innings. Yovan went six straight Friday starts with seven or more innings pitched and just two runs allowed per game before Friday.
He was relieved Friday after five frames for the first time since his first career start on March 24 against California.
UCLA teed off on Yovan in the third inning trailing 2-0. Sophomore left fielder Jeremy Ydens blasted a 2-run triple to right center to tie the game. Freshman shortstop Kevin Kendall then doubled home Ydens, and sophomore first baseman Michael Toglia singled him home to make it 4-2.
In the sixth frame, Bird hit Yovan with a pitch to load the bases, and the Ducks doubled home 2 unearned runs to tie the game at four apiece.
In the bottom of the inning, Yovan hit two Bruins with pitches and allowed another to reach first on a bunt, loading the bases and ending his night.
The Bruins capitalized by driving home seven runs in the sixth off the Oregon bullpen, including a 2-run triple from Kendall.
"When we have played good, we have dealt with different kinds of pitching. Get this starter out, hit this reliever, get to the next reliever," Savage said. "We've adjusted well to different kinds of pitching and that's what we're looking to do this time of the year."

The Bruins went through a two-week hitting lull during the Arizona and Washington series in which they averaged 3.1 runs a game and lost six of seven games. Kendall said one of their biggest problems was stringing quality at-bats together. UCLA did just that Friday, leaving only five runners on base and scoring all their runs in three innings.
"We're just putting a big emphasis on at-bat to at-bat. When we get runners on-base guys are doing their job and a lot of us are being selfless and that's working out for us right now," Kendall said. "We're just playing together, we're all pulling in the same direction, and we're looking to keep it rolling."
Freshman right-hander Zach Pettway will start on the mound for UCLA on Saturday at 1:30 p.m. with a chance to take the series.
Kearns joined the Bruin as a sophomore transfer in 2017 and contributed until 2018. He spent time on the baseball and women's volleyball beats.
Kearns joined the Bruin as a sophomore transfer in 2017 and contributed until 2018. He spent time on the baseball and women's volleyball beats.