Forensic, housemate testimony present more evidence on third day of Medina trial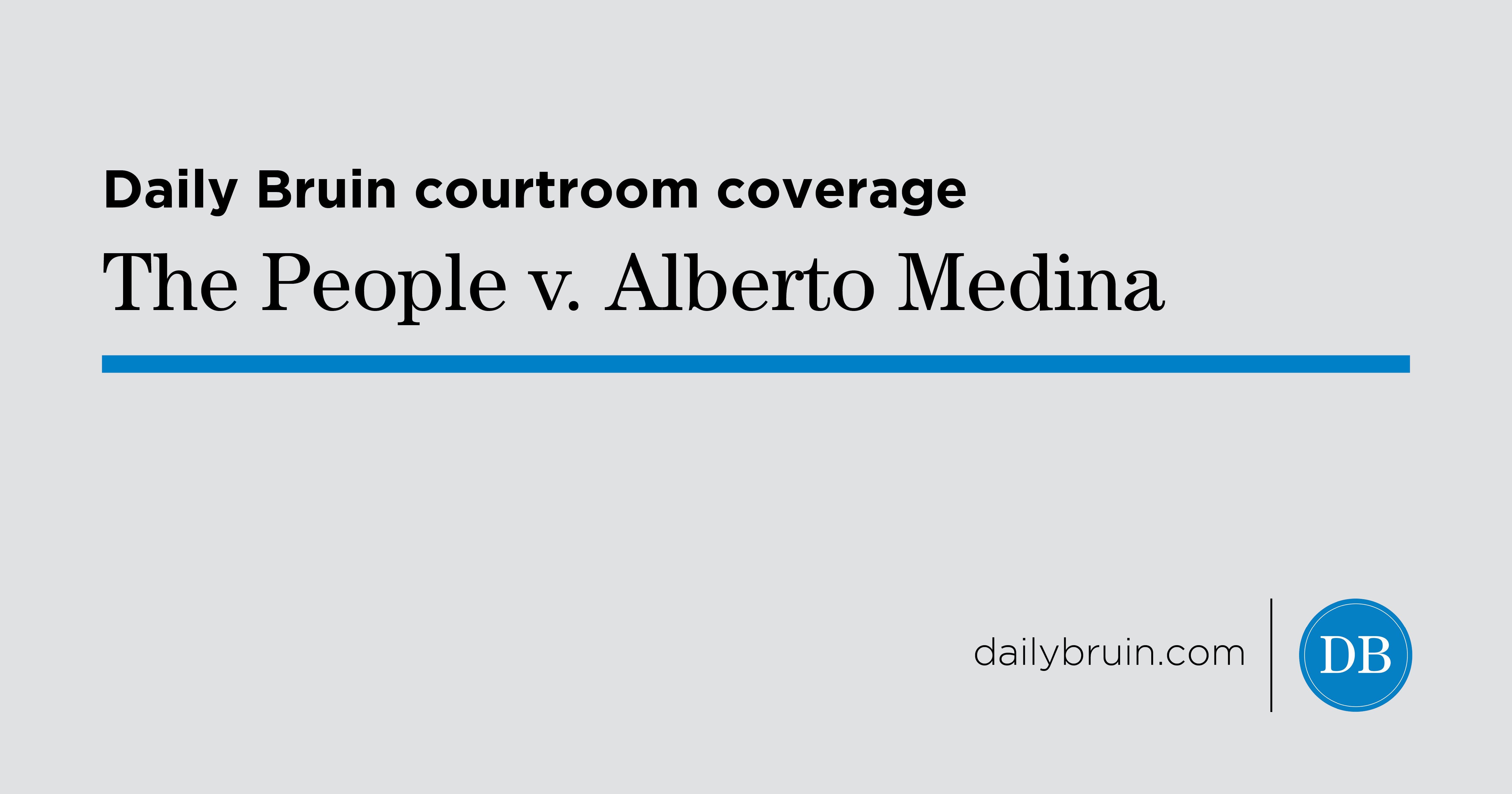 A man charged with murdering a UCLA student in 2015 told police officers in an interview shortly after he was arrested that his friend murdered the student, video evidence revealed Thursday.
LAPD Detective David Holmes said he and Fresno Police Department officers arrested Alberto Medina, a former Fresno State University student, on Sept. 26, 2015, at about 11 p.m. and interviewed him at the Fresno police station. Deputy district attorney Victor Avila showed the jury a video recording of the interview during the case's trial proceedings. In the recording, Medina told detectives Eric Marquez, a former UCLA student who was arrested in connection with UCLA student Andrea "Andy" DelVesco's murder in 2015, murdered DelVesco while Medina was attending a party across the street from her apartment.
Medina's arrest came five days after DelVesco was murdered in her Roebling Avenue apartment. County prosecutors also allege Medina is responsible for two burglaries, an apartment fire and injuries to DelVesco's dog that prompted her family to euthanize him. Marquez pleaded guilty to first-degree residential burglary and accessory after the fact in December.
In the interview, when detectives told Medina that something had happened to a girl he said he had seen that night, he said he thought Marquez had left the party the three were attending in order to go to her apartment, had sex with her, killed her and set fire to her room. Medina said Marquez came out of her apartment at 5:30 a.m. with plastic bags over his hands and the two went back to Marquez's apartment. He identified the girl as DelVesco when officers showed him a photo of her.
He added he later texted Marquez and asked whether he had murdered DelVesco, and Marquez replied that he had.
In the interview, officers repeatedly told Medina they did not think he was telling the truth and asked him to be honest with them, including after he named Marquez as DelVesco's killer.
Avila called Abigail Strout, a UCLA alumna who lived with DelVesco on Roebling Avenue at the time of her murder, to the stand. Strout testified that when she returned to the apartment Sunday, Sept. 20 at 10:20 p.m., DelVesco and the four other women who lived in the apartment were in the living room with no other people present. Strout said she and her roommates stayed in the living room until she went to sleep at 1:30 a.m.
Strout woke up at about 6 a.m. to the sound of a dog barking and loud voices, but she could not distinguish the gender of the speakers or what they were saying. She went back to sleep until one of her roommates woke her up at 7 a.m., saying the apartment's smoke alarm was beeping and she smelled smoke.
After her roommate told her they needed to leave the apartment, Strout went into the hallway outside of her bedroom and noticed DelVesco's door was closed, which she felt was unusual because DelVesco almost never closed her door. Strout's roommate opened DelVesco's door to wake her up, but left when she saw the room was in flames. Strout testified she was not able to see inside the room.
Strout's roommate woke up the other women in the apartment and they went out onto the deck. One of them called 911 when they realized DelVesco was not among them, Strout said.
Avila also questioned Strout about a knife from the apartment she shared with DelVesco, asking her to identify the lettering on its wooden handle.
Next, Selena Barros, a Los Angeles County coroner's investigator, testified that she had performed a preliminary exam of DelVesco's body to determine her cause of death. Barros said she identified lacerations, puncture wounds and charring on her body from the fire in DelVesco's apartment, and noted that the back of her body was relatively free of charring, suggesting she had been lying on her back during the fire. Barros also testified she found blood on and around DelVesco's bed.
LAPD criminalist Erol Ergun testified his team searched the Medina residence, located at 1193 E. San Jose Ave., Fresno, California, for evidence on the morning of Sept. 27. Several of Medina's identification cards, including his social security card, a nametag and a university ID card, were found in the garage. LAPD also found a black trash bag containing a red Snuggie-like blanket, a gray towel, black shorts, a black tank top, two pairs of men's underwear, a belt, one sock, a cell phone and a women's undergarment, Ergun said.
Ergun said investigators found a knife with a wooden handle below the black trash bag. The stains on the knife, the black tank top in the bag and a white trash bag laying next to it all tested positive for blood, he added.
Photo evidence showed multiple watches and electronic devices in the garage. Ergun said investigators also found a receipt for a Chris Brown concert for Friday, Sept. 18 in Anaheim, California, in the garage and a Sonos speaker in the northwest bedroom.
Megan Forcan, a forensic nurse examiner, testified she conducted a sexual assault exam on Medina on Sept. 27 at the San Gabriel Valley Medical Center. She reported multiple abrasions on Medina's body, including on his arms, legs, scalp, shoulders, wrists and knuckles.
Medina told Forcan he had been in a fight a few days before the examination took place, but Forcan testified she could not determine from her observations what caused his injuries.
LAPD criminalist Kathryn Sanchez testified she and Ergun inspected Medina's car on the morning of Sept. 28. She reported red dots on the outer door handle. The outer handle, the plastic inner handle and the steering wheel all tested presumably positive for blood after a chemical screening.
Sanchez also reported finding a single black sock in the trunk of the car, which also tested positive for blood.
Pauker was the managing editor from 2017-2018. She was previously an assistant news editor for the City beat and a reporter for the City beat.
Pauker was the managing editor from 2017-2018. She was previously an assistant news editor for the City beat and a reporter for the City beat.