Westwood Boulevard bike lane prank prompts mixed feelings from community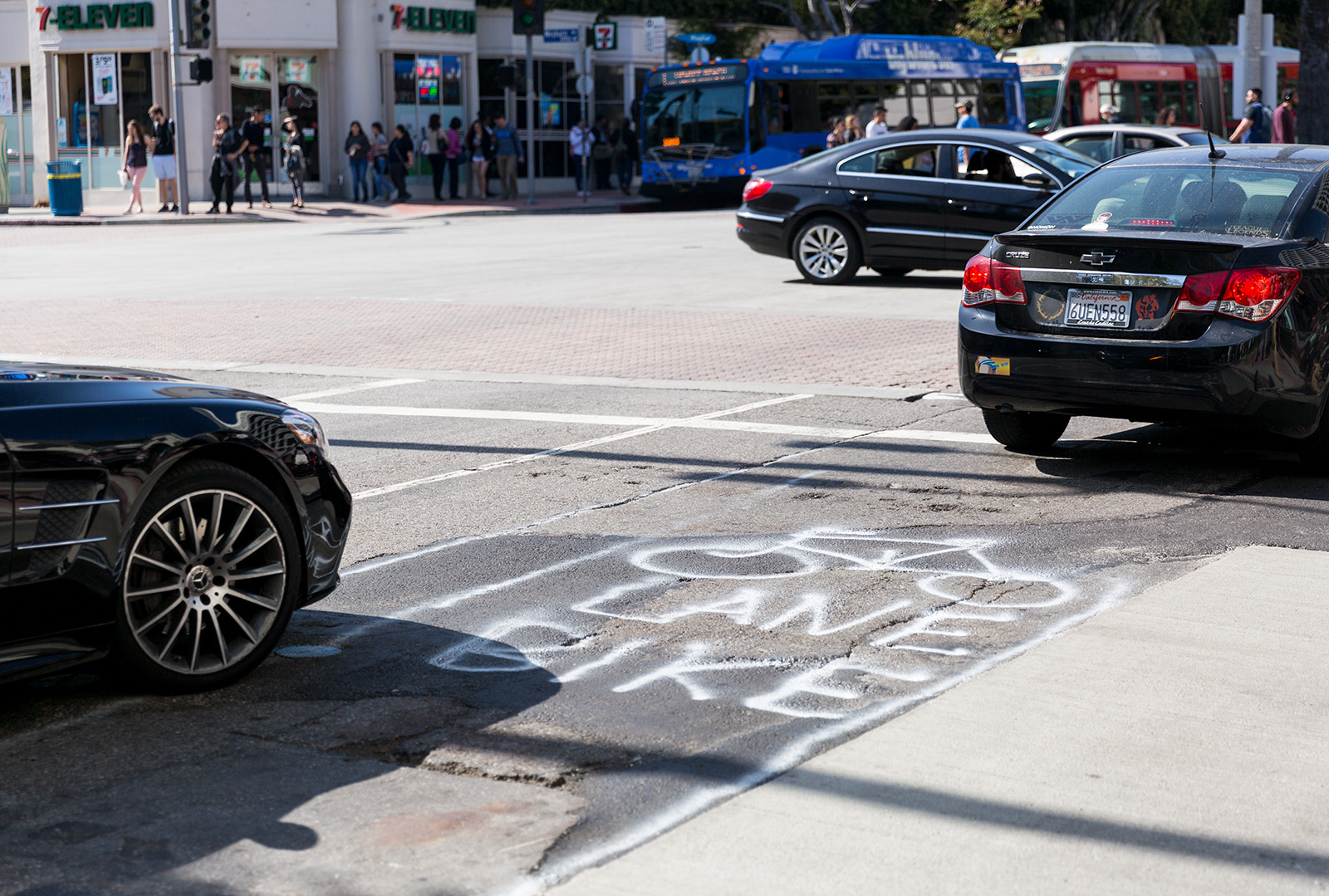 Westwood community members saw Thursday morning that someone had painted a bike lane along Westwood Boulevard. (Keila Mayberry/Daily Bruin staff)
Westwood residents and community members woke up to a fake bike lane on Westwood Boulevard early Thursday morning.
The bike lane, which was drawn in paint along the road, extends from Le Conte Avenue to Lindbrook Drive. Although officials are unsure when the bike lane was drawn, they believe it was likely drawn Wednesday night.
Social media posts about the fake bike lane surfaced as early as Wednesday night.
Juan Matute, an associate director for the UCLA Lewis Center for Regional Policy Studies, tweeted at Paul Koretz – councilmember for District 5, which includes Westwood and UCLA – and the Westwood Neighborhood Council, regarding the new bike lane.
"I have been biking more this year as an electric bike is the best way to guarantee I can make childcare pickup on time," Matute tweeted Thursday morning. "I appreciate your concern for my safety, my child's safety, and the safety of other people on bikes."
Alison Simard, spokesperson for Los Angeles City Council District Five, said the council district did not want to comment on the issue, except to state the incident has been reported to Street Services and the Los Angeles Department of Transportation.
Some members of the Westwood community expressed mixed feelings about the vandalism.
Andrew Thomas, executive director of the Westwood Village Improvement Association, said bikers in Westwood have been complaining they cannot access Westwood Boulevard, as it is the only road that provides direct access to UCLA's campus from Westwood. He added although he thinks bikers currently feel unsafe riding in the Village, he does not believe activists should turn to vandalism to address these concerns.
"There is a serious safety concern with bikers confusing the lane as a false perception of safety," he said. "It's a great message for Bike Month and now is a time to spread awareness, but in a safe way."
Organizations in Westwood, including the association, have been advocating for a dedicated bike lane on Westwood Boulevard to protect bikers from incoming traffic and provide them with a direct route to and from UCLA's campus. Thomas said he proposed an investigation to potentially implement a bike lane on Westwood Boulevard four years ago.
The Westwood Neighborhood Council, which advises Los Angeles on Westwood policies, has rejected these proposals due to fear of disrupting traffic and taking up parking spots along Westwood Boulevard, Thomas said.
Lisa Chapman, president of the council, said the council prefers bike lanes on roads that are less traffic-heavy, since they can be dangerous for bike riders. The council has advocated for bike lanes on Gayley Avenue because it feels the road is safer for bikers to ride on.
Chapman also said she thinks Westwood Forward, a coalition of students and Westwood community members that want to create a new neighborhood council, could be behind the vandalism because the coalition has said it would prefer a Westwood Boulevard bike lane. The coalition will be holding an election Tuesday, where voters can decide whether to create a new neighborhood council.
"It is the most childish stunt I have heard about in quite some time," she said. "Perhaps (Westwood) Forward is behind this, perhaps not, but it certainly looks very suspicious leading up to an election week."
Michael Skiles, Graduate Students Association president and an organizer of Westwood Forward, said while the coalition would consider a new bike lane proposal, it is not responsible for the vandalism. He added he watched members of the community utilize the bike lane Thursday without disrupting traffic.
"The lane is more a prank than anything, a message that this could work," he said.
Skiles also said he thinks the advent of motor scooter services, like Bird Rides, Inc., make a bike lane along Westwood Boulevard more critical than before.
"People don't feel safe using Birds on the road without dedicated bike lanes but are required by law to not ride on the sidewalk," he said.
Contributing reports from Qiaozhen Wu, Daily Bruin contributor.