Pitcher Jake Bird aims to prove himself, finish strong in last season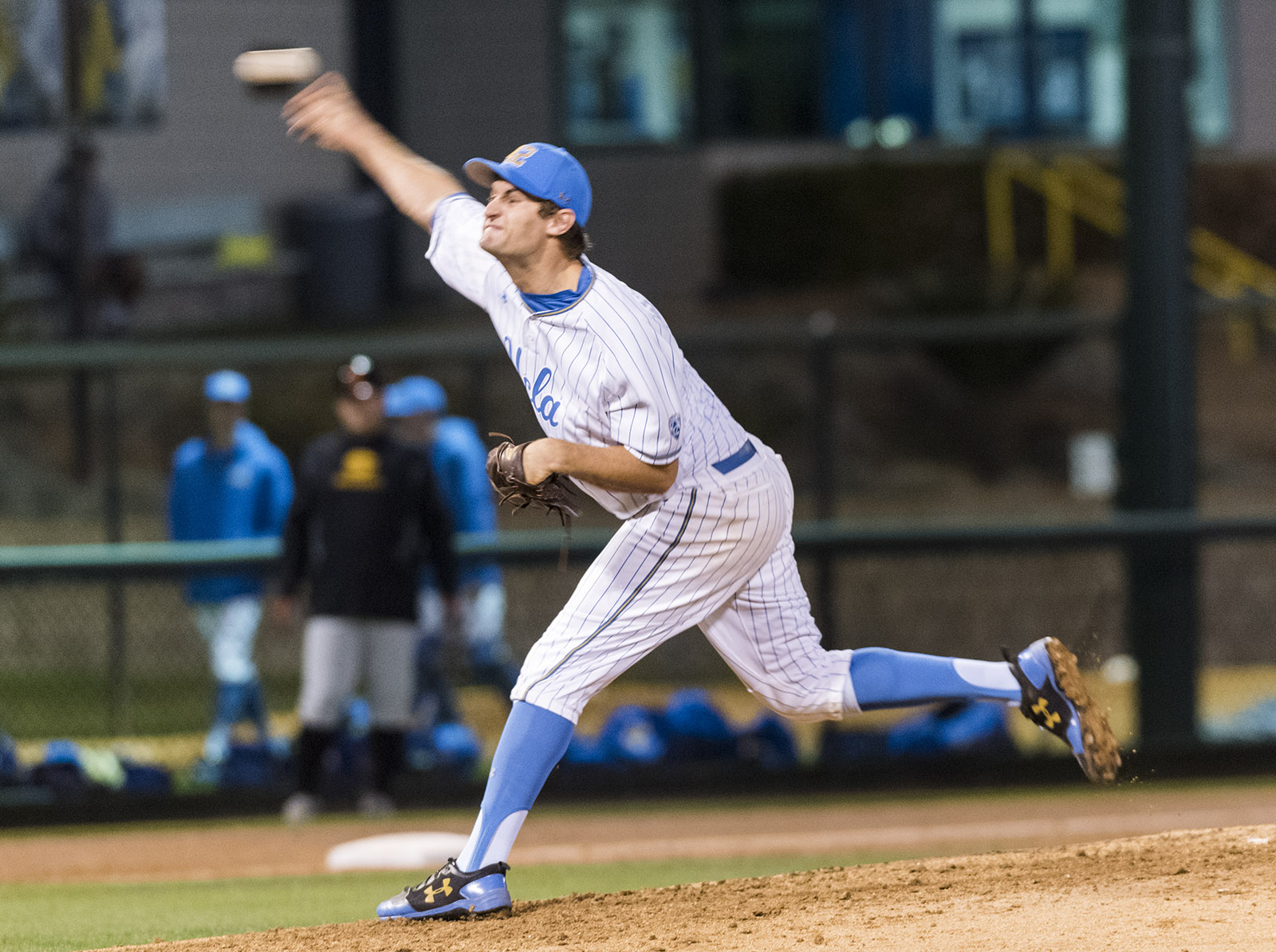 There was a time when it seemed like Jake Bird's Bruin career would end last season, but the senior has returned to UCLA after not being drafted last summer. The righty has settled into a spot as the Bruins' Friday night starter in 2018. (Isabelle Roy/Daily Bruin senior staff)
Jake Bird is on a mission in his final season with the Bruins.
"I got something to prove," Bird said.
The senior pitcher has been No. 18 UCLA baseball's (32-17, 15-9 Pac-12) Friday starter after not getting picked in the 2017 draft. He has solidified himself as one of the best aces in the conference with the third-best ERA in a comeback campaign to bring the Bruins to the NCAA College World Series in Omaha, Nebraska and prove a point to the MLB teams that passed him up.
"(Bird) was disappointed he wasn't drafted last year," said coach John Savage. "He came back on a mission – wanted to prove his worth, wanted to prove really to the baseball world that, 'Hey, I'm pretty good.'"
[Related: Jake Bird prepares for MLB Draft in wake of shoulder injury]
Bird was expected to be drafted anywhere from the sixth to 10th round, Savage said. He was the prototypical three-year college pitcher, who could have gone straight to the pros from high school but wanted to stay close to his home in Valencia, California, and attend college.
The right-hander earned the Saturday job as a junior, but injured his shoulder and missed more than a month at the beginning of the season. He returned and reclaimed the Saturday role, finishing the year with a 2.75 ERA in 18 appearances, but MLB scouts apparently didn't see enough to draft him.
In his final season, he has led the UCLA pitching staff to the fifth-best ERA and eighth-best WHIP in the country.
Savage said Bird is a ground ball pitcher, not recording many strikeouts but consistently getting UCLA out of innings and staying in the game for long stretches of time.
Bird maintains a comfortable team lead with his 88 innings pitched – about 10 more innings than Saturday starter freshman Zach Pettway and 31 more than Sunday starter sophomore Ryan Garcia – meaning he has retired more batters than any of his teammates despite the fact that he's behind both Pettway and Garcia in strikeouts. He's also posted the lowest ERA of the three.
"I'm just trying to pitch contact. My stuff is pretty heavy with the fastball, sinker and slider, which gets a lot of ground balls," Bird said. "A lot of times I'll just try and hit my spot, and it usually gets weak contact. (Just) let the defense do their thing."
The sinker baller has recorded a 2.05 ERA as the Friday ace and has thrown for fewer than six innings just once in his 13 starts.
"When he's getting ground balls, that means that he's on. That pitcher's best friend – the double play – is always out there with a runner on first, and it's invaluable to have that," Savage said. "There are guys making millions of dollars in the big leagues that don't strike people out. He knows his game, so I think that's a sign of a mature pitcher."
UCLA lost three potential starting pitchers for the season to injuries in redshirt sophomore Kyle Molnar, junior Jon Olsen and junior Justin Hooper. Bird is the only pitcher in the rotation who has starting experience, as Pettway, Garcia and redshirt sophomore Jack Ralston all had to step up in place of the Bruins' injuries.
"With Olsen, Molnar and Hooper being on the blink, (Bird's) been huge. I don't know where we'd be without Bird," Savage said. "He's really matured in our program over the last couple years, and you've seen it really paid dividends."
Bird will pitch in the final home series of the regular season against Oregon on Friday at 4 p.m.
Kearns joined the Bruin as a sophomore transfer in 2017 and contributed until 2018. He spent time on the baseball and women's volleyball beats.
Kearns joined the Bruin as a sophomore transfer in 2017 and contributed until 2018. He spent time on the baseball and women's volleyball beats.