Editorial: Administrators have overstepped role in USAC election process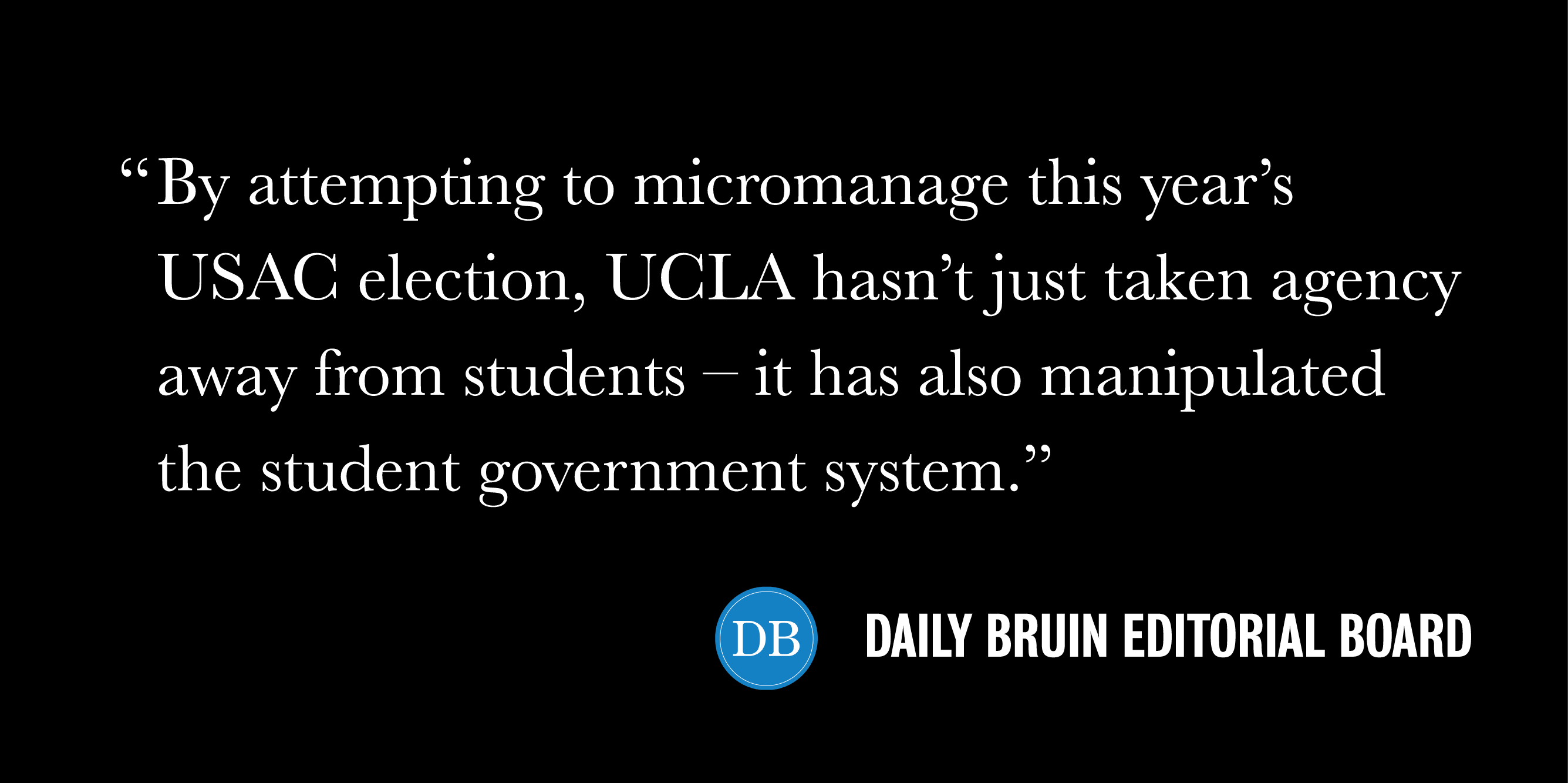 UCLA has taken the student out of student government.
Usually, the Undergraduate Students Association Council is designed for student power. Students sit in council positions and make decisions for the student body. They sit on the USAC Election Board and determine how best to run elections and sanction those who deviate from the election code. And they sit on the USAC Judicial Board and rule on complaints of bylaw violations.
Administrators play a minimal role in this process. They provide guidance on protocols and advise members of USAC when they feel officials may not be acting properly.
This year, however, they've dramatically overstepped their role.
Election Board Chair Jack Price said Tuesday he overruled his board's decision to disqualify candidates who coerced voters during election week because administrators believed the judicial board couldn't order him to reopen already-investigated matters.
Nick Yu, chief justice of the judicial board, said administrators in the Student Affairs and Student Organizations, Leadership and Engagement offices used the same reasoning to advise against his board's ruling last week, arguing the decision breached its jurisdiction and was unenforceable. The judicial board's ruling recommended the election board issue a reasonable sanction for attempted voter coercion after the election board admitted it improperly investigated a complaint of voter coercion.
Advising is one thing. Shepherding student leaders into compliance is another. Administrators don't have the prerogative to meddle in election affairs. By attempting to micromanage this year's USAC election, UCLA hasn't just taken agency away from students – it has also manipulated the student government system.
The shame is that the administration's intrusion comes at a time when student leaders need advising the most. Council members voted Tuesday to delay certifying this year's election results. This follows members expressing their intent to vote against the motion because the election board did not disqualify Bella Martin, a general representative-elect found to have engaged in voter coercion.
In other words, the student body still has no undergraduate student council for the next academic year. And if USAC votes against certifying results next week, we might not have a council until fall quarter – uncharted territory, to say the least.
Administrative guidance has been misplaced, though, focusing on the validity of student leaders' rulings rather than council members' hesitancy to certify the election results.
Debra Geller, an administrative representative to USAC, argued during Tuesday's council meeting that it was unfair to ask the election board to reopen a closed investigation and issue further sanctions.
Yu told The Bruin that other administrators brought similar concerns to the judicial board last week, arguing it could not order the election board to re-litigate an already-ruled-upon violation, even if there were concerns with the original investigation. He added the judicial board refuted this claim, arguing a new violation had been found.
And Price told The Bruin that Kris Kaupalolo, election board's SOLE advisor, told him higher-up administrators believed judicial board had overstepped its role. He added Kaupalolo's statement influenced his decision to not heed the decision by the judicial board and the decision of a majority of his ad hoc investigations committee.
It's hard not to see this as a concerted effort by the administration to pull the strings in this year's student election. And if administrators get their way, a student who coerced fellow Bruins for votes will be making decisions for the student body.
That's not to say administrators shouldn't be able to step in when election matters are problematic. In fact, it did so in 1988 when students broke out into violent riots over election results.
This election is far from that point. Yet UCLA has insisted on undermining the authority of the judicial board and the election board. Had student leaders not brought that up to the student body, it's probable the administration would have gotten away with the puppet act.
What is undeniable, however, is that student governance is being bypassed by UCLA. And that's a far cry from democracy.