Women dominate LA board commissioner positions for first time in city history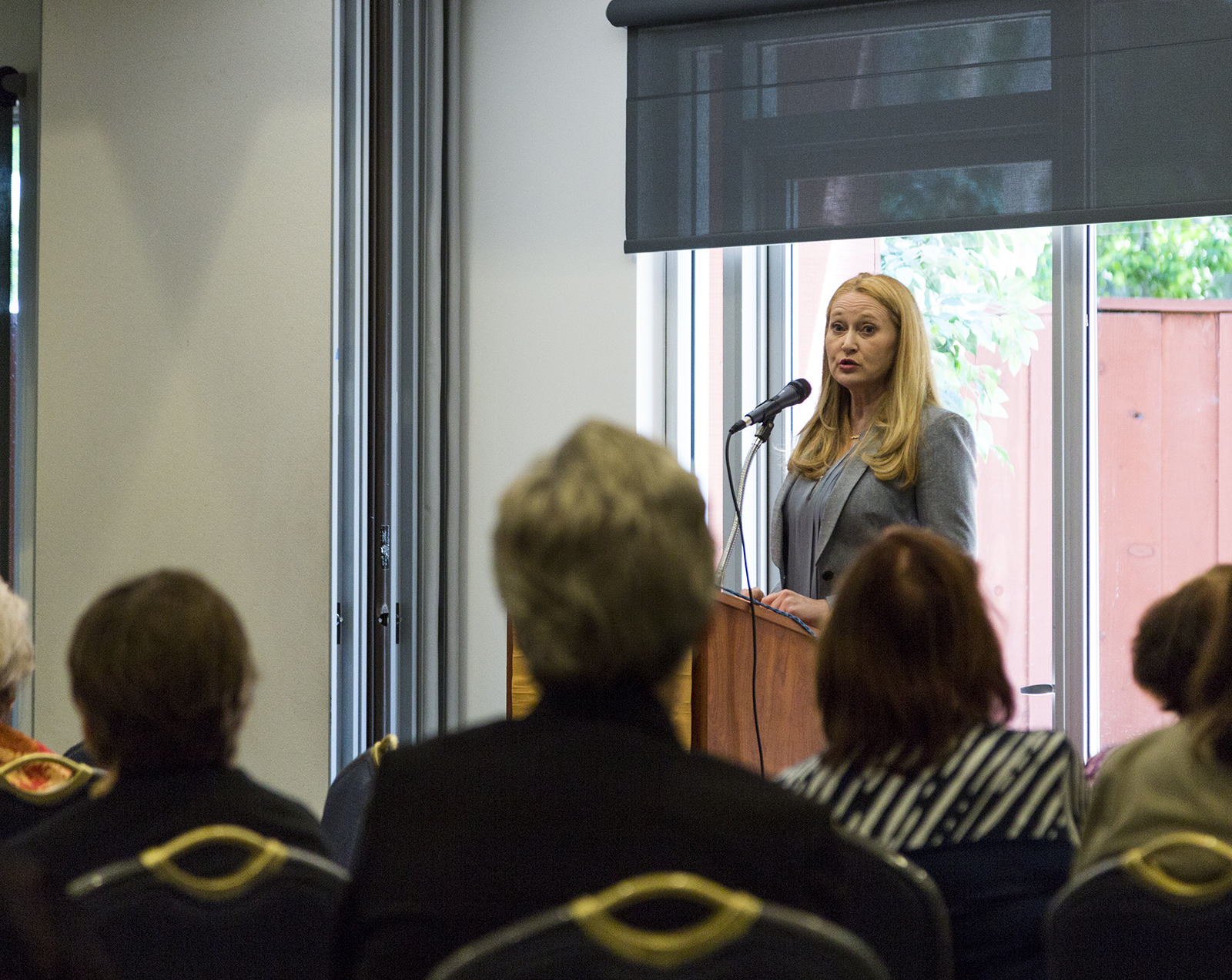 Amy Wakeland, the wife of Mayor Eric Garcetti, spoke at UCLA Faculty Women's Club's centennial celebration luncheon. (Michael Zshornack/Photo editor)
Women comprise a majority of the board commissioners in the city of Los Angeles for the first time in the city's history, the first lady of Los Angeles said at an event Tuesday.
Amy Wakeland, the wife of Mayor Eric Garcetti, spoke at UCLA Faculty Women's Club's centennial celebration luncheon. She talked about her work promoting gender equality in Los Angeles, including appointing more women to governmental leadership roles and getting more women from underprivileged communities involved in sports.
The Faculty Women's Club invited Wakeland to speak as part of a series of event celebrations for its 100th anniversary. The club was started by women at the California State Normal School, UCLA's predecessor, who advocated for the creation of a four-year college in Southern California. A year later, the Normal School became the southern branch of the University of California, and later, UCLA.
The club connects professors, faculty and their spouses through educational and social activities such as book groups, board games and foreign language conversation groups, said Joanne Knopoff, a member for over 50 years.
Bette Billet, the program coordinator for the event, said the club invited Wakeland for the centennial event because of her work advocating for women to gain leadership roles in male-dominated positions, like those of engineers, police officers and traffic commissioners.
"We started out with the idea that we would celebrate women during the centennial," she said. "We wanted to ask noteworthy women to be our speakers, women who have contributed to the common good of the university and our city, and that leads you to (Wakeland)."
Wakeland said she spearheaded a movement to get more women serving as board commissioners for the city of Los Angeles. To do this, she recruited women from different backgrounds to apply for positions and said she has successfully raised the percentage of female board commissioners from approximately 40 percent to more than 50 percent during the first six months after Garcetti was elected.
"All-male boards and commissions are a thing of the past. There's this unspoken thing that happens in government where you've got a table of five to seven decision makers with one seat reserved for the woman," she said. "We need to make sure that these boards no longer include this sort of isolated tokenism on them, and make them a comprehensive reflection of the fabric of our city."
Wakeland said activism is important in eliminating gender disparities and added women are still underrepresented in almost every profession. She added she thinks young people today are living through a historic time because a lot of society is focusing on addressing gender inequality, such as through the #MeToo movement.
"I'm a big believer in the idea that every successful initiative starts in your own backyard," she said. "There has been no moment like this in my lifetime where gender equity issues are concerned. This is the moment and I see young people leading and I hope that they understand that this moment may never come again."
Patty Nagy, a former president of the club and member for more than 40 years, said she was impressed with the amount that Wakeland has managed to accomplish in public service in such a short amount of time.
"I was kind of astonished: She's been able to change the numbers of women in government and in government positions … so much," she said. "That's the kind of energy we need in any kind of office we have, and the fact that she's doing it on a volunteer basis just proves to me that she's an extraordinary person and has the unique ability to get people to work together."
The event also recognized Sandy Spolsky, who was president of the club in 1981, with the Outstanding Member of the Year award for her participation in multiple club groups. Spolsky said she enjoys being part of the club because of the diversity of people she gets to meet.
"They're from all over the world and come from different backgrounds and have worked in many kinds of fields and jobs," Spolsky said. "Everyone has so much to share."
Wakeland said she thinks Los Angeles is making major steps toward achieving gender equality, ending her speech by pointing to the thousands of people who marched during the women's marches these past two years in January.
"I think most people don't realize that the largest political march in LA history took place two years ago – it was the Women's March," she said.