UCLA alumnus steers company toward affordable electric vehicles and car-sharing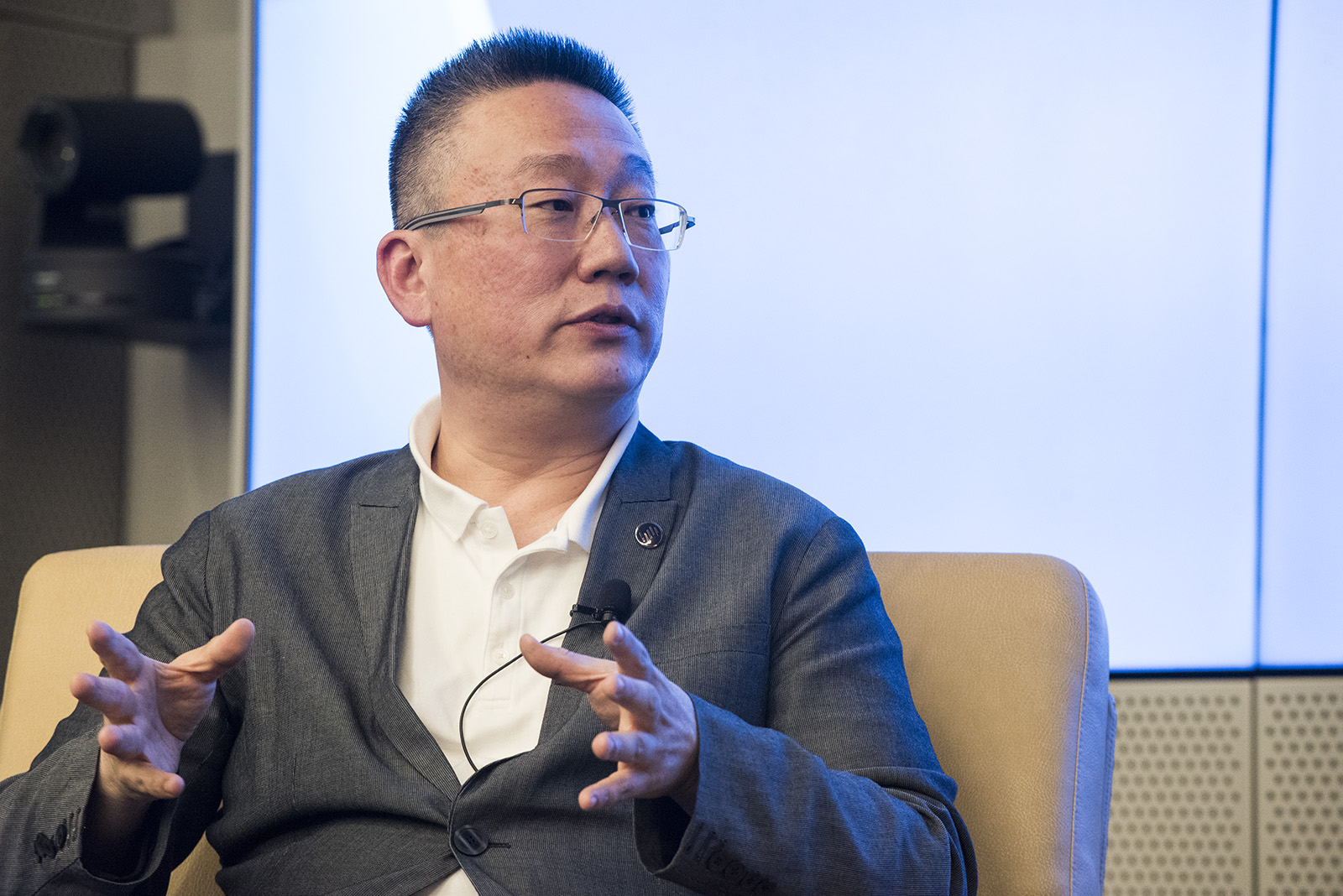 UCLA alumnus Freeman Shen said he originally wanted to pursue a degree in architecture but was unable to do so because he was color blind. Instead, he decided to design vehicles, which he said is more challenging than designing buildings because cars are moving objects. (Liz Ketcham/Daily Bruin)
Correction: The original version of this article incorrectly stated Sam Rylanksy is a computer science and engineering student. In fact, Rylanksy is a computer science student.
A UCLA alumnus said at an event Monday that his company plans to provide an affordable, well-designed and partially automated electric vehicle.
Freeman Shen, the CEO of Weltmeister Motor, spoke at UCLA's Henry Samueli School of Engineering and Applied Science's Ronald and Valerie Sugar Distinguished Speaker Series. Shen answered questions from Dean Jayathi Murthy and guests who attended the event regarding entrepreneurship and his business model design. Shen received his masters in civil engineering from UCLA in 1994.
Shen said he originally wanted to pursue a degree in architecture but was unable to do so because he was color blind. Instead, he decided to design vehicles, which he said is more challenging than designing buildings because cars are moving objects.
"I always dreamed of doing a project (that) combined technology and art," Shen said.
Shen said his company's goal is to create an electric vehicle for the middle class that would cost between $10,000 and $15,000. He added he thinks current electric vehicles are too expensive, such as those built by Tesla, or too small, such as the Nissan Leaf.
WM Motor's electric vehicle will be partially automated, Shen said. He said his company's cars can brake, steer and accelerate by themselves as long as the driver is still at the wheel.
Sam Ryklansky, a third-year computer science student, said he attended the event because he wanted to learn about what companies outside of the U.S. are doing for electrical vehicle development and autonomous cars.
"I thought it was interesting he wants more autonomy in cars," he said.
Ryklansky said while the WM Motor's SUV's level of automation is a good place to start, he thinks the company needs to catch up to companies such as Uber and Google, which are developing cars that do not require the driver to actively sit at the wheel.
WM Motor is also pursuing a car-sharing model, Shen said. Although car sales might decrease from consumers sharing cars, Shen said because WM Motor is a startup he would be happy to sell a hundred thousand cars, while a larger company might feel threatened at that level of sales. He added he thinks buying cars is inefficient.
"When you buy a car you get a lot of function you don't need," said Shen added. "You own it for 24 hours a day but you can only use it for two hours (a day) – so you can share it in your down time."
Yufan Jia, a third-year mechanical engineering student, said he thinks WM Motor is able to sell such cheap electric SUVs because the Chinese government is giving incentives for electric vehicles.
Shen said his company has an advantage in China because the country is looking to reduce the amount of oil they import.
He added his company is developing both electric vehicles and autonomous vehicles because the two go hand in hand.
"When you are looking at an autonomous car you are looking at a robot. Imagine a robot carrying an engine, that would be impossible," he said. "Autonomously driven cars need a battery, not an engine."
Lewis is an Opinion columnist and News contributor.
Lewis is an Opinion columnist and News contributor.