Sam Smoot: Transportation police should pursue alternate methods to enforce scooter safety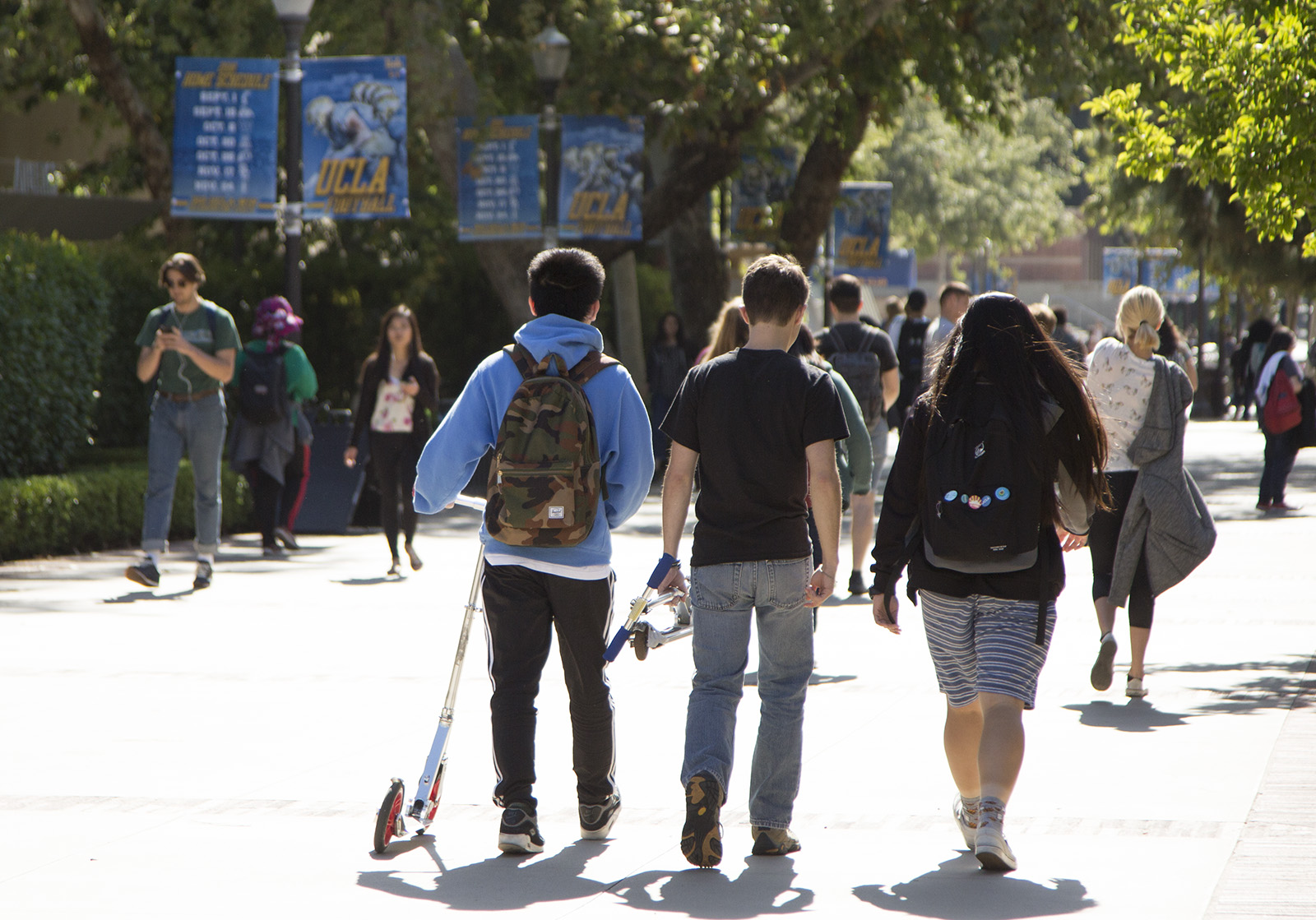 Bird and LimeBike scooters have become a mainstay on campus. But dismount zone rules continue to be broken, and UCLA seems to think the problem is because students don't know about policies. Rather, noncompliance is because of lack of incentives for riders. (Amy Dixon/Assistant Photo editor)
My first ride on a Bird scooter was magical. The wind whipped through my hair as the sweaty masses of students vanished from my peripheral. I had 10 minutes to get to the public affairs building, and I was barely past De Neve Plaza. I was mentally preparing an argument for full credit on my presumably late homework, but my Bird soared down the road and I made it to class with time to spare.
I was an instant fan.
Like other riders, I did not take concerns regarding the safety of electric scooters seriously. They are scooters, after all. How dangerous could they get?
But tell that to the distracted pedestrian who is only aware of an incoming scooter when they feel the breeze on their skin.
Bird Rides Inc., LimeBike, and other scooter-share companies attempt to address safety issues by requiring users agree to a set of terms and conditions that reflect the rules of the road before activating their account. This includes staying off the sidewalk, following traffic laws and respecting dismount zones.
As we know all too well, few Bruins actually follow these rules.
As a result, UCPD has set up dismount zones along popular routes to issue warnings, and later, mass citations to scooter users who violate related vehicle codes. Since Jan. 1, UCPD has issued 216 citations to riders in dismount zones. This amounts to nearly $44,000 in fines in just five months.
That's a large sum with little effect. A quick survey of Bruin Walk on any given day reveals that many riders continue to disregard the rules.
UCPD seems to agree. Lt. Kevin Kilgore said that while the department's main concern is ensuring the safety of both pedestrians and the riders, citations alone are unlikely to dissuade riders from breaking the law.
The main issue with UCLA's current scooter safety efforts is that the university assumes the problem stems from a lack of awareness of the law, rather than students' unwillingness to sacrifice convenience for safety. The university needs to devise solutions that incentivize students to follow rules.
There have been notable safety concerns when it comes to riding Bird and LimeBike scooters. Kilgore said a student had a concussion after being struck by someone riding a Bird scooter – and that was shortly after the scooters were introduced.
Other scooter-related injuries have also occurred in Santa Monica, and it is likely there have been additional unreported incidents. It says something that some lawyers have even started to advertise their services for Bird-related accidents.
Instead of relying on the fear of fines, Kilgore hopes that riders will learn the rules of the road and enforcement will be less necessary.
UCLA Transportation now has a web page detailing its policy on electric scooters, as well as a hip video explaining how to ride them with True Bruin values. However, these public service announcements vary little from the user agreements riders blow off in the first place.
Jimmy Sekhon, a second-year physics student and Bird rider, said he understands the regulations but believes they are unnecessary. He said he thinks the citations are excessive because many of the concerns about safety are nonissues: Sekhon has never felt at risk of harming himself or others while riding a Bird.
We must not be naive to assume that this kind of noncompliance is simply a result of a lack of knowledge of campus policies. Instead of working to repeat the rules, UCLA should approach the issue of noncompliant riders by incentivizing them to use the proper routes.
One solution suggested by Scott Cummings, a professor at the UCLA School of Law, and highlighted in a recent column by Daily Bruin columnist Omar Said, would be to require the scooter-share companies to program their scooters to lock and beep when they are used in dismount zones. This would be much like what they already do when users attempt to ride them without paying fees. Riders will naturally avoid areas where it is not possible to ride.
Another approach would involve designating paths through dismount zones such as Bruin Walk. These paths would be intended for scooters, bikes and other wheels on campus. UCLA could paint a pair of one-way lanes to one side of the dismount zone that clearly demarcate the area in which vehicles are to remain, reducing the chances that pedestrians accidentally end up in the path of riders.
If these paths provide a direct route through campus, people will have little incentive to ride through the traffic-heavy dismount zones and risk a ticket.
Some may argue designating a path is an unnecessary cost and that riders should instead be made to follow the law and take a different route. However, enforcement can only do so much. Short of placing officers in dismount zones indefinitely or banning the scooters outright, it's hard to imagine what more UCLA could do to ensure compliance. UCPD also has better things to do than just manning citation stations every day of the week.
The nearly $44,000 that has already been fined to no avail is likely more than it would cost to fund a lane. In addition, any cost that comes from painting a vehicle lane would be far lower than that associated with serious injuries that can occur if we let the status quo remain.
UCLA must shift its focus away from ensuring riders know the rules and the consequences of breaking them, which has proved ineffective. If scooter-shares are allowed to remain mainstays on campus, UCLA must move toward designing a system that minimizes risk to pedestrians and riders.
Let's not let riders foul behavior breed ineffective, bird-brained policies; we need a system where the safest path is the obvious choice.