Veggie Grill to sprout on campus, offers exclusively plant-based menu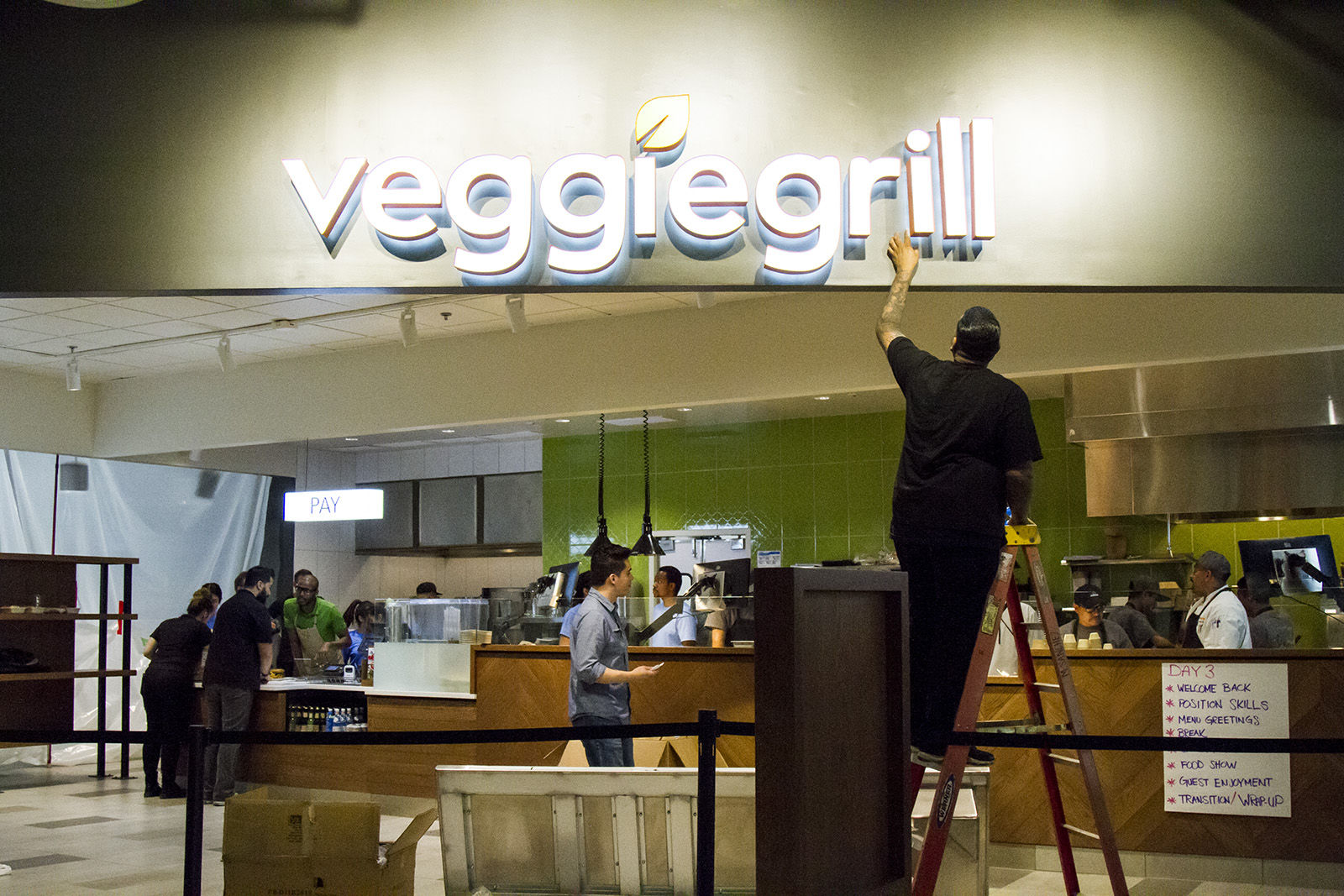 Veggie Grill, an Irvine-based restaurant chain with a plant-based menu, will open Tuesday in Ackerman Student Union's first-floor dining room. (Rachel Hefner/Daily Bruin)
Correction: The original version of this article and its accompanying caption incorrectly stated Veggie Grill is a franchise. In fact, it is a restaurant chain.
This post was updated May 14 at 1:58 p.m.
Students will have access to a new vegan dining option on campus starting Tuesday.
Veggie Grill, an Irvine-based restaurant chain with a plant-based menu, will open Tuesday in Ackerman Student Union's first-floor dining room.
Associated Students UCLA decided to replace Sbarro, a New York-style pizza restaurant that closed in September 2016, with Veggie Grill to add a healthier eating option on campus, said Cindy Bolton, ASUCLA food services director.
The ASUCLA ad hoc committee, which aims to maximize the association's revenue for its on-campus services, decided to add a type of food option that was not already available in Ackerman, Bolton added.
The committee also considered the goals of UCLA's new Healthy Campus Initiative, which strives to help UCLA students make healthier lifestyle choices. The EatWell pod, one of the seven categories of the Healthy Campus Initiative, tries to make fresh and healthy food accessible to the UCLA community by working with campus dining halls and restaurants.
Bolton said ASUCLA saw the need for a plant-based restaurant because a growing number of students is seeking vegetarian and vegan options on campus, and added while many restaurants serve vegetarian and vegan options, none are exclusively vegetarian, vegan or plant-based.
Over the years, a larger number of students have approached ASUCLA with concerns regarding the availability of halal, vegan and vegetarian dining options, she said. ASUCLA decided Veggie Grill was the best option to meet student demand.
ASUCLA hopes to improve its sales numbers with Veggie Grill because of the restaurant's ability to attract the vegan and plant-based demographic of the restaurant market, which was previously underutilized, Bolton said.
However, the opening of Veggie Grill experienced multiple delays – similar to Blaze Pizza, which took almost three years to open – due to issues such as contract negotiations and construction delays.
Veggie Grill will be hiring both student workers and outside workers, with preference given to student workers. Its rewards program will work at the UCLA location and the restaurant may offer value promotions, a spokesperson for the restaurant said.
Several students said they are happy to see more healthy, plant-based food options on campus.
Peter Roquemore, a graduate student in urban planning, said he thinks vegan students will appreciate Veggie Grill.
"I was a vegan for a while and the options weren't that great on campus, and (Veggie Grill) has pretty good food," Roquemore said. "I think that more plant-based options are a plus on campus."
Haoran Zhang, a fourth-year computer science and engineering student, said he thinks Veggie Grill will be a healthier alternative to Ackerman Union's other restaurants.
"I think it's great because it provides more options for students to have their meals, and it's healthier compared to Carl's Jr. and places like that," Zhang said.
Students who have never tried Veggie Grill said they plan on trying it once it opens.
Ramya Jois, a first-year molecular, cell and developmental biology student, said she has never been to Veggie Grill, but she has heard it is a good option for vegetarians.
Fernando Vasquez, a third-year chemistry student, said he wanted to try plant-based restaurants before, but was skeptical of their high prices.
"I've been wanting to try it, so I think I'll give it a shot now," he said.