UCLA softball wins series against Arizona State, but loses Pac-12 to Oregon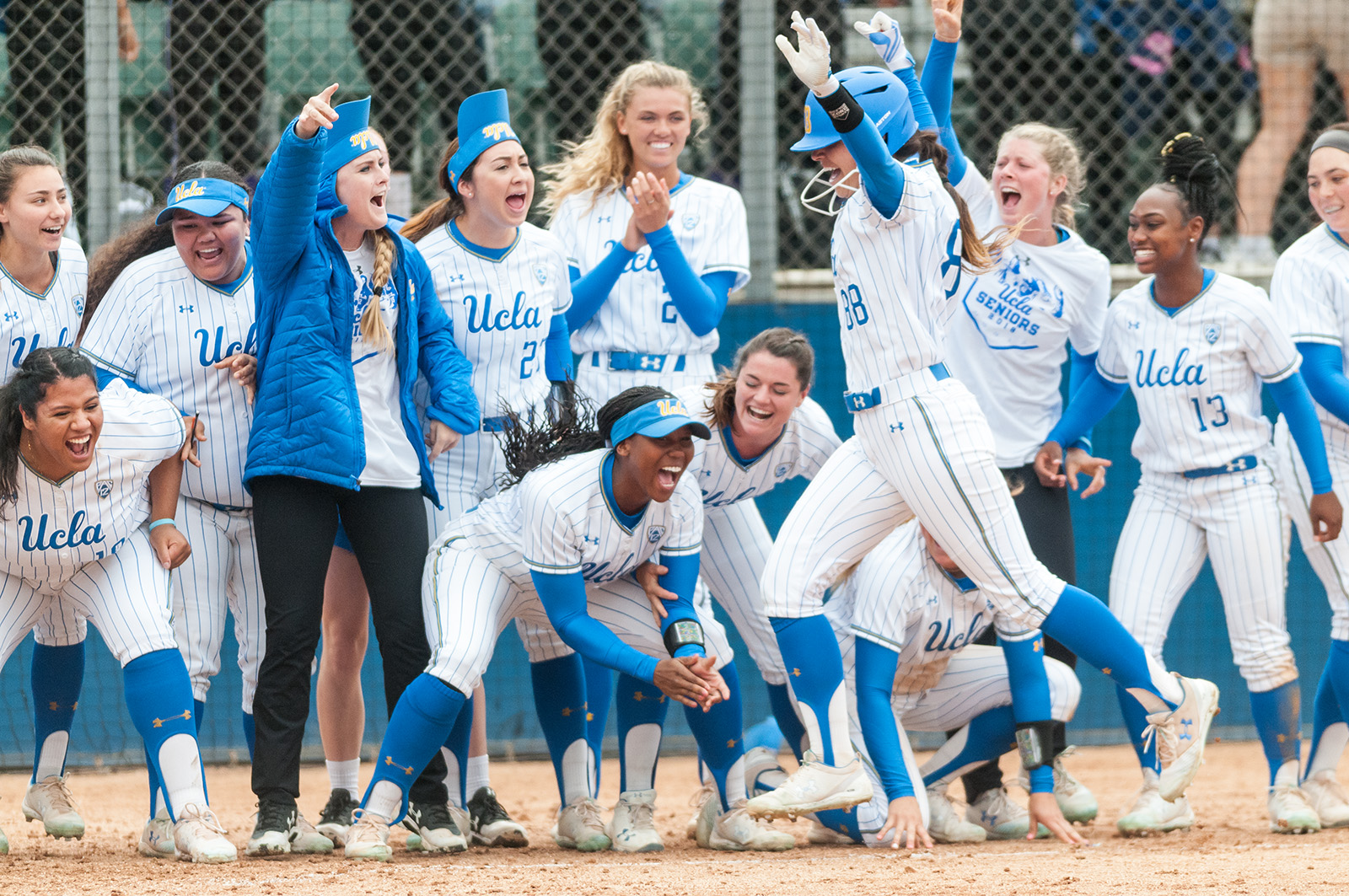 The No. 1 Bruins were able to eke out wins over the No. 2 Sun Devils on Friday and Saturday after a shutout loss Thursday night. Senior Madeline Jelenicki hit a game-winning home run Saturday in what was her final regular season game as a Bruin. (Liz Ketcham/Daily Bruin)
Despite only needing three wins to secure the top spot of the Pac-12, the Bruins were unable to capture the title.
No. 1 UCLA softball (50-4, 20-4 Pac-12) finished off its regular season with a 2-1 series win against No. 6 Arizona State (43-11, 16-8) with scores of 0-3, 5-1 and 2-1 at Easton Stadium on Thursday, Friday and Saturday, respectively.
Following a three-hit loss Thursday, the Bruins took advantage of pitcher Giselle Juarez's absence at the start of Friday's game and were quick to get numbers on the board. Freshman infielder Briana Perez earned her fifth home run of the season in the first inning, where she hammered a ball center field on her first swing of the day.
Despite a combined 4-for-6 performance by Perez on Friday and Saturday, she credited the pitching strength of the Sun Devils and saw that the Bruins needed mental adjustments to win the series.
"Arizona State has great pitching like a lot of the Pac-12. We got in our heads a little bit, but we just had to remember to come back and gather ourselves," Perez said. "We worked extra hard this morning and last night and I think it paid off today."
UCLA took control of Saturday's game in the sixth inning. After Arizona State infielder Denae Chatman hit a solo home run to tie the game in the fifth, the Bruins were able to take advantage of the two errors in the sixth to gain a 5-1 lead.
On Saturday's Senior Day game, with the series now tied 1-1 the Bruins just needed one more victory to hit the 50-win mark, a record the team hasn't reached since 2015. It took two extra innings, but UCLA got it done.
After Chatman hit another solo home run to tie the game at the top of the fifth 1-1, the Bruins decide to sub in redshirt sophomore pitcher Rachel Garcia for freshman pitcher Holly Azevedo to close out the game. Garcia struck out three in 3 1/3 innings and only allowed one walk and one hit.
It came down to the bottom of the ninth with two outs and senior utility Madeline Jelenicki up to bat. It took just one pitch and one swing of the bat for the senior to launch a walk-off home run to seal the win in her final regular season game as a Bruin.
Coach Kelly Inouye-Perez had high praise after Jelenicki delivered another clutch performance after hitting series-clinching and game-winning runs just a week ago against No. 24 California.
"At this time of the year I told the girls it's going to come down to some critical moments and you got to see that," Inouye-Perez said. "Today it was clearly about Madeline Jelenicki – she is so clutch – it was great for her to finish her senior year like that."
Even after hitting the walk-off home run, Jelenicki recognized Juarez's skill level and saw how this series will prepare them for a postseason run.
"Hats off to (Juarez). She was a great pitcher," Jelenicki said. "That was the best thing that could've happened before postseason, to see a pitcher with that caliber of pitches with those strengths."
Despite a 20-4 conference record, UCLA was unable to clinch the Pac-12 title after No. 2 Oregon won just one more conference game than the Bruins.
"We've won every series but one in the Pac-12, the toughest conference in the country," Inouye-Perez said. "Our ability to continue to hit in the toughest conference has said a lot about who we are … to be able to go through the Pac-12 is a great thing to prepare you for the postseason."
UCLA now looks ahead to NCAA regionals, which will start Friday.
Chen is currently a contributor for the Stack. He was previously a contributor for the women's basketball and softball beats.
Chen is currently a contributor for the Stack. He was previously a contributor for the women's basketball and softball beats.