Women's golf places second at regionals, to play in NCAA championship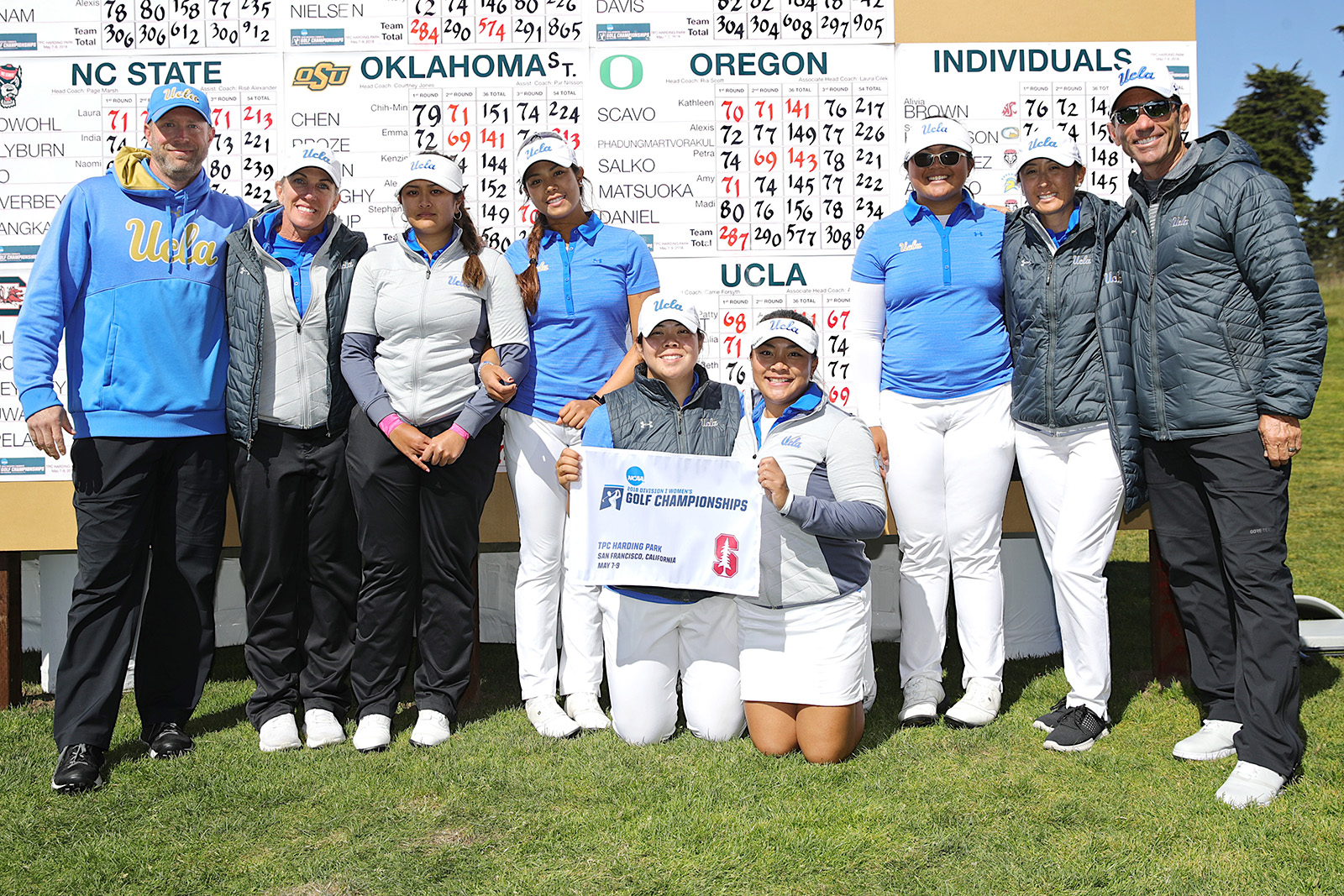 UCLA women's golf punched its ticket to the national championship Wednesday after finishing second at the NCAA regional in San Francisco. The Bruins will be competing for the fourth championship in program history. (Courtesy of UCLA Athletics)
The Bruins are headed to the NCAA championships after nearly stealing first place at the NCAA regionals in San Francisco this week.
No. 2 UCLA women's golf suffered an early exit at last year's regional championship after finishing eighth, making Wednesday's final results that much sweeter.
"Last year, we were really disappointed because we were ranked really high," said sophomore Mariel Galdiano. "It feels really good, because now this is really good momentum going into nationals next week."
UCLA finished second with a final score of 4-under par, four strokes behind first-place Stanford.
Despite the high stakes, freshman Patty Tavatanakit said UCLA never felt any pressure.
"We just wanted to come here and win the tournament," Tavatanakit said. "We just want to make it to nationals, and we accomplished that goal."
A third-round push from the Bruins nearly put them in first place. The charge was led by Tavatanakit, who finished first on the individual leaderboard.
"I made a pretty good putt on hole nine first," Tavatanakit said. "Once that putt dropped, my momentum for the round changed and the birdies kept coming."
The win was Tavatanakit's sixth top-10 finish of the year and fourth tournament win of her career. She has won the past three tournaments she has competed in, finishing with a score of 8-under in all of them.
Tavatanakit's win could have not come at a better time for UCLA. Junior Lilia Vu finished outside of the top 10 for the first time all season, placing 22nd overall.
"It's important in a team situation that, when somebody is struggling a little bit, you have other players that can step up," said coach Carrie Forsyth.
Galdiano also contributed to the run, tying for third place overall.

"(Galdiano) didn't have her best event at the conference championship," Forsyth said. "So, to come back and really have a good event here, she had a chance to win. That was really awesome."
UCLA shot 8-under par on day one, which put it at the top of the leaderboard. However, the Bruins shot 7-over in the second round, moving them down to third.
"You're not going to play great every single time you tee it up," Forsyth said. "We played so poorly on that back nine, and we just really wanted to go out there and do better."
A national championship victory would be UCLA's fourth in program history, and its third under Forsyth. The Bruins won titles under Forsyth in 2004 and 2011.
The national championship will tee off May 18 at the Karsten Creek Golf Club in Stillwater, Oklahoma.
Weinstock joined the Bruin as a freshman in 2017 and contributed until 2018. He spent time on the men's golf and women's golf beats.
Weinstock joined the Bruin as a freshman in 2017 and contributed until 2018. He spent time on the men's golf and women's golf beats.