UCLA softball one series away from catching Pac-12 championship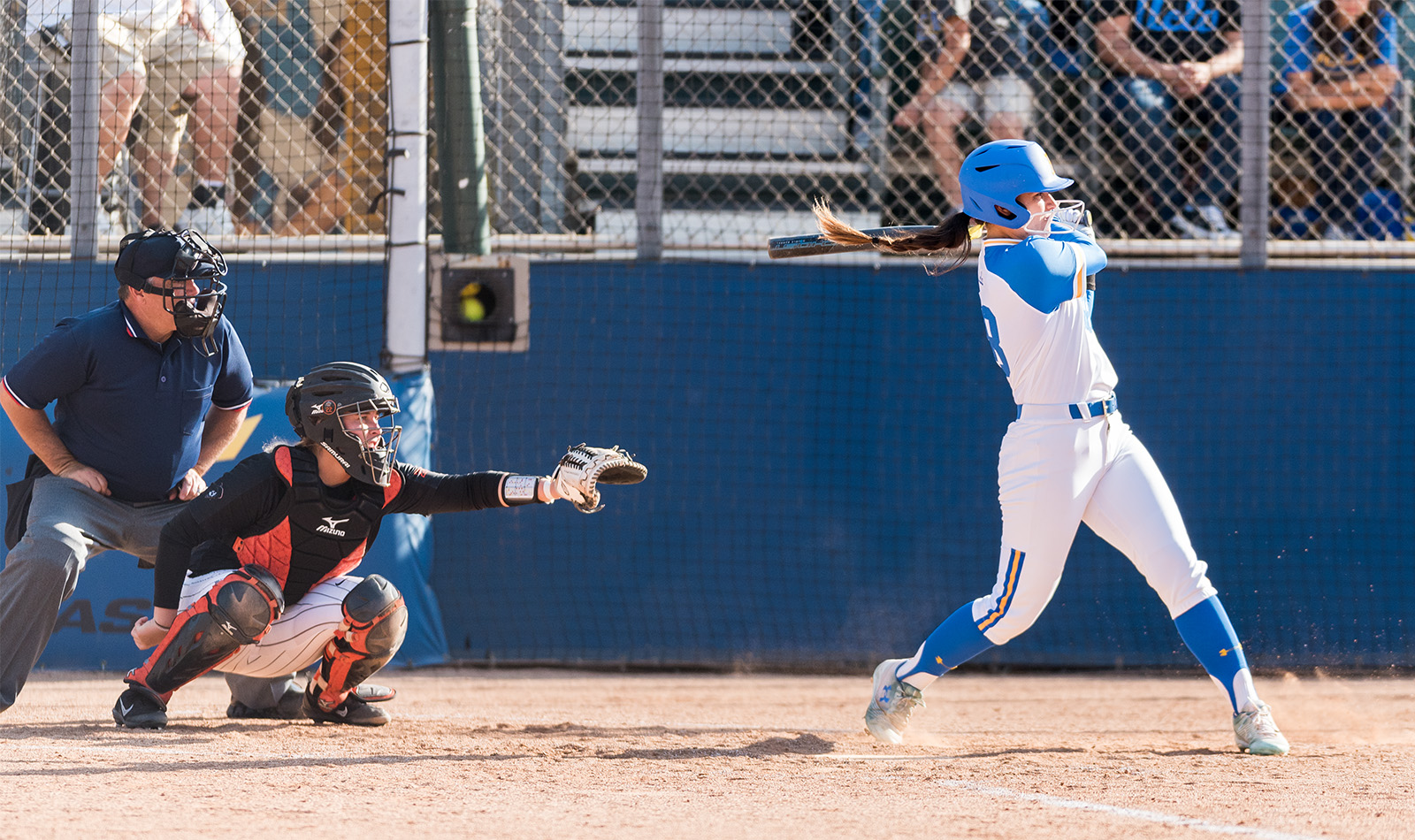 No. 1 UCLA softball has one last chance at claiming the Pac-12 title this weekend in its series with No. 6 Arizona State, the Bruins' final series of the regular season. (Liz Ketcham/Daily Bruin)
UCLA softball has the opportunity to claim its first Pac-12 championship since 2009 over the weekend.
"At the beginning of the season, our coaches sat us down in our clubhouse," said freshman first baseman Kinsley Washington. "They said, 'Look, we need five goals to accomplish.' And the first goal was to win (the Pac-12)."
The No. 1 Bruins (48-3, 18-3 Pac-12) welcome the No. 6 Arizona State Sun Devils (42-9, 15-6) in the final regular season series for the graduating seniors.
Senior shortstop Kylee Perez, pitchers senior Johanna Grauer and senior Selina Ta'amilo as well as utility players redshirt senior Jelly Felix and senior Madeline Jelenicki will all be honored in their final home series of the year.
As it stands, UCLA is currently tied for first in the conference standings with No. 2 Oregon (44-7, 18-3) who will visit No. 24 California for a three-game slate.
With a sweep over Arizona State, UCLA is guaranteed at least a share of the title, regardless of what Oregon does. The Bruins need to finish one game better than the Ducks in order to claim sole possession of the Pac-12 championship.
The Sun Devils, who sit in third in the Pac-12, have a slight chance of claiming a share of the title, but would need to sweep the Bruins and hope the Ducks get swept as well.
Both the Bruins and Ducks have been dominant throughout conference play. Oregon has yet to lose a Pac-12 series thus far while UCLA leads the conference in series sweeps with five.
Oregon enters their three-game tilt against Cal on a 10-game winning streak that includes a 5-0 shutout victory over defending national champion No. 3 Oklahoma and sweeps over Stanford, No. 5 Washington and Utah.
"We have been playing these last couple of series with the intent of sweeping; if we fall off our game for one game, that could literally cost us (the championship)," Washington said. "We 100 percent go into each game saying, 'Mercy them, sweep them, do everything we can to win this series.'"
After Oregon took two out of three games from UCLA in March, the Bruins have only lost one conference game, sweeping Oregon State, Utah, No. 9 Arizona, No. 5 Washington and No. 24 California en route to their current 14-game winning streak.
A three-game series with the Sun Devils stands in the Bruins' way of a Pac-12 title.
Arizona State owns a record of 9-7 against teams currently ranked in the top 25, including a pair of wins over No. 5 Washington, one win over No. 2 Oregon and one win over No. 9 Arizona.
Arizona State's Giselle Juarez was the winning pitcher in all four games. The lefty pitched a complete game in each outing, combining to throw 39 strikeouts in total and giving up a single earned run in the four wins.
"We look forward to seeing (Juarez)," said coach Kelly Inouye-Perez. "She has done some great things throughout the (Pac-12) and has been recognized for it."
Juarez could very well be the toughest pitcher the Bruins have faced thus far. She was one of 10 players named as a finalist for the 2018 USA Softball Collegiate Player of the Year award Wednesday. That list also includes UCLA's redshirt sophomore pitcher Rachel Garcia and redshirt freshman left fielder Aaliyah Jordan.
The Sun Devils' top pitcher ranks within the top 10 in a number of pitching statistics. The lefty is seventh in the country with an ERA of .92, 10th in total strikeouts with 259 and fourth in strikeout-to-walk ratio with 8.63. Juarez's 11 shutouts this season ranks second best, and her 10 strikeouts per seven innings is 10th best in the nation.
"Everyone is looking to finish strong. Being the last weekend, I believe that we will see a lot of (Juarez)." Inouye-Perez said.
After their winningest regular season in the last decade, UCLA has put itself in a position to win the Pac-12 title with the NCAA regionals fast approaching. The Bruins are a series away from achieving one of their main goals.
"At the very beginning, the girls had goals about things they wanted to accomplish, and winning the (Pac-12) was definitely one of them," Inouye-Perez said. "But the bigger-picture goal is to be the last team standing and win a national championship."
Ardon joined the Bruin as a sophomore in 2016 and contributed until 2018. He spent time on the softball, men's soccer, women's soccer and beach volleyball beats.
Ardon joined the Bruin as a sophomore in 2016 and contributed until 2018. He spent time on the softball, men's soccer, women's soccer and beach volleyball beats.