Other unions representing UC workers plan to join AFSCME in solidarity strike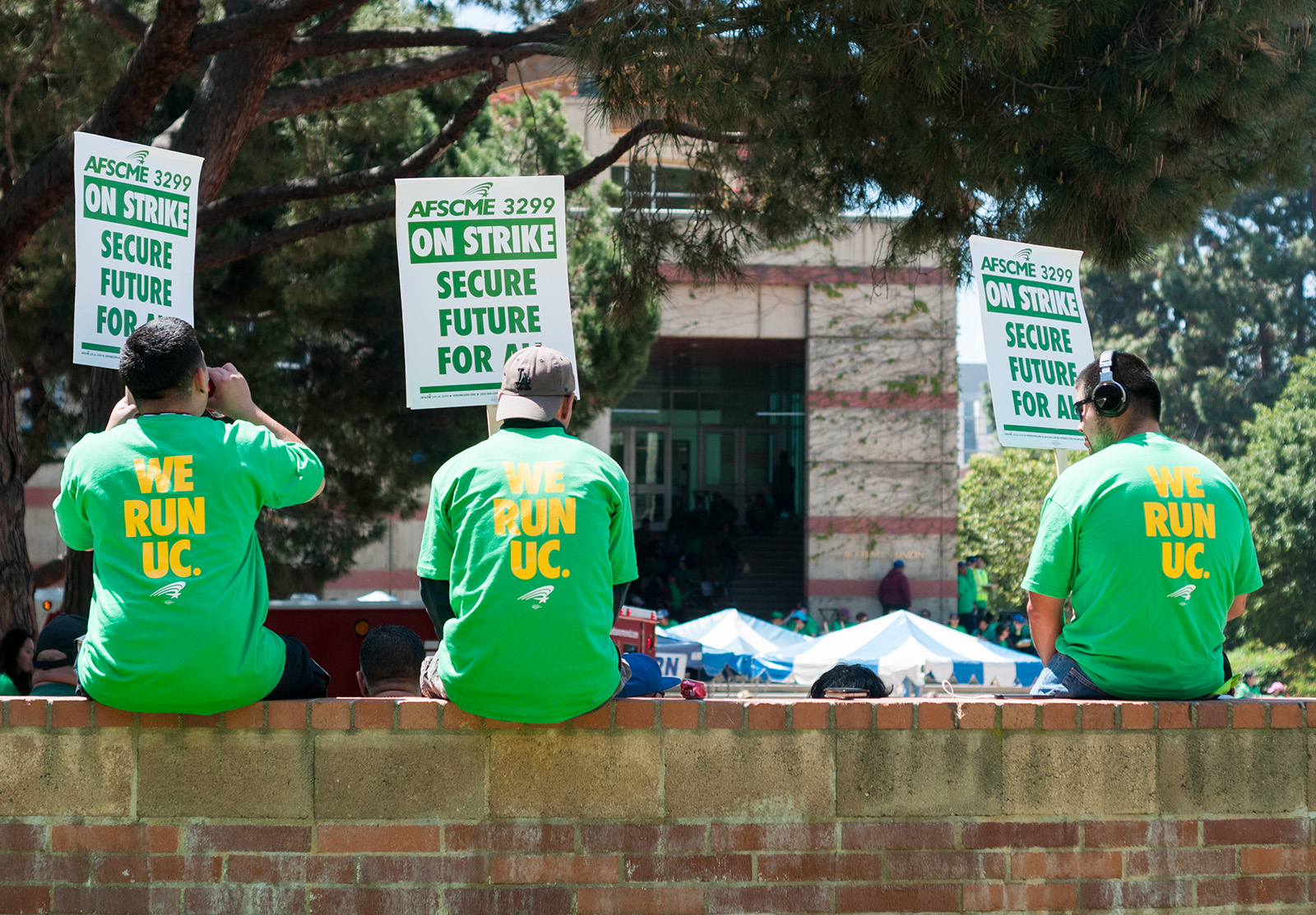 The University of California's largest employee union is planning to hold a strike this week. Other unions including the California Nurses Association are also striking in sympathy. (Jenna Nicole Smith/Daily Bruin)
Unions representing medical employees in the University of California plan to hold a strike in solidarity with the UC's largest union this week.
The American Federation of State, County and Municipal Employees Local 3299, which represents service workers such as custodians and food service workers, is holding a strike from Monday to Wednesday because the union was unable to reach a contract agreement with the UC. The University Professional and Technical Employees and the California Nurses Association, which both represent hospital workers, are holding a sympathy strike from 4 a.m. Tuesday to 3:59 a.m. Thursday.
UPTE employees striking include clinical lab scientists, pharmacists and therapists. Clinical nurses, nurse practitioners and anesthetists, who are members of CNA, are also participating.
UCLA Health said in a statement it has retained health care professionals and has contingency plans to address patient needs during the strike.
"While we value the contributions of all employees and respect their rights, we are committed to maintaining access to our hospitals and clinics," said Johnese Spisso, president of UCLA Health, and Dr. Kelsey Martin, dean of the David Geffen School of Medicine at UCLA, in the statement.
Last Wednesday, the Public Employment Relations Board, a state agency, filed a lawsuit against the AFSCME strike after the UC sought legal protection to block some medical employees with specialized skills, such as technicians who operate medical imaging equipment, from striking.
The unions filed to block the injunction, and Friday, a superior court judge issued a restraining order barring essential UC employees from participating in the strike because their absence could pose an imminent threat to public health and safety.
"This injunction obtained by PERB reflects the UC's ongoing efforts to limit disruptions on our campuses and medical centers and to ensure our patients get the care they need and our students the service they deserve," said UC spokesperson Stephanie Beechem.
Other parts of campus are also experiencing disruptions because of the strikes. For example, there will be limited dining options for UCLA students living in residence halls for the duration of the strike.
About 300 UC employees participated in AFSCME's picket line on Bruin Plaza on Monday, demanding higher wages and increased benefits.
Protesters walked around campus and then congregated in Bruin Plaza, beating drums, using air horns and vuvuzelas, chanting "Who's got the power? We got the power. What kind of power? Union power" and holding signs such as "Safe staffing now."
The UC said in a statement it believes it is inappropriate for the union to use the strike as a negotiating tactic and added the University proposed multiyear wage increases and excellent health and retirement benefits during the contract negotiations.
"Under state law, strikes that a pose a substantial and imminent threat to vital public services like patient care are illegal," Beechem said.
Christopher Miramontes, a UCLA Dining Services worker, said he will stand with other protesters for as long as it takes to get their demands heard. He added he would like the University to increase wages and provide better health care benefits for workers.
José Castellanos, a worker at the Stein Eye Institute who participated in the strike, said the institute is understaffed and puts pressure on employees to complete tasks.
"We have what I like to describe as a 'skeleton crew,'" he said. "There's pretty much nobody to keep up with all the workload."
Zhen is an assistant news editor for the national and higher education beat. She was previously a contributor for the campus politics beat and an online contributor.
Zhen is an assistant news editor for the national and higher education beat. She was previously a contributor for the campus politics beat and an online contributor.