Editorial: Discrimination against LGBTQ community still looms large at UCLA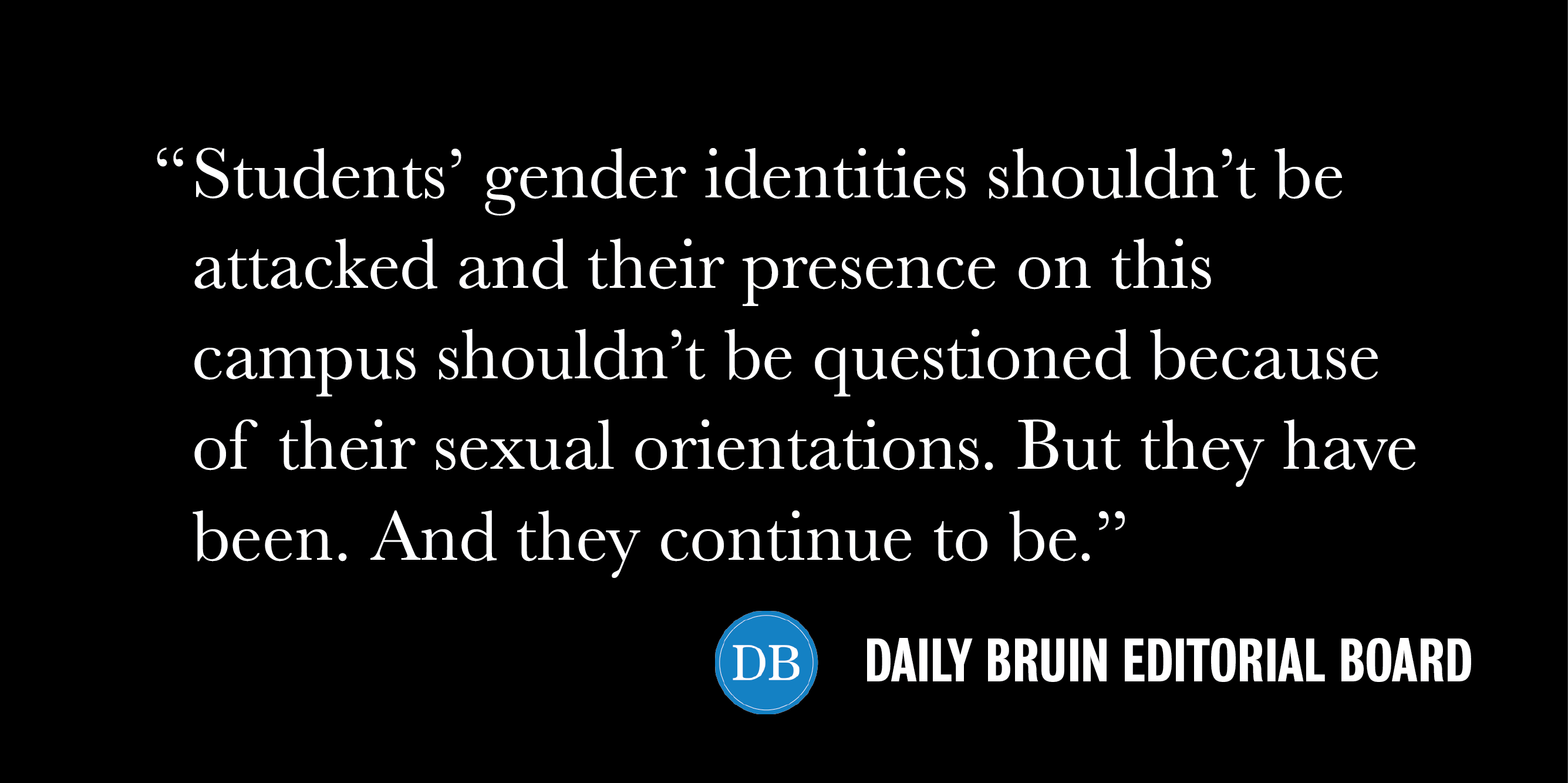 UCLA wasn't very welcoming of the LGBTQ community when the school was founded – and that still looks to be the case today.
The latest display of discrimination on campus comes in the form of vandalism. A pride flag was moved from the door of the Undergraduate Students Association Council Academic Affairs commissioner's office Sunday, and the homophobic slur "fag" was etched in big letters in its place. The incident was just days after the commissioner put up a new flag, marking the second time the office was vandalized in the past week.
It's unclear who was behind Sunday's bout of discrimination or whether the two instances of vandalism are linked. What is clear, however, is that homophobia is still alive and kicking on this campus.
Academic Affairs Commissioner Divya Sharma's response to the affronts is noble: He plans to donate money to UCLA's LGBT Campus Resource Center and create an allyship training program. This campus could use training to address the plague of discrimination behind Sunday and the Wednesday before's vandalisms, as well as previous outbursts of discrimination on campus.
But we have to ask: If individuals at this university feel entitled enough to attack the identity of an elected student official – twice in a span of five days – how far have we really come in addressing discrimination at UCLA?
More than 20 years ago, faculty members would meet off campus and in secret to discuss their struggles as LGBTQ individuals at UCLA. The LGBTQ center was only first proposed in 1991, and it took until 1994 for the university to fund and support it.
The university has made progress since then. The LGBTQ center is a thriving campus resource that has helped normalize discussions about gender and sexual identity through its programming and support systems. And in fall quarter, the administration began allowing students to use their preferred names on their BruinCards – a critical step to dismantling the institutional hurdles the LGBTQ community faces.
But the rate of this progress is sobering. As recently as 2010, UCLA's Reserve Officers' Training Corps program maintained the federal government's "don't ask, don't tell" policy, which barred openly gay, lesbian or bisexual individuals from serving in the military. This was in spite of the UC's policy prohibiting discrimination on the basis of sexual orientation.
That's not even mentioning the student body's part in discrimination on campus. Two years ago, leaders of the Bruin Republicans student group posed for photos while holding up transphobic signs reading "Transgenderism is a mental disorder!", "There are only two genders!" and "Get your agenda out of my restroom!" And earlier this year, the Bruin Republicans invited Ben Shapiro, a noted transphobic commentator, to share his viewpoints with the campus community.
It's not surprising, given this history, that discrimination persists at UCLA. And the fact that the latest victim of it was an elected official is a testament to the abhorring degree to which it lurks on this campus.
Of course, students and other members of the campus community are permitted by the First Amendment to have viewpoints against being part of the LGBTQ community. But we as a student body – and as a university – must recognize the role these caustic opinions play in marginalizing communities on this campus.
Students' gender identities shouldn't be attacked and their presence on this campus shouldn't be questioned because of their sexual orientations.
But they have been. And they continue to be.
The homophobic slur etched on the door of Kerckhoff 310 is proof of that.