UCLA Herb Alpert School of Music plans for new minor in Iranian music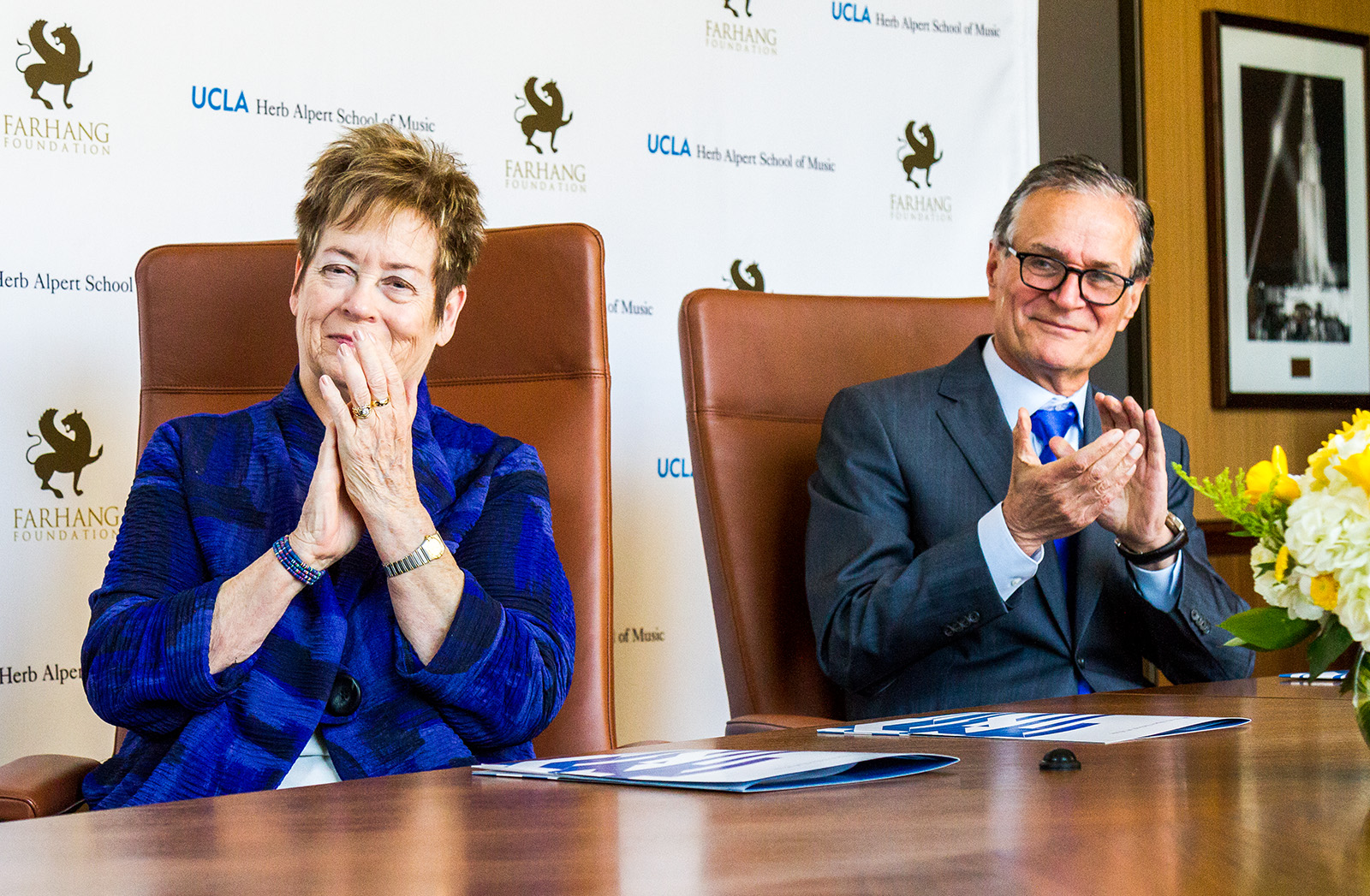 Judy Smith, dean of the UCLA Herb Alpert School of Music, and Ali Razi, trustee and founding chairman of the Farhang Foundation, were present at the signing ceremony for the new minor. (Rachel Hefner/Daily Bruin)
Correction: The original version of this article misspelled Judith Smith's name.
This article was updated May 7 at 11:35 a.m.
Students may be able to declare a minor in Iranian music beginning fall 2019.
The minor, pending approval from the Academic Senate, would be the first performance minor offered by the UCLA Herb Alpert School of Music. It would offer ensemble classes in traditional Iranian instruments and singing, along with history and theory courses. The Farhang Foundation, a group that promotes Iranian cultural education in Los Angeles schools, funded the minor with a $1 million donation and commemorated the gift in a ceremony at the UCLA Meyer and Renee Luskin Conference Center on April 27. The minor will be open to any student regardless of major course of study.
Judith Smith, dean of the UCLA Herb Alpert School of Music, said the classes for the minor are still being developed, but will include more ensemble courses for a broader range of Iranian instruments. The school currently offers courses for Iranian singing and the setar, a four-stringed instrument.
Smith said the minor will give students who are not music majors the opportunity to take music classes.
"There are a lot of students at UCLA with Iranian heritage who have an interest in the arts, and this gives them a chance to take ensembles and learn about the culture and how music fits into that culture," she said.
Smith said the Farhang Foundation's donation will be used to hire teachers and lecturers for the minor. Alireza Ardekani, the executive director for the Farhang Foundation, said the foundation wanted to create an Iranian music minor because it fits the organization's mission of promoting Iranian arts and culture.
"We wanted the program to be a platform for non-Iranians who want to learn more about Iranian music, as well as Iranians who want to learn more about their own culture," he said. "We also wanted to have an academic institution studying Iranian and Persian traditional music that maybe is not offered (in) other places."
Naim Dehghany, who graduated last year with a degree in music, still practices with the Persian Music Ensemble, which formed during the 1959-1960 academic year. Dehghany said he likes playing Iranian music because performers have more freedom to improvise than in Western music.
"It's all about melodies, little units of melodies, and how they combine," he said. "There are many more sections that you improvise."
Robyn Kim, a fourth-year Middle Eastern studies student who is a singer in the Persian Music Ensemble, said she enjoys the music even though she is not Iranian, and would have taken the minor had it been offered earlier.
"My first day I really liked it because it's a really unique singing style and the way the professor teaches is more in the oral tradition, where he sings something and we copy," she said. "Through repetition, we learn the melody and how to pronounce things."
Kim said she thinks the minor will allow students to learn more about different kinds of Iranian music.
"It would be really cool to learn other aspects of Persian music – right now in the singing class we are all at different levels, so with a minor beginners could be introduced and more advanced students would be able to take more advanced courses," she said.
Smith added she thinks it is important for the music school to offer performance minors that allow students to explore creative interests outside their majors.
"(Minors are) something they take from their heart without worrying about what they want to do with it," she said.