Beach volleyball defeats Florida State, gains program's first NCAA title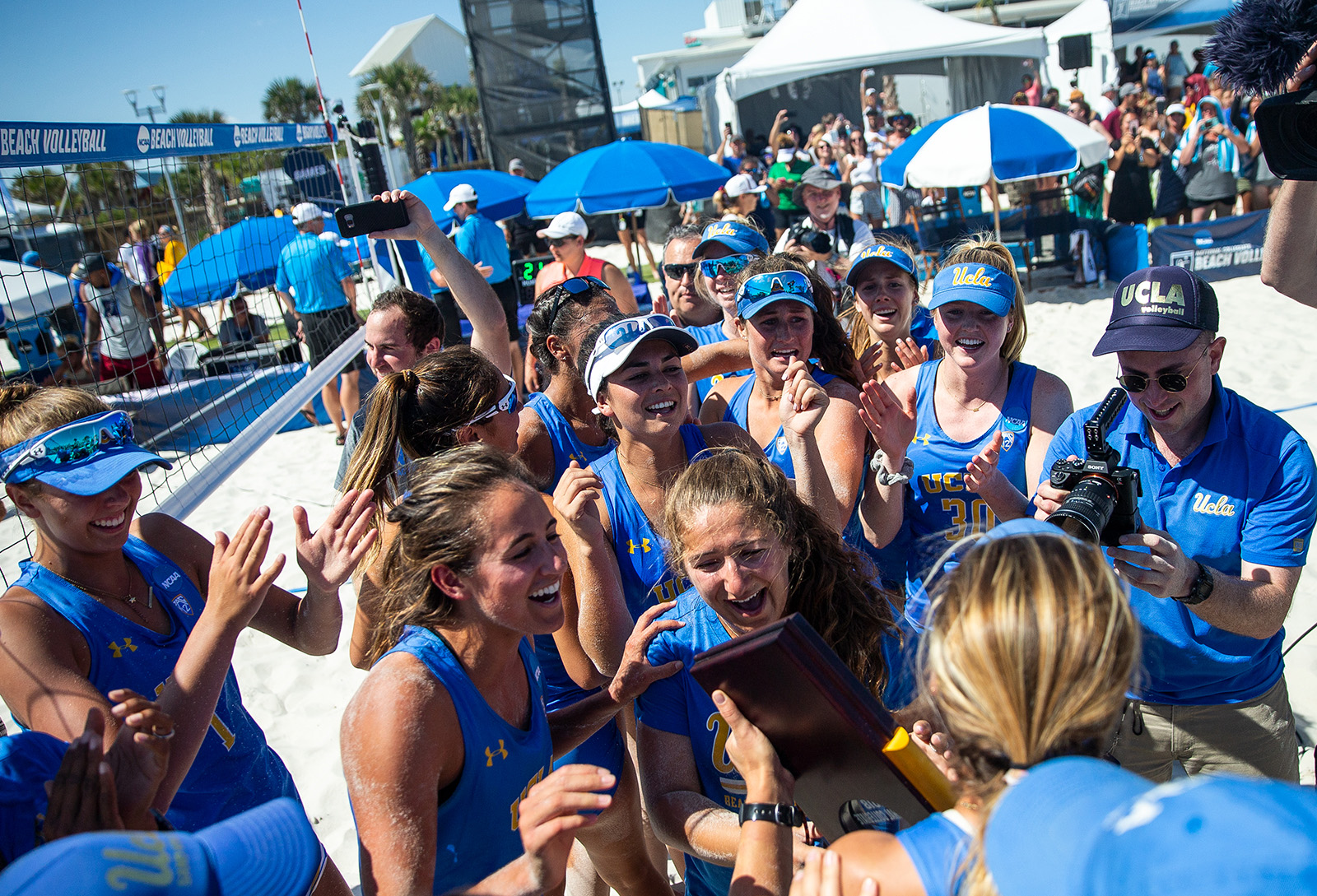 The Bruins claimed the program's first national title with a win over Florida State. This marks UCLA's 116th NCAA championship in school history. (Aubrey Yeo/Daily Bruin)
In 2007, Stein Metzger and his partner battled through eight-straight matches in the elimination bracket to win the Association of Volleyball Professionals beach volleyball title.
Fast forward 11 years – Metzger has now done it as a coach.
"In fact, (volunteer assistant) coach (Jeff) Alzina and I were talking about it, and I said that if we can do this, it's going to be sweeter than any victory I've ever had as a pro," Metzger said. "Sure enough, that's how it feels right now."
No. 1-seeded UCLA beach volleyball (40-4) defeated No. 4-seeded Florida State (33-7) 3-1 to claim the program's first NCAA title. The Seminoles fought off three championship points on court two, but a cross-court kill by sophomore Lily Justine secured the title for the Bruins.
Justine and partner junior transfer Sarah Sponcil won the second set 21-19 to help UCLA become the first team in NCAA history to ever win the title from the elimination bracket.
The Bruins fell to the Seminoles in round two on opening day, needing to trek their way past LSU, USC and Hawai'i to get to the championship dual.
"We lost a little bit of fight against that Florida State team (Friday)," Metzger said. "They woke us up."
The championship dual was a two-flight format where pairs four and five competed before pairs one, two and three.
UCLA's No. 4 and No. 5 pairs both dropped their first sets, 21-15 and 21-17, respectively. However, both duos came back in the second to force a third set.
Despite four second-set aces by Florida State's Brooke Kuhlman that led to a 6-2 run, senior Elise Zappia and freshman Mac May were able to force passing errors to come back and win 21-19.
"(Zappia) has just kept us on track to realize that this was our goal this entire year," May said. "She has worked so hard for this – harder than I've ever seen anyone work for something, and I'm just so glad she's finally captured what she's come (to UCLA) for."
In the third set, UCLA's No. 5 pair of freshman Megan Muret and junior Izzy Carey jumped out to a 12-5 lead and never looked back. The pair's tips and cut shots all scraped the net in favor of the Bruins.
Carey's final tip over the Seminoles' blocker put the Bruins on the board 1-0.
On court four, however, Zappia and May gave up a 5-2 run after tying the third set at 10-10. The duo fought off two match points, but came up short after Kuhlman's high line kill, which evened the dual up at 1-1.
In the second flight of matches, UCLA snagged close first sets on courts one through three, winning 22-20, 21-18 and 21-19, respectively.
Junior Zana Muno and sophomore Savvy Simo jumped out of the gates, surging to a 15-6 lead in the second set. Their teammates call the pair "team wounded bear," as both have suffered minor injuries all season.
UCLA led most of each second set on all three courts. On match point, Simo leaped for a block at the net to win the set 21-9 and put the Bruins up 2-1. Juniors Nicole McNamara and Megan McNamara's match on court one concluded unfinished.
Nicole McNamara said the championship wasn't just the players, but a collective effort by the staff as well.
"We had our academic advisor here to help girls take midterms on the road, and we had our trainer just trying to keep us all healthy," Nicole McNamara said. "We are so lucky to have such a strong support system not only helping us but cheering. … We couldn't have done it without them."
This marks UCLA's 116th national title in school history. The Bruins are now tied with the Stanford Cardinal for most NCAA championships.
"It takes a lot to build a championship team," Metzger said. "We're blessed to be able to say that we're Bruins."
Hong is the 2019-2020 Managing editor. She was previously an assistant Sports editor for the women's basketball, men's water polo, women's water polo, women's tennis, and beach volleyball beats.
Hong is the 2019-2020 Managing editor. She was previously an assistant Sports editor for the women's basketball, men's water polo, women's water polo, women's tennis, and beach volleyball beats.