UCLA track and field sends two heptathletes to Pac-12 multis championships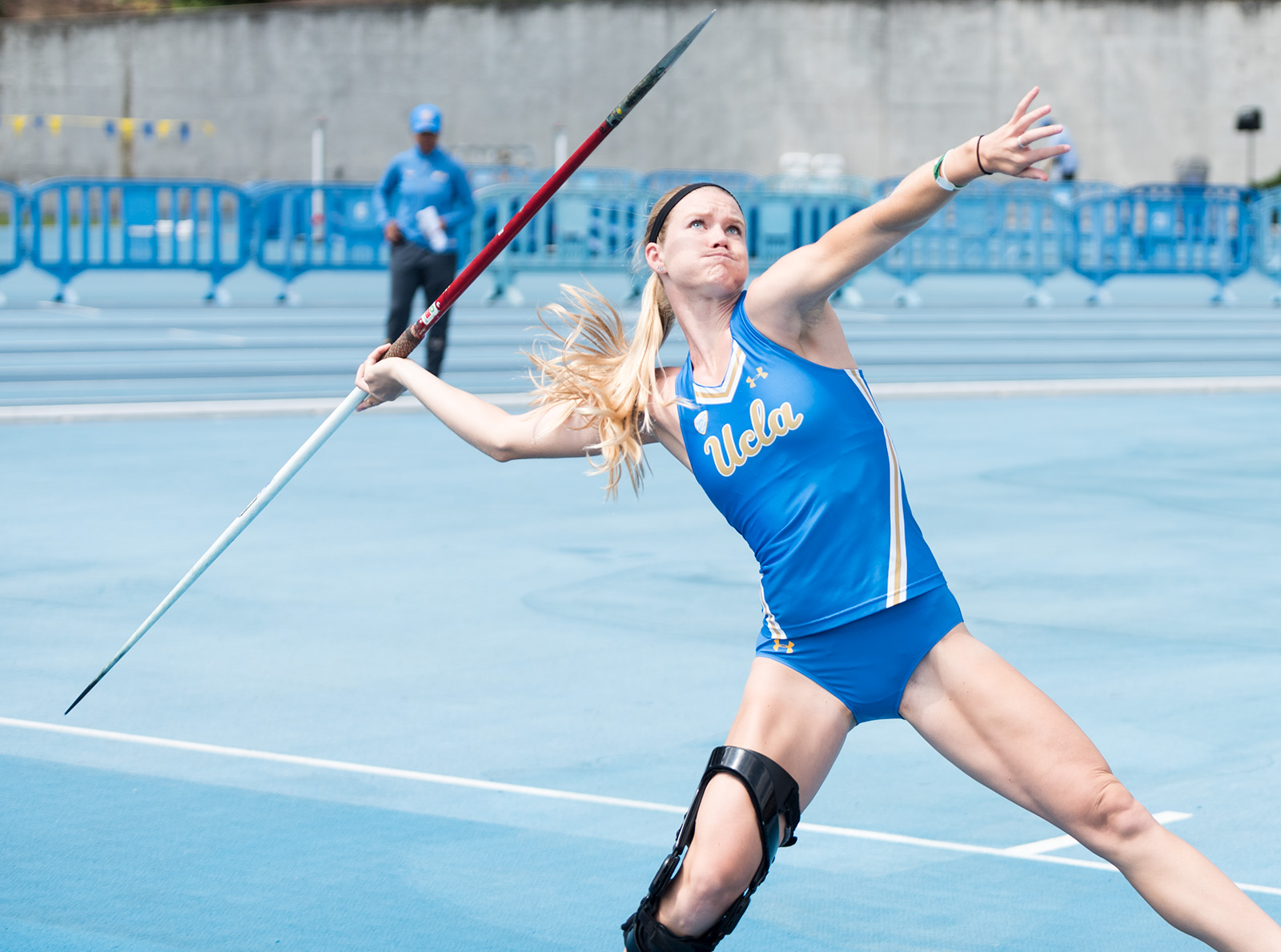 Senior heptathlete Kendall Gustafson is one of just two Bruins who will compete at this weekend's postseason Pac-12 multis meet. The only other athlete UCLA is sending – redshirt sophomore Christina Chenault – hasn't competed in the heptathlon since the winter indoor track season. (Michael Zshornack/Photo editor)
As UCLA track and field's month long postseason begins, senior Kendall Gustafson and redshirt sophomore Christina Chenault will represent the Bruins at the Pac-12 multis championship this weekend in the heptathlon.
The heptathlon is an event comprising of seven track and field disciplines: the 100-meter hurdles, high jump, shot put, 200-meter dash, long jump, javelin throw and 800-meter run.
Chenault and Gustafson finished fourth and fifth, respectively, at last year's Pac-12 multis championships.
The meet serves as a prelude to the Pac-12 championships, which takes place May 12 and 13, and gives Gustafson and Chenault the opportunity to take an early lead for the women's track and field team in the points standings. The points they earn will factor into who wins the overall Pac-12 championships trophy.
"I think it can set a good tone, (the Pac-12 multis) is certainly one of those events that we can be successful in," said director Avery Anderson. "We hope to come out of the weekend with some decent points, which lends well going into the other events."
Gustafson began her spring season with a score of 5691 in the heptathlon, good for seventh on UCLA's all-time leaderboard and second in the nation at the time. This score was high enough that Gustafson has not competed in a heptathlon since, electing instead to use each meet to improve individual events that comprise the heptathlon.
"I've had some really good training for the last month or so and I'm feeling really ready, I'm excited to go out there and see what happens," Gustafson said. "Right now I feel like I'm ready to break out in all seven of my events, which is a fun feeling to have."
Gustafson is currently ranked 12th in the nation in the heptathlon, and the top 24 athletes advance to the national championships.
While Gustafson has remained a top performer in the heptathlon all season, Anderson said Chenault has been dealing with injuries and will be returning to competition for the first time since the winter indoor track season.
"(The heptathlon) is just really fun, you get to do almost every event and I get to do it with one of my best friends, (Gustafson)," Chenault said. "We've been training together for the past three years and I'm just really excited to be there, have fun and record some personal bests and represent UCLA well."
Although Chenault has been injured for most of the season, Anderson says she and Gustafson can help lead the Bruins into a successful postseason.
"(Chenault) has not competed at all (this spring) so in general you'd expect different outcomes for them, but in fact we're looking for the same results from them both," Anderson said. "I knew in the fall we had a couple of women who were capable of being the best heptathletes in the conference, and even with (Chenault) being injured for a lot of the year we're still in that mindset."
This weekend's meet in Stanford, California, represents Chenault's last opportunity to qualify for the NCAA championships this season.
Frederick joined the Bruin as a junior in 2017 and contributed until he graduated in 2019. He spent time on the cross country and track and field beats.
Frederick joined the Bruin as a junior in 2017 and contributed until he graduated in 2019. He spent time on the cross country and track and field beats.