Amendment for international student representative passes with 81 percent of vote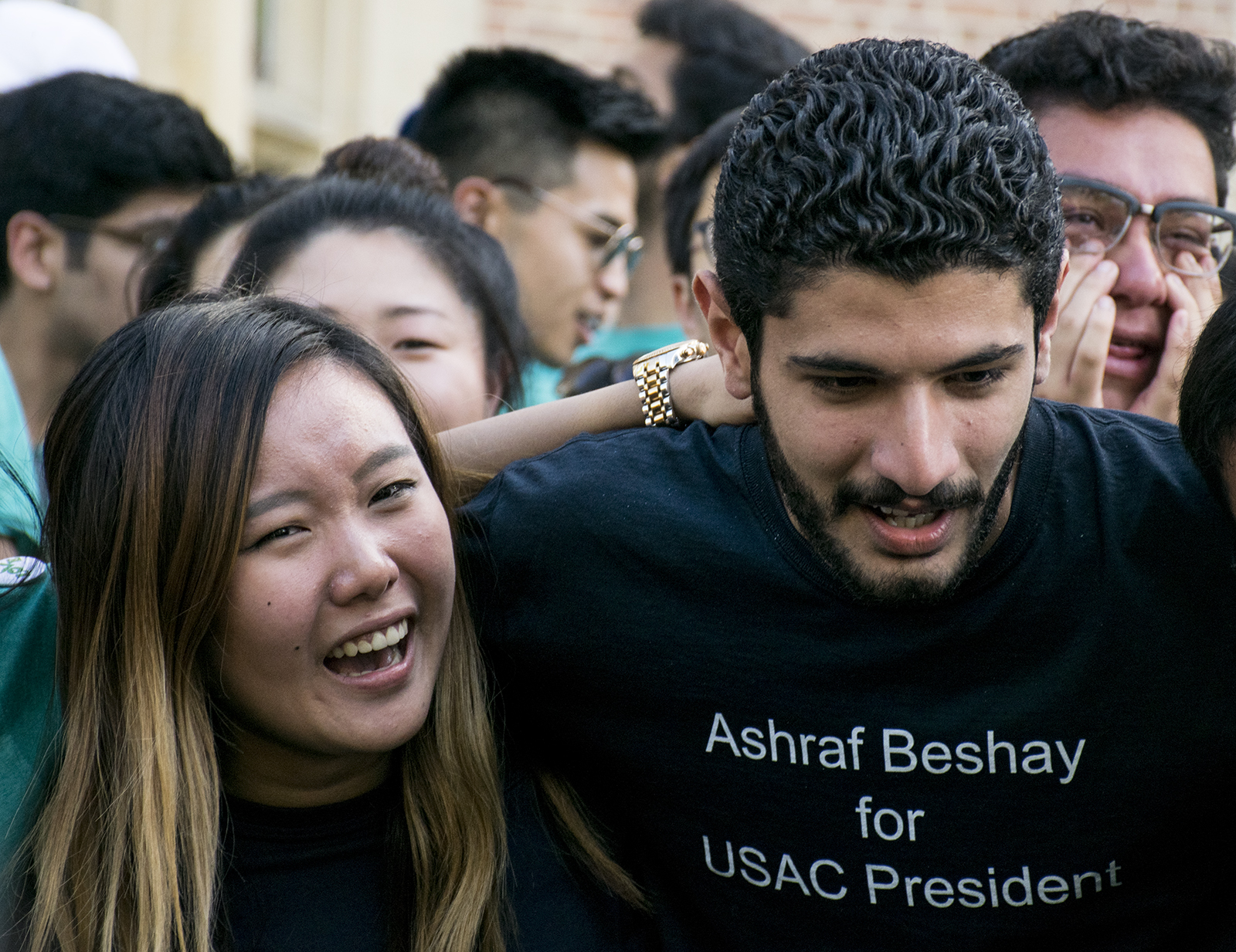 Kayla He, current general representative 2, and Ashraf Beshay, an independent candidate for president, celebrate after the referendum's victory is announced. Advocates for the international student representative argued the position would help bring more attention to international student issues on campus. (Farida Saleh/Daily Bruin)
A new position to represent international students in undergraduate student government was passed Friday.
The Undergraduate Students Association Council Election Board announced Friday the international student representative referendum passed by a vote of 5,131 to 1,218. International student leaders advocated for the position, arguing the representative could meet with administrators and discuss issues specific to international students.
Kayla He, the current general representative 2 and the referendum campaign manager, said the position's focus is to provide support to international students transitioning to UCLA. The future representative will help international students by helping them navigate language barriers and finances, as well as the mental stigma many international students face.
He said she thinks that by voting to create the new position, UCLA students acknowledge international students' needs.
"They can finally find a home at UCLA," she said.
He added she thinks the new position will not increase student fees or impact USAC's finances. However, He said international students in the general representative office and members of other campaigns and the International Student Leadership Coalition will help write the bylaws and finalize the terms of the new position.
"We are going to ask people to see what their thoughts are," He said. "(The responsibilities) will depend on next year's election and people running for the position."
He said the most difficult part of campaigning was seeing how indifferent people were to the referendum.
"Sometimes when you are flyering you see people who don't care (but), international students are people who deserve to find a home," she said.