Beach volleyball prepares to blow other teams away in NCAA tournament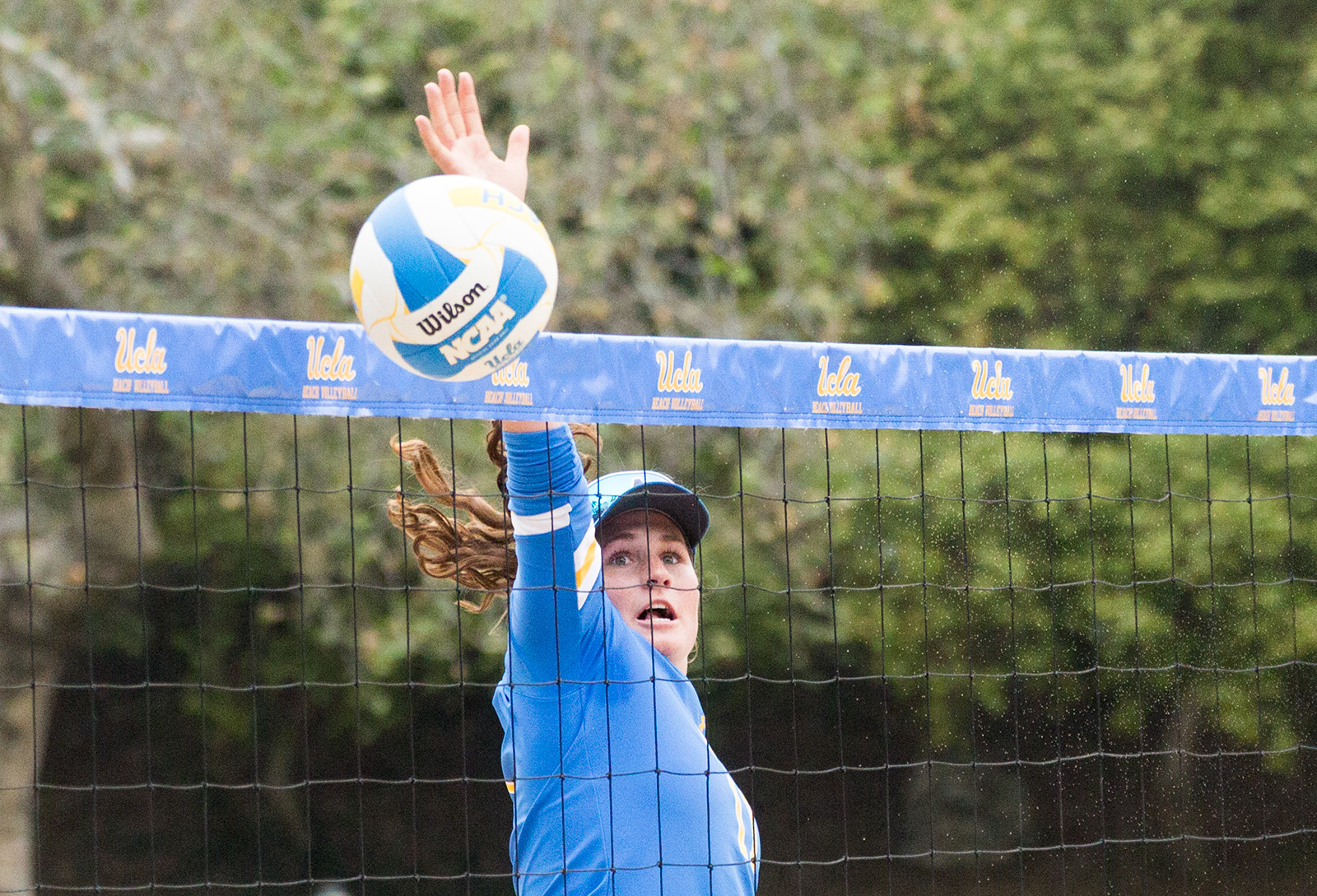 Sophomore Savvy Simo clinched the Pac-12 title for UCLA over USC last weekend with sophomore Madi Yeomans. The Bruins will aim for another title at the NCAA tournament beginning Friday. (Keila Mayberry/Daily Bruin staff)
The Bruins struggled with the wind in last year's NCAA tournament, but coach Stein Metzger said the team is more prepared than ever.
"We've spent a lot of time talking about (the wind) to the point where, when it was windy, we would focus more on the wind than the opponent," Metzger said. "We have constantly been giving them pop quizzes about the wind and so I expect this to be a very different outcome than last year."
No. 1-seeded UCLA beach volleyball (35-3) will carry a 30-match win streak into the NCAA championships in Gulf Shores, Alabama, as the top seed in the tournament for the first time in program history.
UCLA will open the tournament with a match against No. 8-seeded Florida International (23-10) on Friday. The Bruins are 2-0 against the Panthers, who fell to the No. 4-seeded Florida State Seminoles in the Coastal Collegiate Sports Association Tournament semifinals.
UCLA's first match against Florida International went 3-2 and came down to the final match on court two. Courts one through four all finished in three sets. However, the Bruins swept the Panthers on March 30, with only one court going to three sets.
UCLA's only losses this year came during the first two weeks of the season and came from three top-five teams: No. 2-seeded Pepperdine, No. 3-seeded Hawai'i and No. 5-seeded USC. Sophomore Savvy Simo said the team lost to USC and Pepperdine on March 3 at Zuma Beach in Malibu, California, because they were not prepared to play in the wind.
"In comparison to the beginning of our season, we're way more prepared now for the wind," Simo said. "Instead of hurting us, it might actually benefit us to be in the wind."
If the Bruins advance to the second round, UCLA will face either Florida State or USC. UCLA has a 4-1 advantage over USC and a 2-0 advantage over Florida State in games this season.
All of the UCLA-USC duals this year have ended in 3-2 or 3-1 decisions, but junior Nicole McNamara said the Bruins are not afraid of facing the Trojans early on in the tournament.
"Beating (USC) in the Pac-12 finals felt awesome," McNamara said. "It's pretty tough to beat a team twice in one day, so I think that just shows our resilience, and we're going to try to carry that into this tournament."
The Bruins arrived in Gulf Shores on Wednesday to familiarize themselves with the conditions at Gulf Beach Place.
"All year long, we've talked about being the most prepared team coming into any match," Metzger said. "And by coming out here a day early, I think we're certainly as well or more prepared than any other team."
Metzger said that although this year's field is tough, the Bruins have been defeating top teams all season long.
"There's more parity this year than any year before," Metzger said. "(But) we played the toughest schedule in the nation, (and) we've had a lot of success doing it, so we feel like we can execute for four, five, six straight matches, whatever it takes. We feel confident going into this."