Math department will not retain lecturers for financial actuarial courses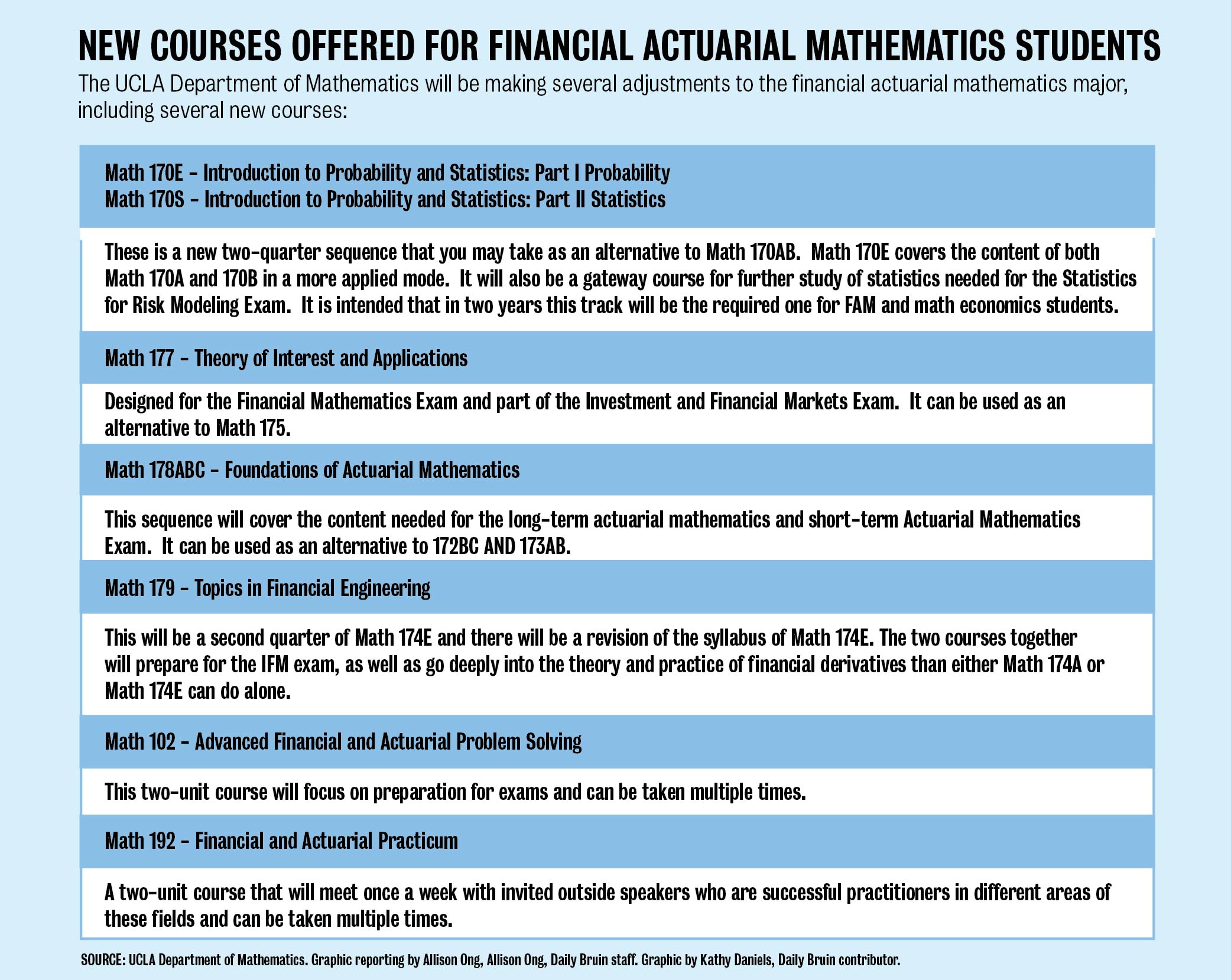 Students and faculty in the financial actuarial mathematics major have expressed anger and confusion over the Department of Mathematics' decision to not rehire any of the eight lecturers in the program.
The department announced changes to the FAM program to students by email on March 12 and April 11. It said introducing new courses in fall 2018 would improve the financial math curriculum and emphasize the growing role of data science in the field. Some new classes, such as Topics in Financial Engineering, have revised their syllabuses to reflect the changes in the program.
As part of the overhaul, the department is also replacing all lecturers in the program with ladder faculty, which is faculty with tenure or on track to receive tenure, said UCLA spokesperson Ricardo Vazquez.
Loong Kong, assistant adjunct professor and program director, said he thinks the administration delivered conflicting and inaccurate reports of the changes, at times rescinding statements it made on the rehiring decision that were announced at previous meetings.
Kong said he first learned about the decision in a Jan. 23 meeting with William Duke, the chair of the mathematics department, and Don Blasius, undergraduate vice chair of the mathematics department. There, he was told that FAM lecturers would not be reappointed once they reached a 12-quarter teaching limit, and was later told that the lecturers' union imposed the term limit on the department. Two lecturers would be immediately terminated before spring 2018, including one who had been scheduled to teach, he said.
Patty Boyle, chair of the Actuarial Advisory Council, which is composed of graduates and industry actuaries that advise the program, said she called the lecturers' union, University Council-American Federation of Teachers, asking whether they were involved in the decision to not rehire the lecturers. A union spokesperson told her they were not, she said.
Vazquez said UCLA cannot comment on personnel matters, and that departments make re-hiring decisions annually based on collective bargaining provisions with the lecturers' union. He added the department is searching for replacements with doctoral degrees in financial mathematics.
Students and faculty said they think actuarial-certified teachers can give students real-world insight into actuarial careers.
Even though tenured financial math professors could train themselves to teach actuarial courses, actuaries can use their personal experience to advise students and even help them during the hiring process, said FAM lecturer Roy Chong-Kit. Kong added a student who attended UCLA specifically for the FAM program and its experienced teachers is now considering transferring to a different university.
Karen Young, who graduated from the FAM program in winter, said she emailed math department administrators about her concerns regarding the overhaul. She said she thinks future FAM students will miss out on advice actuarial professionals can give students about work life. For example, Chong-Kit supported her after class as she interviewed for internships, she said.
"I was more sad than I thought I could be that the teachers who had carefully shaped my career were getting fired without due process," said Young, who did not receive a reply from the department. "After all my teachers had done for me, emailing three people was the least I could do."
Annie Thornton, incoming president of the Bruin Actuarial Society and a third-year FAM student, said her spring schedule has already been affected by the changes. She was notified a few weeks before the quarter of her new Math 175 professor and class time. In addition, the replacement professor teaching her Society of Actuaries exam preparation course had never taken the exam before, prompting some of her classmates to consider dropping.
"(The department) definitely fired our lecturers prematurely," she said. "There's not enough demand for those who want to teach."
Kong said he thinks the way the administration handled the situation was disrespectful to the lecturers.
"All FAM instructors … have high-level jobs in industry and government. We come here at great personal sacrifices of our time, purely for the love of teaching," Kong said. "The way this whole mess evolved shows a lack of leadership, transparency and decency."
Kong decided to leave his post at UCLA after spring in solidarity with his colleagues, he added.
"I (am leaving) to protest the math department's outrageous decision to terminate several of our long-term FAM instructors without cause and due process," he wrote in a resignation statement to BAS, AAC and the administration. "I told them I cannot continue at UCLA under these conditions."