Softball's winning streak to be tested against Cal State Fullerton's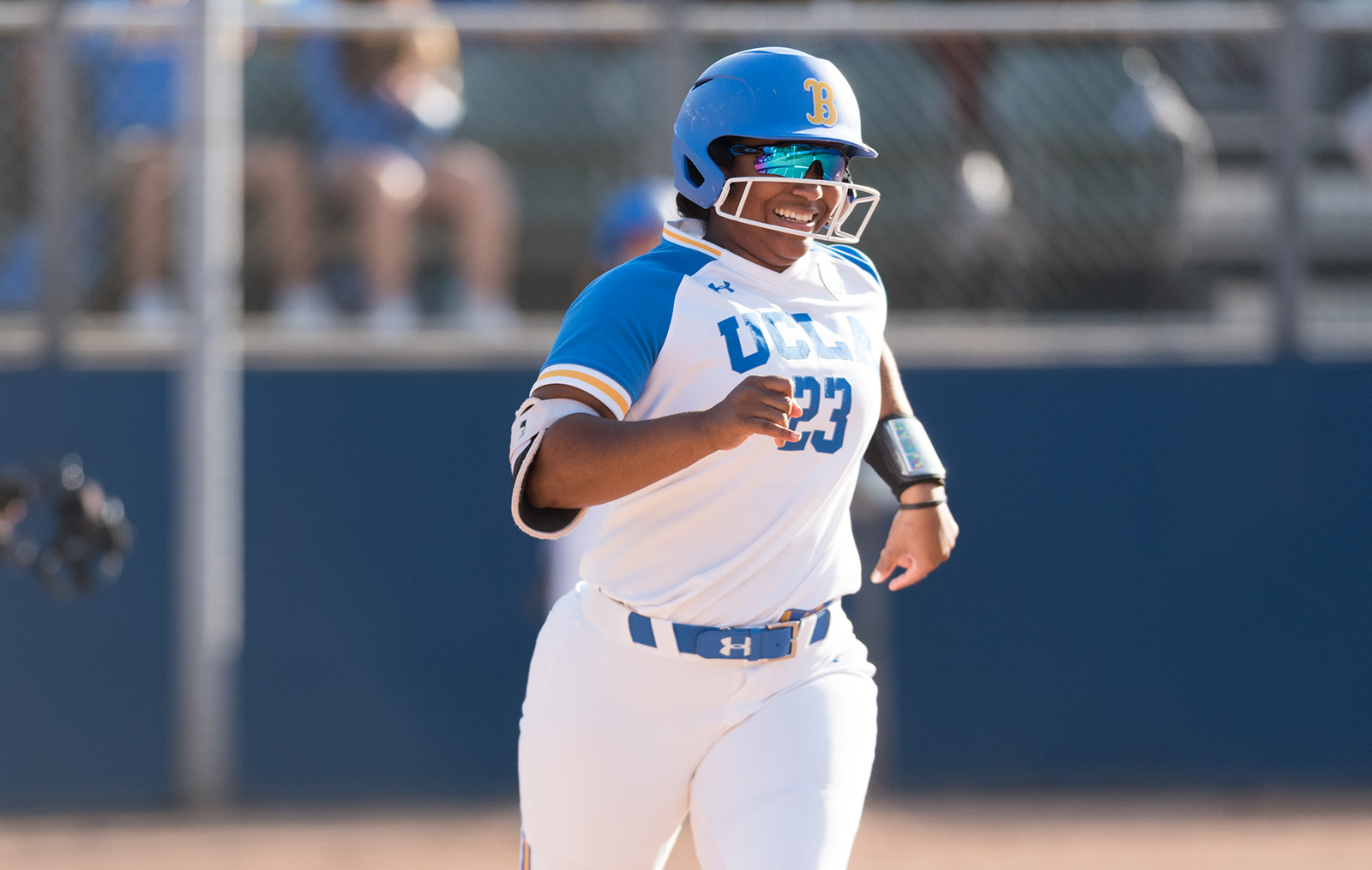 Redshirt freshman outfielder Aaliyah Jordan currently leads the Pac-12 with a .475 batting average, and is one of three players in the Bruins' lineup that posts a batting average above .400. (Liz Ketcham/Daily Bruin)
A winning streak will be broken Tuesday.
After sweeping a pair of doubleheaders over the weekend, No. 1 UCLA softball (44-3, 15-3 Pac-12) will visit Cal State Fullerton (29-20,14-1 Big West) to finish off their nonconference regular season games.
Both teams are riding winning streaks. The Bruins have won their last 10 games, with a key victory against then-No. 1 Washington in which they ended the Huskies' 12-game winning streak. The Titans have won their last eight games, and their last three games featured comeback wins against UC Davis.
"We got to score first," said redshirt sophomore pitcher Rachel Garcia. "They're a pretty scrappy team and a pretty good matchup against us."
Despite a .592 winning percentage, the Titans are the No. 1 team in the Big West Conference, losing only once in conference play. Their .298 batting average would be good for fifth in the Pac-12. They lead the Big West in a multitude of offensive categories, including runs, hits and RBIs.
For the Titans, pitcher Sophie Frost leads the team with 119.2 innings pitched and a 12-5 record. Cal State Fullerton as a team has an ERA of 3.53, but Frost has a 2.16 ERA and has struck out 61 batters in the box this season.
"They're always an opponent that we have to play well against," said assistant coach Kirk Walker. "They're a team that has a lot of former teammates of our players. They know each other very well and they're obviously a team that we often match up with in postseason regionally."
The Bruins still possess advantages offensively and defensively, however.
On the defensive side, Garcia pitched a one-hit shutout Saturday and struck out a career-high 18. In 111.1 innings this season, she boasts an ERA of just 1.13 and a 16-1 record, striking out 175 batters.
Offensively, UCLA is the only team in the Pac-12 that has three players with a batting average above .400 – including redshirt freshman outfielder Aaliyah Jordan, who leads the conference with .475. The outfielder credits her batting season on her mindset when at the plate.
"Going up there with a plan and sticking to it," Jordan said. "Knowing that I can hit any pitcher out there, whether I can or not, whether she's better than me, just having it in my head … thinking I'm better than her really helps me."
Playing in a rare Tuesday game with just two days off in between games, Walker admits it changes the flow of their usual single-series format.
"Anytime you play during the week, it's different in the rhythm from the normal day-to-day," Walker said. "But by the time you get there, get warmed up and get playing, it's a ball game."
Chen is currently a contributor for the Stack. He was previously a contributor for the women's basketball and softball beats.
Chen is currently a contributor for the Stack. He was previously a contributor for the women's basketball and softball beats.