Omar Said: Decision to expand Bruin Bike Share fails to acknowledge program falls flat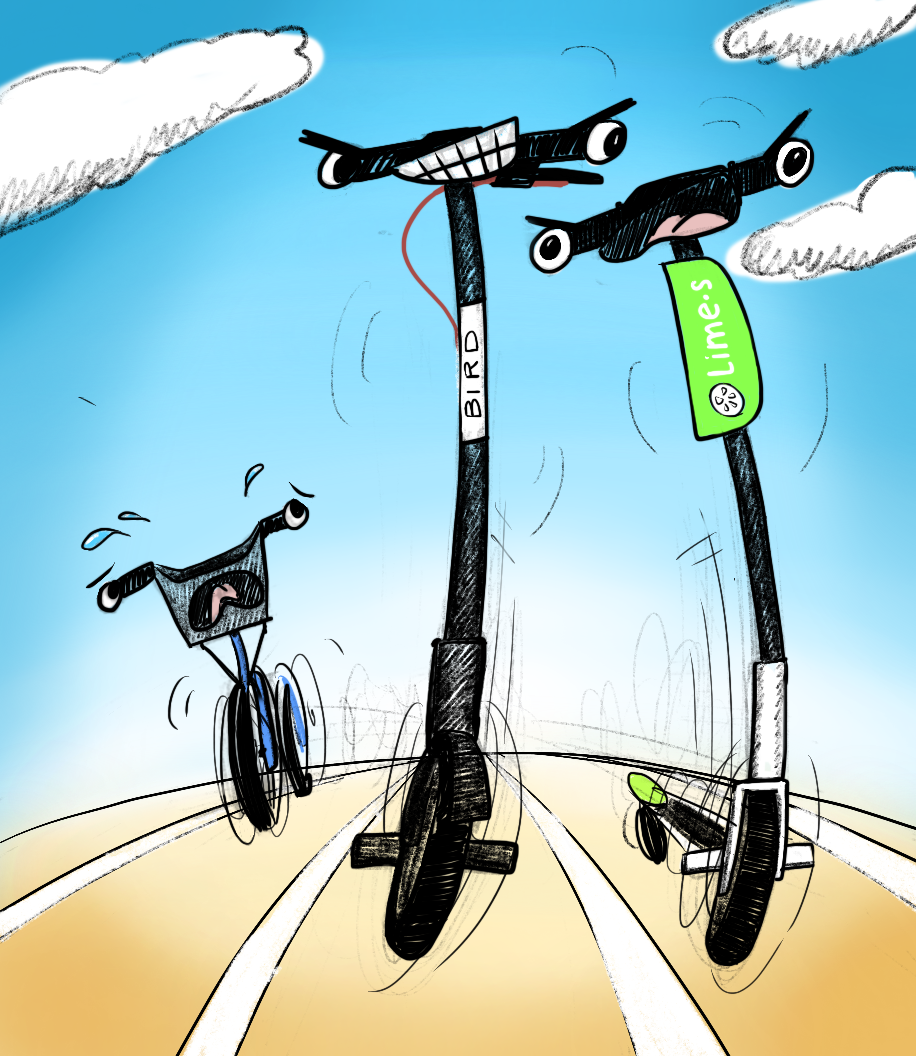 (Hannah J. Kim/Daily Bruin)
April 27, 2018 12:10 a.m.
You either die a hero, or you live long enough to see yourself become a villain. UCLA probably didn't expect that moment to come for its bike share program so soon.
UCLA started its Bruin Bike Share program last year in an effort to provide affordable transportation to students on and around campus. UCLA said in November, a month after the program had launched, that initial participation in the program had exceeded its expectations: It expected to sell 425 monthly or yearly memberships and ended up selling 498.
Bruin Bike Share's circumstances have soured since then. The membership number has fallen to about 300 members as of April, said Katherine Alvarado, a UCLA spokesperson. The university is now spending $80,000 per year, on top of the fees paid by the bike share users, to fund a program that continues to lose popularity.
Students are turning away from UCLA's clunky bikes to the next generation of transportation on campus: electric scooters.
Electric scooters from companies like Bird and LimeBike have found their way into students' hearts and have become ubiquitous on and around campus. Bird is now celebrating its millionth ride, and is making enough money to donate $1 per day per scooter to the cities it operates in, said Rachel Katz, a Bird spokesperson. And Lime scooters have been seeing an increase in use on campus despite only having been on campus for a few weeks.
Bruin Bike Share had its time on campus. UCLA needs to cut its losses and end the program.
And UCLA is already behind in the race of the two-wheelers.
Katz said Bird has given away 20,000 free helmets as part of a safety program designed to make it as convenient as possible for riders to be safe, which makes it pretty clear the company is dealing with far more than the measly 498 members UCLA Transportation was so excited to have back in November.
Of course, Bird operates in multiple cities, meaning they have a larger pool of potential riders to begin with. But data from electric scooter companies still points to the fact that bikes are not riding so well with the UCLA campus community compared to scooters. Mary Caroline Pruitt, a spokesperson for LimeBike, said the company offers bikes, electric-assist bikes and electric scooters for riders to rent. Students and Angelenos at large seem to overwhelmingly prefer electric scooters over both kinds of bikes.
And we've already started to see signs of Bruin Bike Share running a flat tire. After exceeding expectations in November, David Karwaski, senior associate director of UCLA Transportation, said the department was setting its sight on a lofty goal of 850 members by the end of the 2017-2018 fiscal year.
Five months following the launch of Bruin Bike Share, the program has seen a nearly 40 percent drop in membership. Electric scooters have clearly cut into Bruin Bike Share's numbers, and the program will only continue to bleed as more people discover how much more convenient they are than bikes.
Worst of all, UCLA Transportation can't seem to tell it has hit an iceberg. On April 20, it announced the expansion of Bruin Bike Share to places like Santa Monica, Beverly Hills and West Hollywood. Even this move doesn't seem fully thought-out, considering members only get 90 minutes of ride time a day. If a user decides to stop for lunch or go shopping between bike hubs, their 90 minutes could quickly expire, leaving them paying minute by minute for their bike rides. That's a big problem, especially when a transportation program should encourage students to stop and enjoy themselves, rather than rush from one place to another.
On top of that, bikes aren't ideal for the campus environment, which is peppered with staircases and few easily navigable bike paths. Navigating around staircases on campus with a bike can be more time-consuming than just walking – or using an electric scooter.
While the idea of a bike share program was noble – and even enticing – at first, electric scooters cater more to students' transportation needs. Stubbornly maintaining the bike share program would only result in UCLA throwing more money into a deflating program.
Yes, there are administrators like Chancellor Gene Block, who expressed concerns over the electric scooters flocking to our campus. But that doesn't mean UCLA should continue to push its dwindling Bruin Bike Share program. This program would have made more sense in the early 2000s, when electric scooters weren't accessible and bikes rolled over the other two-wheelers. But riders have switched gears, and electric scooters will only continue to pull ahead in the transportation race. UCLA Transportation would be better off spending its $80,000 on parking scholarships or on subsidized partnerships with the scooter companies students love so much.
Students had their chance to ride UCLA's cheesy basket-laden bikes. But, reality needs to intrude: Students have already scooted past the university's bike share program.
Said was an assistant Opinion editor from 2018-2019. He previously contributed as an opinion columnist for the section and wrote about issues surrounding diversity and student life. He also managed the Daily Bruin's various podcasts.
Said was an assistant Opinion editor from 2018-2019. He previously contributed as an opinion columnist for the section and wrote about issues surrounding diversity and student life. He also managed the Daily Bruin's various podcasts.