Press Pass: While tiring, covering Coachella proves memorable for Daily Bruin's A&E editor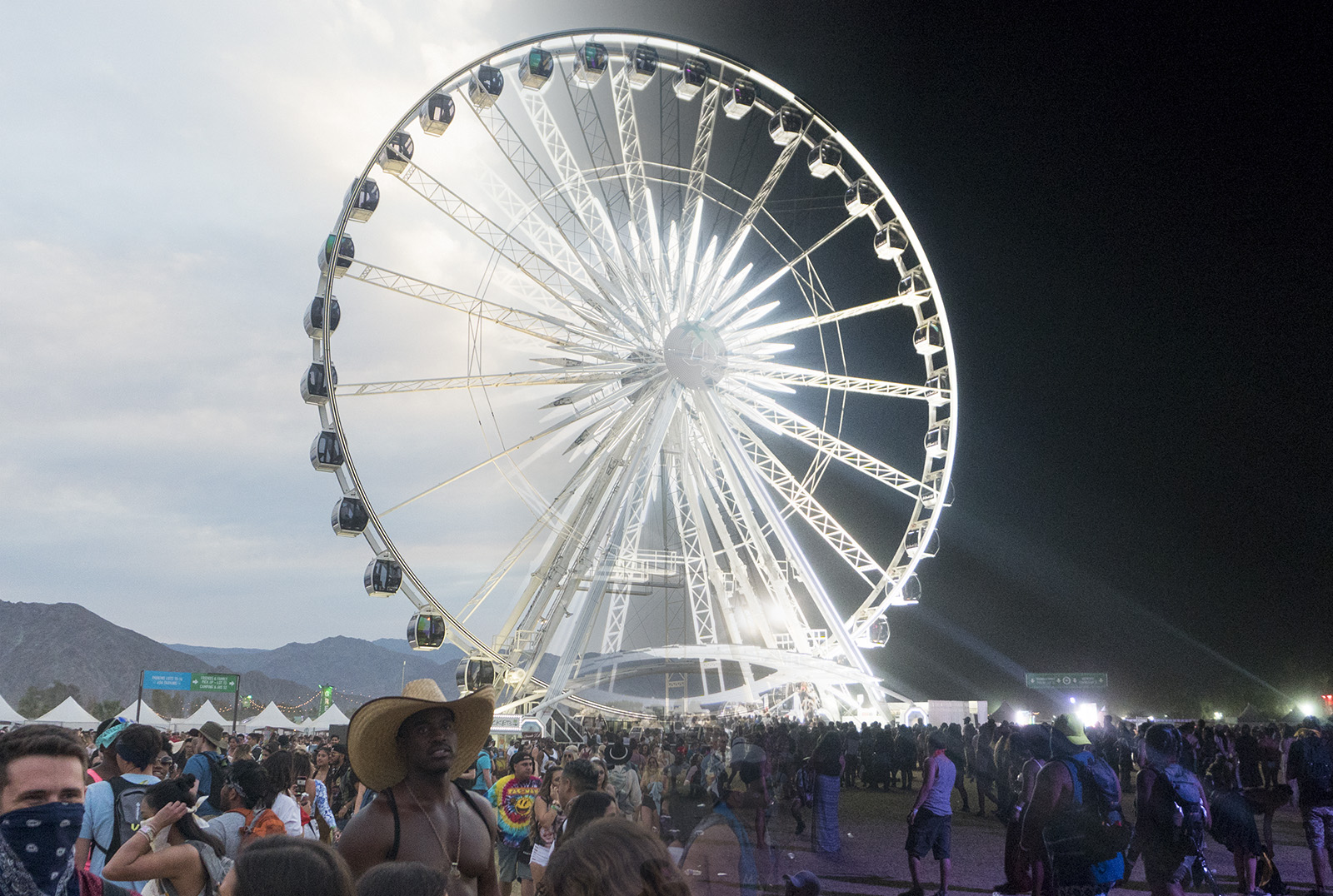 (Photo illustration by Michael Zshornack/Daily Bruin)
The craziness of covering Coachella Weekend 2 began before we even reached the outskirts of Indio, California.
Friday, 8 a.m.
Daily Bruin's Photo editor Michael Zshornack and I departed promptly from Westwood, congratulating ourselves on actually leaving at the time we said we would. We headed out for what would become one of the most exhausting weekends of my life.
The drive was fine – 2 1/2 hours of desert with the occasional mountain range thrown in. Michael put on a Coachella playlist complete with some Miguel and Kygo to get us in the mood for the weekend sets, and we stopped a couple of times to get coffee, buy some bandanas and stock up on sunscreen.
10:30 a.m.
We were about 45 minutes out from our Airbnb, and Michael and I were starting to get excited – that is, until I got pulled over and ticketed for going 75 mph in a 70 mph zone. Surprised? Me too.
Following a 45 minute tirade about the injustice of our recent highway fiasco – and the impending traffic school that would fill up one of my future Saturdays – we met with our hostess Linda, the true savior of our weekend trip. She and her small chihuahua Jimmy would go on to provide us with cold water bottles, muffins and a homemade quiche that would fuel us each morning of the weekend. Being the supreme planners that we are, Michael and I had only brought a few packs of Goldfish crackers and granola bars.
12:30 p.m.
Michael and I made it to the press tents – 20 minutes away from the actual festival grounds, because, why not – and received our passes. Unfortunately, I was not given a media pass along with my general admission pass. According to the lady at the booth sitting next to a pile of unused media passes, my press email confirmation, my Daily Bruin credentials and my partner's media pass apparently did not prove that I was part of the media.
I frantically emailed Coachella's press representatives, and to my surprise, got a quick response. We were able to pick up another media pass at the festival grounds right after we entered, and we didn't face any ticket issues for the rest of the weekend. For once, I found myself smiling at a press email – something I doubt will ever happen again.
Festival highlights
Covering Coachella was an amazing experience that I am grateful for – but it was also an exhausting three days of work out that definitely shaved a couple years off my life.
Michael and I spent most of the weekend sprinting from set to set to media tent to food to set to media tent all while frantically tweeting, posting on Instagram and hunting for feature stories. We didn't sit much, and most of the time we spent resting was also spent typing up reviews, wraps and other stories.
It was a bit disenchanting coming across people lounging in the shade and eating their meals while I frantically ran past, shoveling down whatever plate of food I was eating, so I could make it on time to the next set. As a past attendee of Outside Lands in San Francisco, I know what it's like to sit and enjoy the chill vibes of a music festival. But this time, we had to prioritize snapping photos and writing stories, which kept us pushing through crowds of people and dashing around to create content between sets.
Some sets made everything worth it. We jammed out to SZA, the Weeknd, Beyoncé and Cardi B, as well as some smaller, lesser-known performers who have since had a significant impact on my musical taste. Hip-hop artist Brockhampton delivered one of the best sets of the weekend – a powerful yet simple performance featuring friends standing on stage and making music together – and music artist Kali Uchis provided some much-needed chill vibes amidst the fervor of half-naked people baking in the 100 degree weather.
We also enjoyed a plethora of delicious food, including an orange chicken burrito that gave Panda Express a run for its money, a fried hot dog and some extremely overpriced yet extremely necessary lemonade. It was $9, and I'm still cringing.
Each night was a marathon, and I will likely be recovering for the rest of this week. However, I am thankful I got the opportunity to cover the event. Coachella really is a one-of-a-kind music festival, and I would definitely encourage people to attend if they're cool with blowing $500 on a ticket to go party in the desert. Otherwise, stay at home, watch the livestream, and you'll probably have almost as much fun – minus the heat.
Nickolai is the A&E editor. He was previously the assistant A&E editor for the Lifestyle beat and an A&E reporter.
Nickolai is the A&E editor. He was previously the assistant A&E editor for the Lifestyle beat and an A&E reporter.