Bird representatives discuss early challenges before company took flight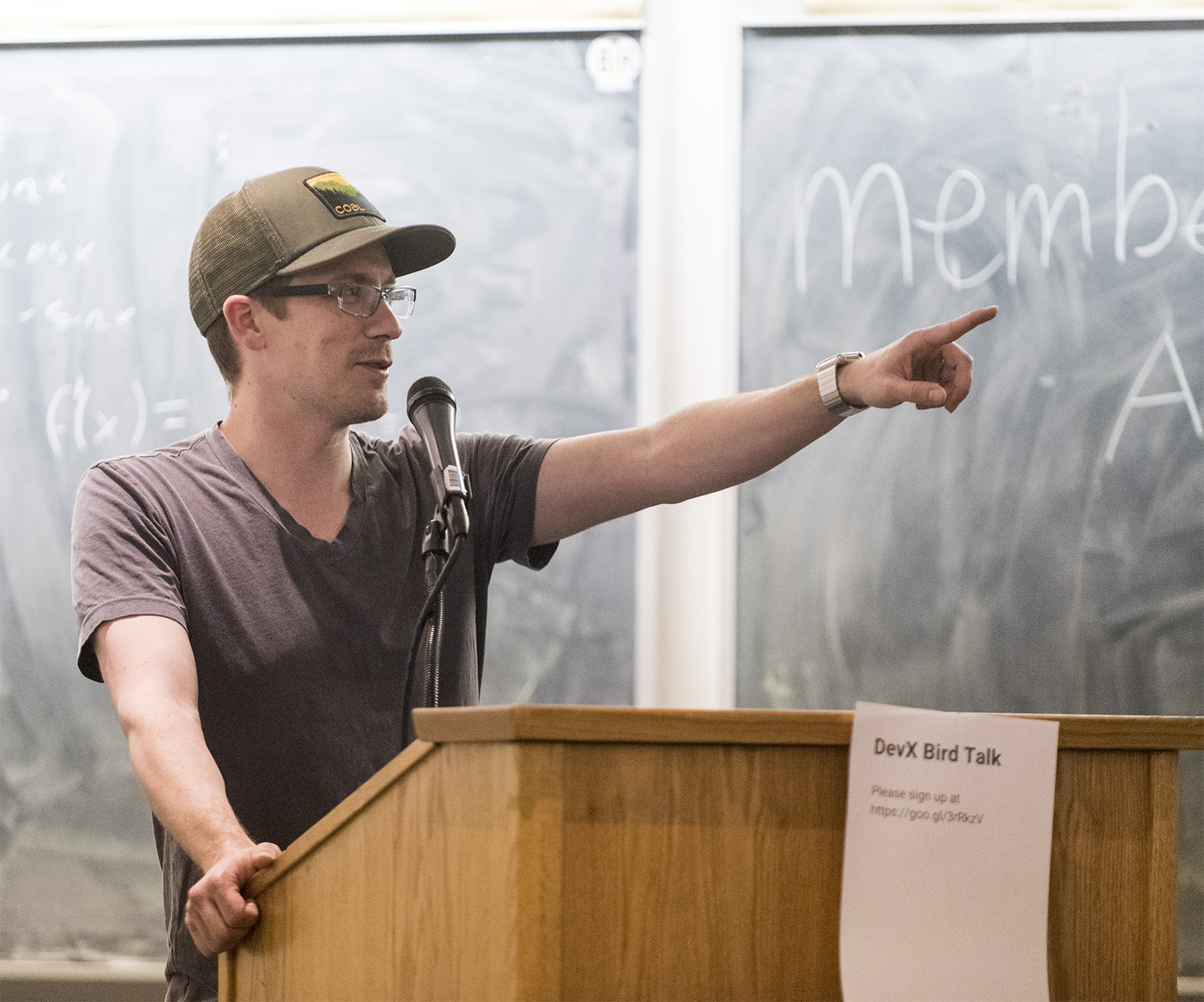 Justin Balthrop, the chief technology officer of Bird Rides Inc., spoke at an event hosted by DevX. (Edward Qiao/Daily Bruin senior staff)
Justin Balthrop was first introduced to the idea of electric scooters that could be accessed anytime and anywhere when his friend brought two scooters as they met for drinks in Santa Monica.
A year later, Balthrop and his friend, Travis VanderZanden, the founder of Bird Rides Inc., have reached one million rides through their new company.
Balthrop, the chief technology officer of Bird, was one of the four speakers at an event held by DevX, a student organization that aims to promote technology and entrepreneurship. Bird is an electric scooter that users pay per minute to operate. The speakers shared the experiences and challenges they faced during Bird's early days, and the speeches were followed by a Q&A session.
Balthrop told the audience that Bird had to change its business model many times since it first launched. For example, Balthrop and VanderZanden used to charge scooters in their own office in Santa Monica every night, but now they pay people to sign up, help locate nearby scooters and charge them.
"Basically we realized pretty quickly we had to outsource some aspects of the business," Balthrop said.
Scott Rushforth, the vice president of engineering at Bird, said creating the hardware for the scooters was also challenging. For example, he said it took several attempts to create the Bird Brain, which is the small device attached to the Bird that contains an anti-theft alarm and a QR code users scan to unlock the scooter and to view its battery levels. They first tried using a GPS tracker and a physical bicycle lock to prevent theft but neither was successful.
"(The Bird Brain) is a little concoction we made ourselves that meets all our needs," Rushforth said.
Rushforth also said although they wanted users to have fun riding Bird scooters, they prioritized safety while designing the product by including features that prevent the scooters from breaking if they topple over.
"We had to ensure it is mechanically safe," Rushforth said. "Secondly, it had to be fun to drive. We want you to have a good time – it has to feel magical."
Rushforth said that the increasing number of competitors has motivated them to increase their market reach.
LimeBike, another mobility company, also launched electric scooters in Westwood early April.
"Copy cats are just a serious form of flattery. Our mission is to solve transportation problems," Rushforth said. "The fact that we have competitors is validating."
Many users have been pulled over by the police for not wearing helmets. Though Bird has encouraged users to wear helmets when riding vehicles by providing free helmets, the company does not force users to wear them, Balthrop said.
"I personally believe people can make their own decisions" he said. "In the end, it's your decision if you want to wear a helmet or not."
Students who attended the event said it was interesting because it gave them a chance to learn about something different.
Yin Mei Chan, a second-year chemistry student, said she does not have a background in entrepreneurship or programming and liked learning more about these fields.
Linea Andersen, a third-year linguistics student, said she enjoyed learning about how Bird is assessing the consequences of its products.
"It was interesting (and a) really great mixture of talking about tech and more of the considerations they are making about how product affects individual user," Andersen said.
Balthrop said Bird has added features specifically for users in the UCLA area, such as a map that shows users where they can and cannot ride the scooters on campus.
He said Bird will continue to expand in college campuses.
"College is a great place (for) Bird," Balthrop said. "UCLA proved them right for sure."