UCLA community discusses Islamic representation following ROTC drill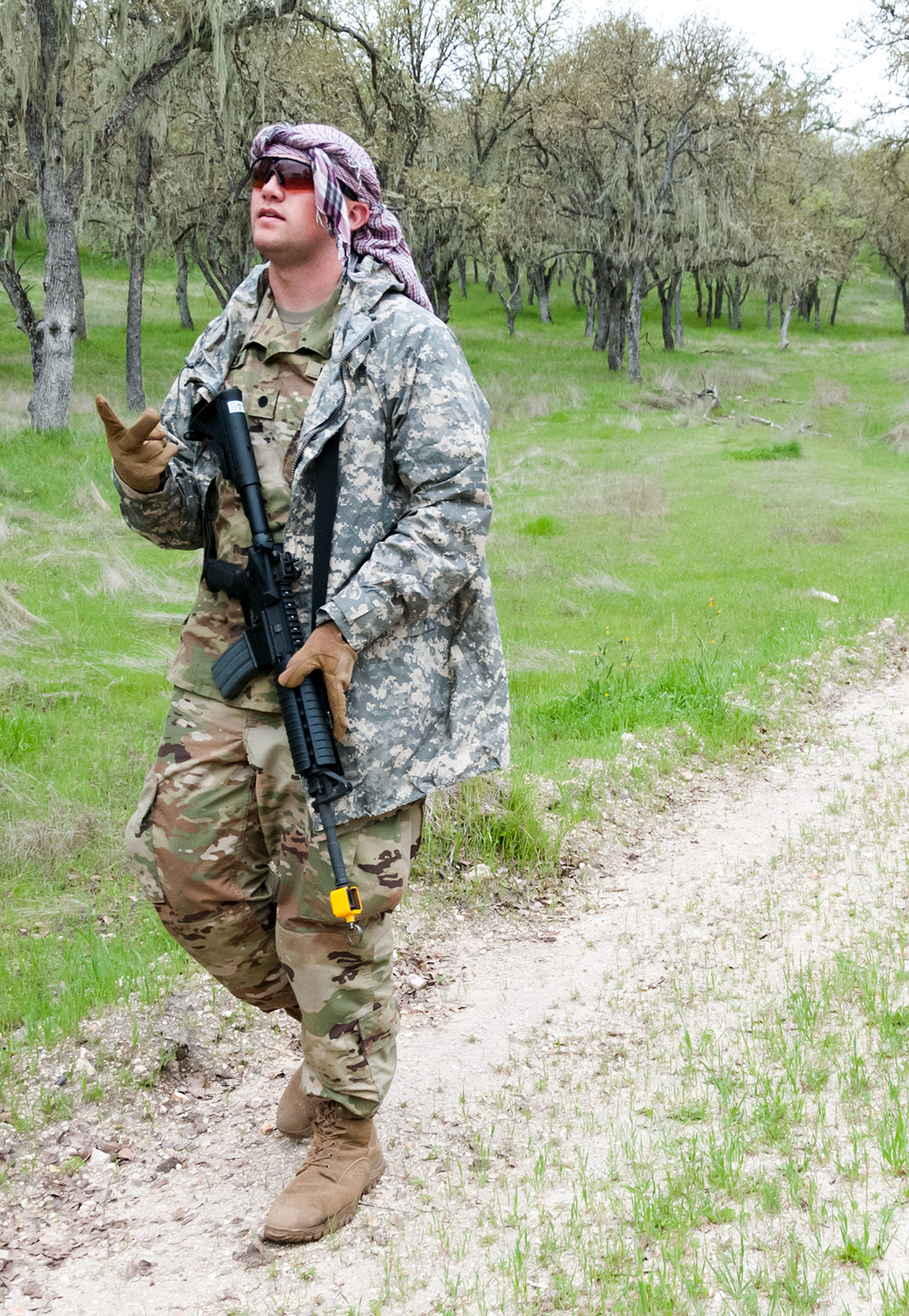 Cadets acting as enemy soldiers during simulations in UCLA Army ROTC's biannual field training were seen wearing kufiyyas, iqals and other clothing predominantly found in Arab countries. (Liz Ketcham/Daily Bruin)
April 24, 2018 11:36 p.m.
A recent UCLA Army officer training program ran a drill depicting the enemy wearing civilian clothes from Arab countries, which some UCLA students and professors said demonizes Arab and Islamic identities.
UCLA and Fresno State Army ROTC held their biannual field training at Camp Roberts in central California from April 6 to 8. Cadets practiced navigation and shooting skills and ran simulations in which fourth-year students acted as opposing forces. Some of the students acting as enemy soldiers wore kufiyyas, iqals and other clothing predominantly found in Arab countries.
Lt. Col. Shannon Stambersky, a professor of military science at UCLA and a member of ROTC leadership, said the drills are designed to be realistic and to simulate forces the U.S. military is currently fighting.
"(We) are portraying the enemy that we are currently fighting. If you are talking about (the Islamic State group), what does (it) look like?" she said. "They are wearing those clothes."
Stambersky said battalion leadership brought some of the clothes used in the drill from deployments in the Middle East.
Stambersky added that, when she was an ROTC cadet in the 1990s, the simulated forces that they were facing dressed up as Soviet troops. She said the simulated enemy forces change over the years to prepare cadets for current military situations.
"Our goal is to provide tough realistic training," she said. "Where the threat is, that's what we are going to depict."
Mustafa Hafezzada, a fourth-year economics student and the UCLA battalion's only Muslim cadet, said while he first questioned the attire, he has come to understand that the military is realistically depicting situations that soldiers face.
"Generally speaking, your enemy is going to be within the civilian population," he said. "They are going to blend in, they are going to be normal, they don't want to be caught."
Hafezzada said that the officers in the battalion are there to assure that cadets remain unprejudiced toward individuals with different backgrounds.
"The leaders, (noncommissioned officers) and officers, are there to kind of dissuade you from being against that religion, those people," he said. "They try and separate religion and the enemy."
During a drill at Camp Roberts, Maj. Tyrone Vargas, executive officer of the battalion, held a rocket-propelled grenade above his head and said "Allahu Akbar" adjacent to a group of cadets. Vargas said in an interview following the training that this was a moment to teach cadets that they will encounter situations in which they need to deduce whether people are approaching them as combatants or in celebration.
"Allahu Akbar" is an Arabic phrase that translates to "God is great."

Professors and students at UCLA said the clothing is inaccurate and contributes to a misinformed understanding of Muslims and Arabs in the United States.
James Gelvin, a professor of history who studies the social and cultural history of the modern Middle East, said the clothing worn in the drill is not worn by any group that the United States is currently in conflict with.
"What they have done is substituted what (IS) people would really wear for what Muslims generally in the Middle East, Arab Muslims, would wear," he said. "I think that they could have done a better job making sure that (cadets) saw these (opposition forces) as (IS) people by actually looking at (IS) dress codes, for example."
Khaled Abou El Fadl, a UCLA law professor who studies Islam, Islamic law and Islamophobia, said associating Muslims with violence creates a toxic environment for Muslim students and Muslim community members.
"A lot of (Muslims) that want to practice their faith and assert their religious identity constantly feel under siege and under suspicion, and this definitely doesn't help," he said. "It reaffirms all these Hollywood images of the bloodthirsty, stupid, Muslim terrorist. What is the difference between these images and the Hollywood images that we see? Nothing. It's very sad."
Abou El Fadl added that, even if ROTC leadership unintentionally allowed these portrayals, the result still impacts Muslim students.
"The problem is that we don't even have enough education for the officers to have noticed this. … They are not sensitized to it," he said. "It wouldn't occur to them that just putting on this (iqal) around your head and putting it on this way conveys a threatening message to an entire population of students."
Zahra Hajee, the undergraduate student government Facilities commissioner and member of the Muslim Student Association at UCLA, said she is concerned that the images cadets see in training will translate into negative interactions with Muslim students on campus.
"If students within (the ROTC) program get reinforced with these ideas, … how would these students going about this campus interact with students of different faiths and different identities?" she said. "How would that affect their internal processing or judgments when it comes to meeting students within MSA, or just Muslim or Arab students in general?"
Ashraf Beshay, an international student from Egypt and president of the International Student Leadership Coalition, said he thinks the ROTC cadets dressing in Arab clothing perpetuates intolerance against Muslims and Arabs.
"As someone who has been racially profiled before, these are raw images to how this society continues to perpetuate images of Arab identity that directly translate into the lived experiences that Arab students and Arab community members have to go through with profiling and racism," he said.