Children from working-class families invited to UCLA to see opportunities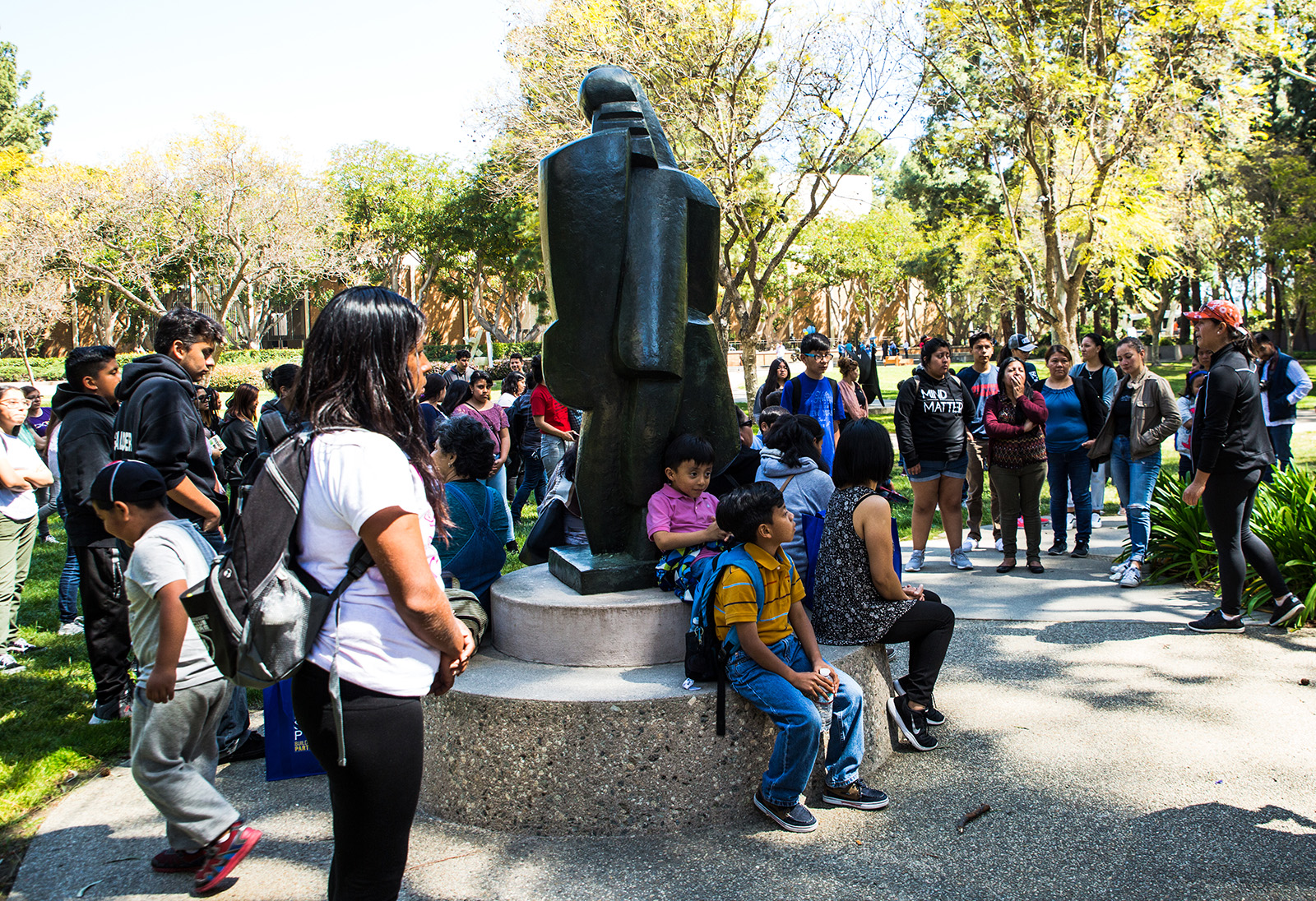 Families of garment, janitorial and domestic workers involved in UCLA Labor Center's Parent Worker Project came to UCLA on Saturday to spend a day on campus and learn more about how they can access higher education. (courtesy of Wil Prada)
Maria Mena, a janitor at Santa Monica College, brought her son to UCLA on Saturday to motivate him to pursue higher education.
"A lot of kids in our community aren't motivated to go to college because they don't think it's for them, so they don't go," she said. "This can give some firsthand insight for my child to know that it's possible."
Education and labor studies students invited the families of garment, janitorial and domestic workers involved in UCLA Labor Center's Parent Worker Project to campus to teach them about opportunities for higher education. The event offered bilingual tours, a trip to the Fowler Museum for younger children and workshops to help families understand the college application process and how to afford it.
The Parent Worker Project works to improve access to higher education for children from working-class families.
Lizeth Rios, a third-year sociology and education student, brought her daughter to the event to show her the educational opportunities available to her in the future. She said that as a mother from a working-class family, she was able to connect with many people who attended the event.
"The best part of the day is just having the kids on a college campus. Growing up, I did these kind of tours but it was always just with your classmates," she said. "This event is with your parents so that they can also get the vision that it is possible for their children to go off to college too."
Rios said the event gave her more information to help her make the right educational decisions for her daughter, such as how to be able to save up to afford college.
"A lot of times these families don't feel as if they have a place at a place like UCLA, but that's wrong," she said. "I'm Latina and I'm pursuing higher education – it is possible."
Janna Shadduck-Hernández, a project director in the department of labor and workplace studies, brought her students together to run the event. She said parents play an important role in encouraging their children to go to college.
"Parents are the first teachers; they teach us our values and what's important in life," she said. "Bringing the parents and children together keeps that important relationship connected while thinking about the future, too."
Valerie Vargas, a third-year Asian-American studies student, welcomed parents and their families to campus at the event. She said she thinks it helped encourage families to send their children to college.
"This event in essence … gives them the opportunity to really spend time on a college campus," she said. "These people are always busy and have to work so much, and it just gives them a day with their families."
Vargas said she hopes the event showed working-class families that they have a place in higher education.
"I have the privilege of being here every day with all (the) resources that UCLA has to offer," she said. "I hope to see these families be inspired and feel like they have a spot carved out for them."
Shadduck-Hernández said she thinks it is important to break down the barrier between higher education and being from a working-class background.
"The most important part of today is that the kids meet students like themselves – people of color, working class. A lot of times UCLA feels like a private university but it's not, and it's important that these families know that," she said. "It's a public university, not an elite club. This school is theirs."