Track and field puts down strong performance at weekend meets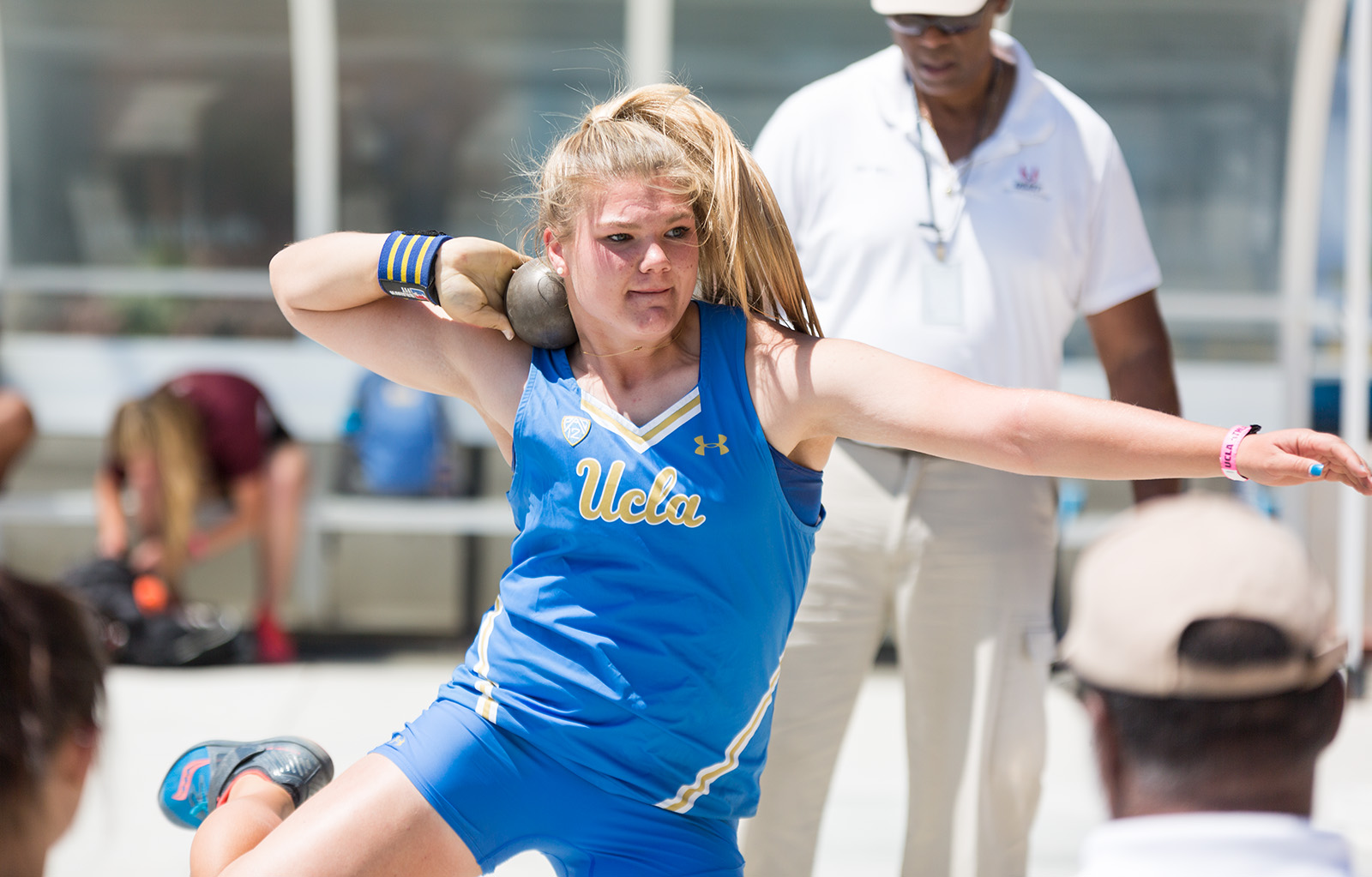 Freshman thrower Alyssa Wilson took home three top-three finishes over the weekend in Oklahoma in the discus, shot put and hammer throw. (Amy Dixon/Assistant Photo editor)
UCLA track and field was split between two different meets this weekend, but despite the smaller squads, the Bruins were still able to bring home top marks from both meets.
The Bruins sent exclusively distance runners to the Mt. SAC Relays in Torrance, California, where they took seven top-10 finishes. The rest of track team was sent to the John Jacobs Invitational in Norman, Oklahoma, and logged 20 top-five finishes, including four event wins.
Mt. SAC Relays
The Bruin distance squad was led by junior Robert Brandt, who recorded the third-fastest time in UCLA history in the 5,000-meter run. All but two athletes registered either a season or lifetime personal best at the relays.
With a time of 13:41.23, Brandt broke his old season best in the 5,000 meter by over 12 seconds, and his performance in the event vaulted him into 17th on the national leaderboards. He is also currently ranked 16th in the 10,000-meter run , and both events send the top 48 athletes to the NCAA championship meet.
"It feels really good (setting a top-three time for UCLA in the 5,000 meter); it's definitely humbling to be up there with names like Meb (Keflezighi) and Steve Ortiz," Brandt said. "The meet went really well, just overall the whole team came together on the right night, and a lot of months of hard work came to fruition for PRs all around."
Senior Daniel De La Torre also ran his first sub-14:00 time of the season in the 5,000 meter, ranking him 48th on the national leaderboards. Sophomores Cassandra Durgy and John Carter Blunt both registered top-six finishes among collegiate athletes in the women's and men's 1,500-meter run, placing sixth and third, respectively.
John Jacobs Invitational
The UCLA track and field men's team finished third in overall meet points behind Oklahoma and Arkansas-Pine Bluff at the John Jacobs Invitational while the women's team finished second behind only No. 17 Oklahoma.
The Bruins were headlined by senior Joe Herrera, who brought home a victory in the men's 400-meter dash with a time of 47.34 seconds.
Another strong performer was freshman Alyssa Wilson, who placed first, second and second in the women's discus, shot put and hammer throw, respectively.
"I've just been feeling more relaxed over the past couple of meets that we've had, and I feel like I'm gaining more of my confidence back, which is a really good thing going into the rest of the season," Wilson said. "I'm going to continue practice really well and focus on my technique, and when it comes to the meets I'll just try to relax and treat it like it's a practice."
Junior AK Turner won the men's javelin throw with a throw of 59.93 meters. Sophomores Marian Spannowsky and Simon Litzell, who are respectively ranked 15th and 26th in the nation in javelin, sat the meet out due to conditions at the behest of throwing coach John Frazier.
The throwers were further represented by junior Justin Stafford, who won the men's hammer throw with a new career personal best of 64.67 meters for his fourth event win in five meets this season.
Stafford now ranks sixth all-time on UCLA's outdoor hammer throw leaderboard, bumping Frazier from the list, as he was ranked 10th in Bruin history prior to this weekend.
"(Frazier) was stoked actually, we didn't realize it in the moment because we were all focused in on the meet, but he looked at the list afterwards and congratulated me," Stafford said. "It means that we're both doing our jobs, to me he's still on the list because I'm his athlete, so we can probably put a little asterisk next to that."
UCLA track and field has one more regular-season competition – the USC dual meet next weekend at Drake Stadium – before beginning its series of postseason meets.
Frederick joined the Bruin as a junior in 2017 and contributed until he graduated in 2019. He spent time on the cross country and track and field beats.
Frederick joined the Bruin as a junior in 2017 and contributed until he graduated in 2019. He spent time on the cross country and track and field beats.