UCLA softball prepares for battle against formidable No. 1 Washington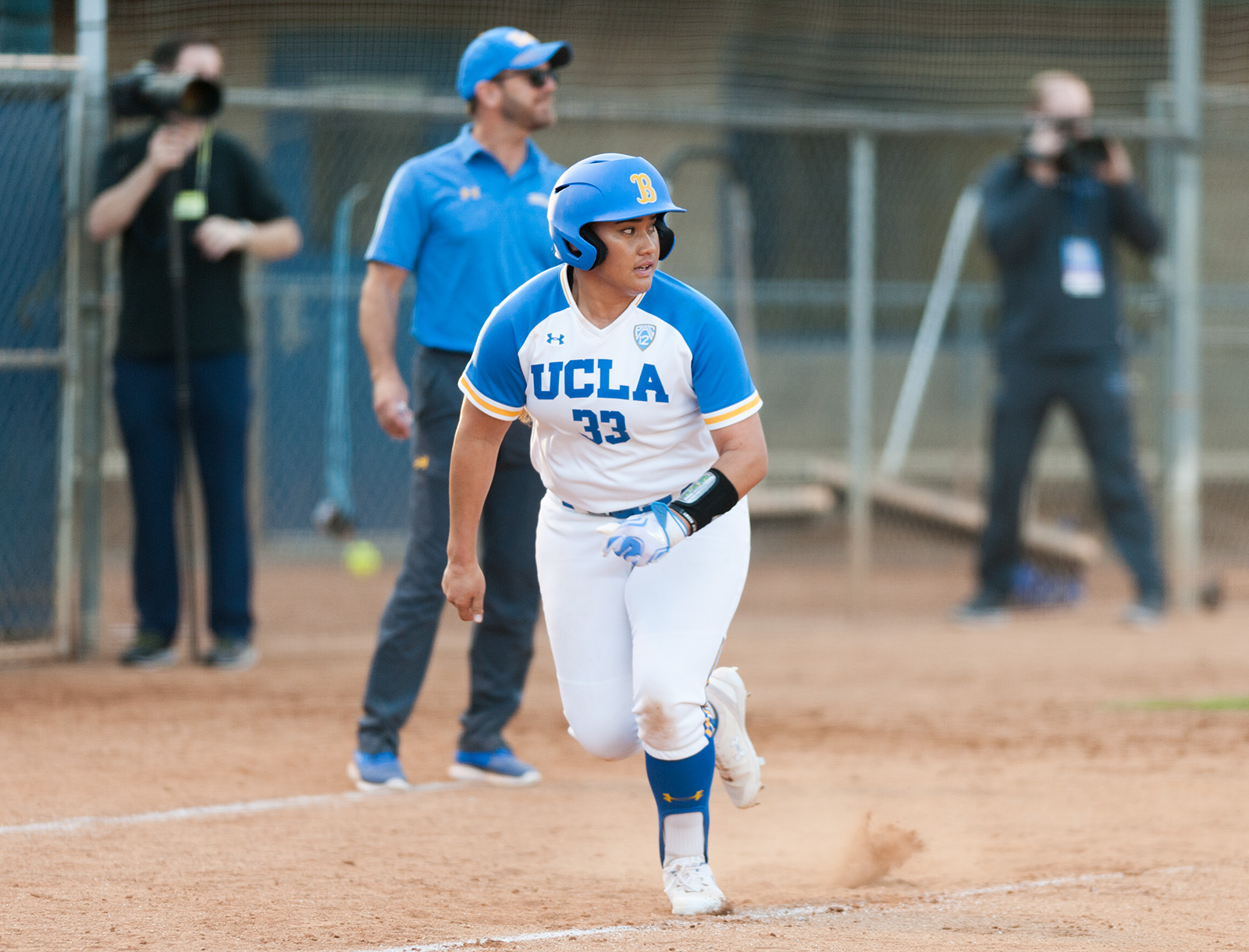 Junior Briana Tautalafua and the No. 3 Bruins face their biggest challenge so far this season in the first-ranked Washington Huskies. (Jenna Smith/Daily Bruin)
After claiming their fourth Pac-12 series win this season, the Bruins will have an opportunity to stretch it to five as they go against the top-ranked team in the nation.
No. 3 UCLA softball (37-3, 12-3 Pac-12) ended last season with a loss at the hands of No. 1 Washington (41-2, 12-2), but starting Friday, the Huskies will pay a visit to Easton Stadium.
In the eyes of assistant coach Kirk Walker, this year is a new slate, and a chance for the Bruins to show their potential.
"That last loss was certainly tough for those who experienced that, but I don't think we spend a lot of time looking back," Walker said. "We're focused on this team, what we're capable of doing, and what we need to do to keep moving forward."
Washington is entering its ninth straight week as the No. 1 team in the nation. The Huskies are currently on a 12-game winning streak and haven't lost a game in over a month.
In 40 games, Washington pitcher Taran Alvelo held opponents scoreless with 201 strikeouts over 142 1/3 innings. Offensively, the Huskies have five players hitting above .350 and lead the Pac-12 in total bases, runs batted in and runs scored.
"They've got strong pitching … they've got some hitters," Walker said. "We have to make sure that each of our pitchers are hitting their spots and coming up with the ability to let our defense play behind them."
In addition, Washington is the Pac-12's leader in stolen bases with 53 and was caught stealing only eight times. Anchoring the catcher position has been UCLA junior Paige Halstead who will be responsible for containing the Huskies. She said it will be a good opportunity to see how dominant Washington really is.
Junior infielder Brianna Tautalafua was one of only five Bruin base runners during last year's season-ending game and one of only two to get a base hit. Now that the Bruins have a healthy team, Tautalafua sees they can rely on their depth and cover all factors of the game.
"We'll be predominantly really good this weekend considering the fact that we have really good pitching," Tautalafua said. "Behind that we have really good bat and our defense is on, so once all three elements are fine I think we'll be breezing."
Garcia racking up awards
After returning back from a sore arm, redshirt sophomore pitcher Rachel Garcia received a pair of weekly conference honors, making it seven total weekly conference awards for the Bruins this season.
Garcia was named Pac-12 Player of the Week and Pac-12 Pitcher of the Week, becoming the third player in league history to acquire both in the same week.
The pitcher also earned her second USA Softball Collegiate National Player of the Week honor, and for the first time this season, the Louisville Slugger Division I/National Fastpitch Coaches Association Pitcher of the Week honor.
"It was really impressive just looking on paper, but what was most impressive was that she got back into the circle with very limited reps in practice beforehand," Walker said. "Offensively, she did such an amazing job of being clutch."
Chen is currently a contributor for the Stack. He was previously a contributor for the women's basketball and softball beats.
Chen is currently a contributor for the Stack. He was previously a contributor for the women's basketball and softball beats.