Men's volleyball enters semifinals, to face Concordia for third time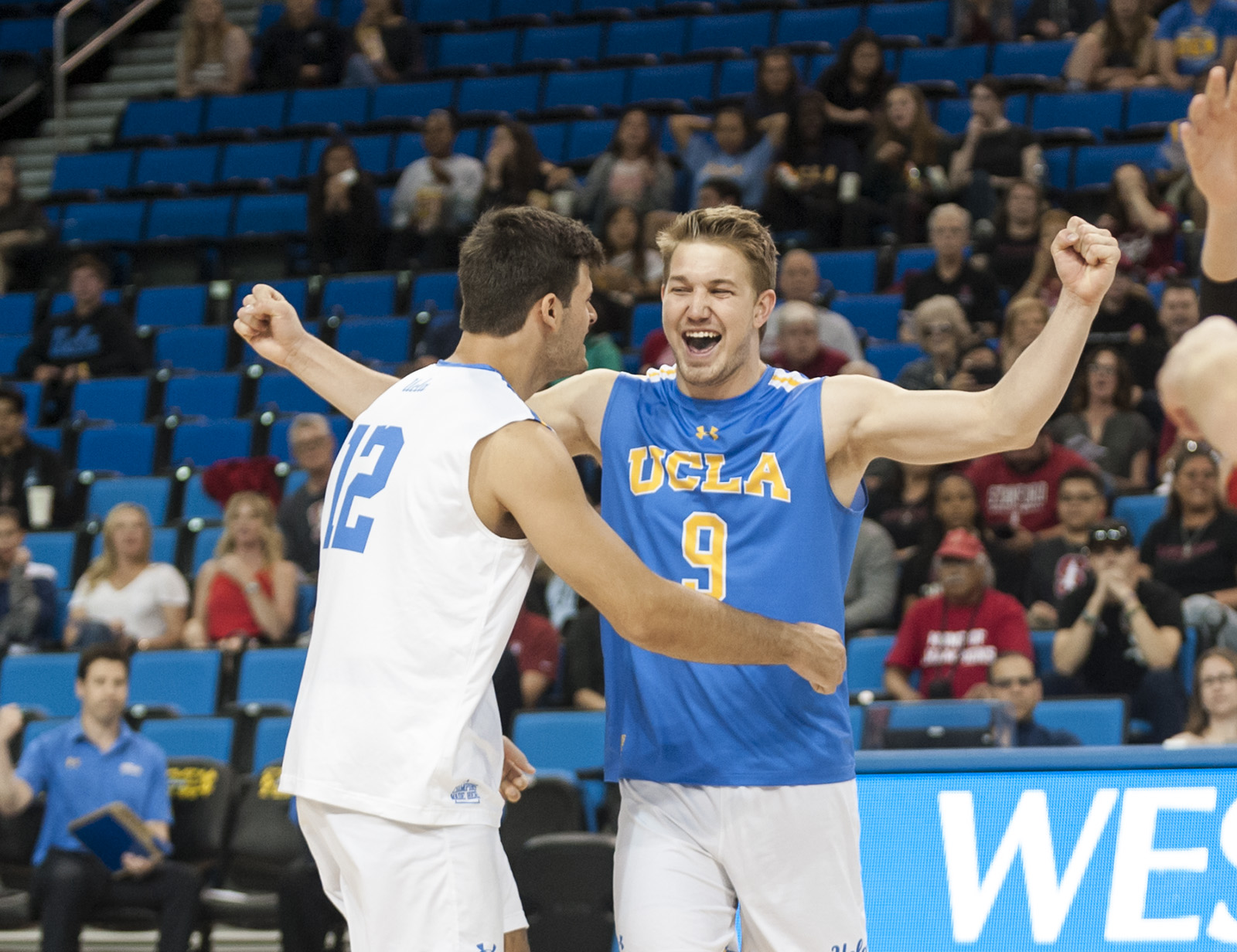 Senior outside hitter JT Hatch has tallied 144 digs on the season, along with 12 aces. No. 2 seed UCLA will face No. 4 seed Concordia University Irvine in the MPSF semifinals Thursday. (Isabelle Roy/Daily Bruins senior staff)
Correction: The original version of the headline accompanying this article incorrectly stated men's volleyball will play Brigham Young University. In fact, men's volleyball will play Concordia University Irvine.
The third time may be the charm for the Bruins as they head into the MPSF semifinals facing a team they have already swept twice in the regular season.
No. 2 seed UCLA men's volleyball (23-6, 9-3 MPSF) will face No. 4 seed Concordia University Irvine (16-14, 5-7 MPSF) in the Bruins' second match of the postseason.
"I know we got two wins, but I know how capable a team they are," said coach John Speraw. "We learned that the year before when they took us five here at home."
Thursday's match will mark the first time UCLA will play away from Los Angeles in eight consecutive matches.
The Bruins and the Eagles will compete in the MPSF semifinals in Provo, Utah – the home of the No. 1 seed BYU Cougars.
The Eagles outrank the Bruins in their blocking percentage. Concordia has posted 46 solo blocks, 496 block assists and 294 blocks on the season. UCLA trails slightly behind at 39 solo blocks, 415 block assists and a total of 246.5 blocks thus far.
"They have fundamentally sound blocking. Their block is really effective," Speraw said. "They are not the biggest guys, but I think fundamentally they are one of the best teams in the country."
The Bruins have maintained an average of 2.4 blocks per set, while the Eagles earned 2.6.
"They block well and their libero digs everything," said junior outside hitter Dylan Missry.
Concordia's biggest offensive threat, outside hitter Raymond Barsemian, has earned an average 3.31 kills per set on the season.
"Win or go home," Missry said. "This is another one of those games for us on Thursday so its a must-win for us."
Senior outside hitter JT Hatch said that, if the Bruins serve with pressure, they will be able to keep Concordia under control.
"It will be a pretty good semifinal match if we can serve decently well," Hatch said. "They will play us well."
The last time UCLA was in Utah, it fell to No. 1 BYU in three sets. The Eagles, however, defeated the Cougars 3-2.
"I think we can be confident with where we are right now, but we can't think that because we have two sweeps these are going to be easy matches," Speraw said. "We are very aware of the challenge ahead of us – two sweeps does not mean the next one is going to be any easier."
Sered joined the Bruin as a junior in 2017 and contributed until she graduated in 2018. She spent time on the softball, men's volleyball and men's soccer beats
Sered joined the Bruin as a junior in 2017 and contributed until she graduated in 2018. She spent time on the softball, men's volleyball and men's soccer beats